Tweet
10'6 HARD BOARDS – REVIEW

Test Editor Dave Ewer
Let's remind ourselves of the roots of SUP, it started in the surf in Hawaii. For anyone who has lived this far and never caught a wave in your life believe me it's one of the most exhilarating and addictive pastimes known to man. Being picked up and propelled forward (sometimes down) the rush you get is enormous and you're not the same again.
This test review was originally published in the Autumn 2017 issue
of SUP International Magazine.
SUP is a very diverse sport and it could be said that it's thanks to the inflatable board that sup has spread so far around the world and so many people have gotten into it. The storage, portage, resilience and generous volumes have allowed centres to open up in places where hard boards of a comparable size would have been untenable. Inflatables have solved problems for urban apartment dwellers using public transport. But if the only impracticality you'd face by owning a hard board is having to strap it to the roof of your car, perhaps it's time to consider seeing where a hard board will take you.
The 10'6 hard board shouldn't be discounted from your search for a first time allrounder or family board, it's perfect for average size people to get on the water with and heavier riders are well catered for with 11+ hard boards.
Hard boards have inherent advantages. They have been tuned and shaped to be able to surf waves and turn on them. They release and plane on a wave with their sharp hard rails and as they speed along they behave like giant lightweight surfboards. They start life as a block of foam, similar in dimensions to an inflatable, then they are hewn into being. Hard boards feel stable for their width and are very predictable underfoot. They cut through the water efficiently and are easy to track in a straight line. 10'6 hard boards used to be the number one seller, so when your mates ask you which is the best inflatable to buy suggest that they also try a hard board too. If they're after catching a few small waves along with cruising around it might suit them better.  SUP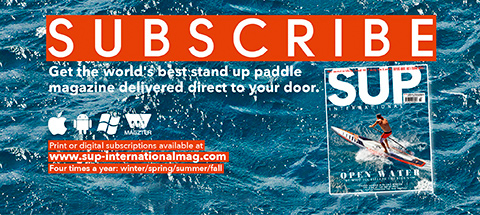 ON TEST
This issue we have a durable great value family board from Bic in their lighter ACETEC construction, a clever answer to the durability of inflatable tech. And two new boards from the SUP big guns Starboard and Fanatic. Both on different routes, the Starboard is the new sharply refined 10'5 Wide Point, a very accessible surfing board. From Fanatic, we've got the new biggest size in their Style Master range – a true longboard style nose rider in their LTD wood finish.
---
• FANATIC STYLE MASTER 10'6″ LTD