Tweet
2018 Legend of the Bay
April 28th & 29th Watergate Bay, Cornwall
---
(PRESS RELEASE)
Now in its fourth-year Legend of the Bay has become the season opener for kite surf and stand up board surf competition here in U.K
This unique event hosted by Extreme Academy, Watergate Bay Cornwall, showcases not one by two of the most exciting ocean sports, Kitesurfing and Stand Up Paddleboarding. Over the course of the weekend competitors can entry either a one day Kite Wave competition or a one day Stand Up Paddleboard Wave competition. Should the competitors be proficient in both sports they can enter both. The competitor with the highest combined score will be crowned 'Legend of the Bay'.
For those competing for the Legend of the Bay title, this unique competition format makes it both exciting and nail biting till the final hooter of the final round of competition. You cannot step of the gas at any point during any of the heats you have to be winning to stay in the game. 'There can be only one'!
Competition on both days will aim to start around 9am, with semi-finals and final held towards late afternoon when the tide has turned and will bring the competition closer to the beach, and in front of the Beach Hut. Prize Giving will follow after the completion of the day competition. Ideally it is aimed to stage the Kitesurfing Wave competition on the Saturday, and Stand Up Paddleboard Surf Competition on the Sunday. However this will depend of weather forecast.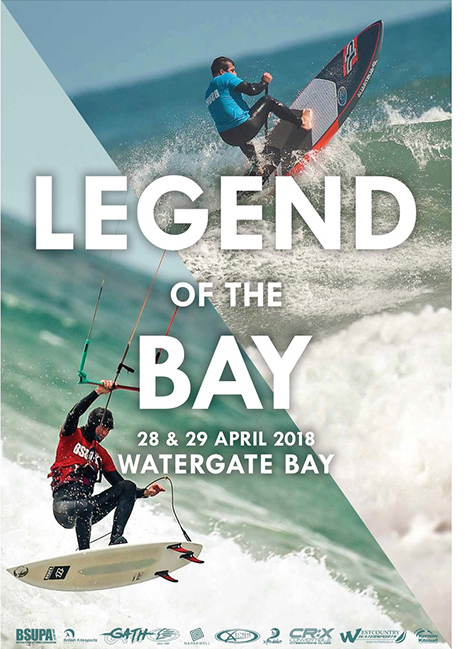 Who will be there in 2018?
2017 Legend of the Bay Paul Stebbings is in recovery after an operation, but is aiming to there to compete. Former BSUPA National Champion Neal Gent has confirmed entry as has local Cornishman Lee 'Pasty' Harvey. Both will be keen to claim the title this year.
In the Kitesurf Wave competition, the organisers would like to thank Kernow Kitesurfing Club, who are offering subsidised entry to its members and also offerings a £100,00 voucher to its highest place non-sponsored or supported rider.
Who to look out for in the SUP Wave competition For the men last years winner Maria Dias will be taking on the competition and the Watergate Bay waves. Maria with his fluid and inspiring wave riding is always one to watch. In the Women's Sup Wave competition 2017 and current BSUPA National Wonen's Sup Surf Series Champion Tina Beresfoot, from Newquay will be there aiming to win the Women's Title.
On the beach Neil Pryde – CR:X Convertible Kiteboarding Class, will be displaying a number of boards and Kites, and there to discuss this exciting one design kiteboarding class.
It's a great weekend of competition and social gathering for anyone who has a passion of these sports and a love of the ocean.
For those wishing to enter details etc can be found via the following link: www.webcollect.org.uk/wcws
BSKA & BSUPA would like to thank the following for their support and contribution in stage this event:
Extreme Academy, Watergate Bay www.watergatebay.co.uk
Kernow Kitesurfing Club www.kernowkitesurfclub.co.uk
Westcountry Watersports www.westcountrywatersports.co.uk
Interested in stand up paddleboarding – www.buspa.org.uk
Interested in kitesurfing – www.britishkitesports.org