Tweet
AQUA MARINA has announced the launch of 2020 inflatable paddle board and the brand-new inflatable kayaks line, more special SUP boards and upgraded accessories. AQUA MARINA's new sup boards and kayaks are made in high-frequency technology and heat fusion technology for great airtightness and durability. Considering making all paddlers feel more comfortable and easy to use, each iSUP features upgraded NEOPRENE CARRY HANDLE, RUBBER PATCH VALVE and BUNGEE CORD STOPPER on all series. AQUA MARINA includes ISUPs for beginner to advanced, and you can use for city paddling, light surf, sup-yoga, fishing, family, racing, group fun and adventure. What's new in 2020 collection.

Inflatable stand up paddle board
Race Board-RACE 12'6" 14'0"
2020 RACE is a racing machine not far behind the performance of a composite board. It is faster with the extra super stiff stringers on both sides! Available in 12'6" and 14'0", with our high-tech Double Layer Technology, it's ideal for advanced to Pro level athletes by providing just enough stability with the perfectly balanced board shape, while keeping riders aggressive at buoy turns so they won't miss any opportunity to surpass the opponents.
River Board- RAPID 9'6"
Ride the flow and conquer the rivers with our RAPID. There's nothing quite like hurtling down some wild rapids on a paddle board, and here at Aqua Marina we have a board that is perfect for doing just that. The generous volume, compact outline and fixed white water mini fins provide ultimate white water performance.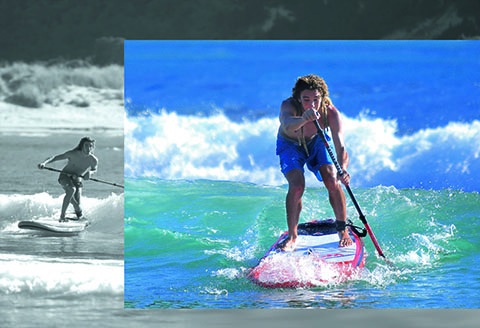 (NEW) Surf Board-WAVE 8'8"
This is the first launch of AM surfing iSUPs. We've found a way for everyone too easily ride the waves with a paddle board everywhere. 8'8'' WAVE is compact and have a rounded wide nose and narrow tail making it a perfect surf board for beginner's surfers.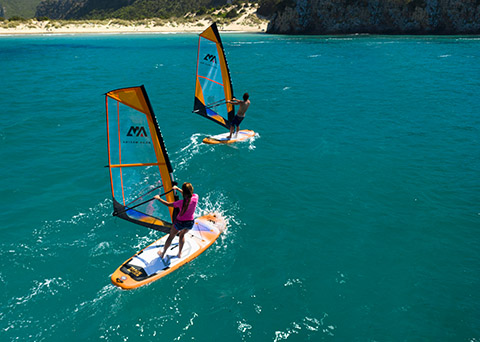 Wind-SURF-BLADE 10'6"
The gradient colour printing just like the wind blow up orange and blue colour on the board. Our collection is designed to be as practical as possible for all the levels of users. No matter you are windsurfing or stand up paddling, the 'clip and go' system makes it so easy to switch the different types of experience what the wind and water can offer you.
Optional Acc: 3.0m2 Sail / 5.0m2 Sail
---

(NEW) Multi-Person: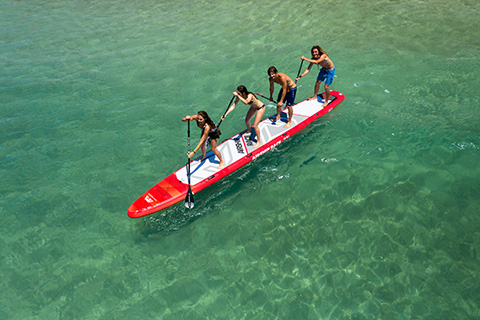 SUPER TRIP / SUPER TRIP TANDEM/MEGA/AIRSHIP RACE
More people more FUN! Whether you want to compete in events, train with your team, or just paddle with friends and family, the Multi-person SUP range is one you should never miss. The new SUPER TRIP TANDEM is a good choice for you to share the joy of paddling with the ones you love. The new four-person AIRSHIP RACE is the perfect board mixing team spirit and intensity of the SUP racing.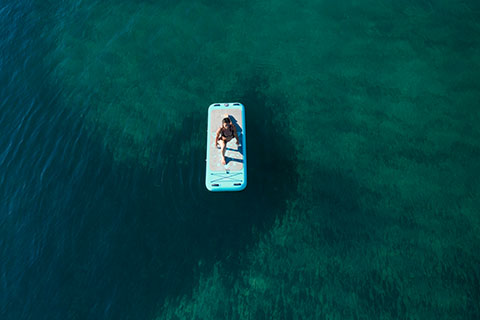 Fitness-PEACE 8'2"
Perfect Aqua Mat for SUPYOGA users. Peace completes the fitness program on all water areas even in small pools. It comes with 5 handles and 8 D-rings so you can connect them together in so many ways and make the workout more effective.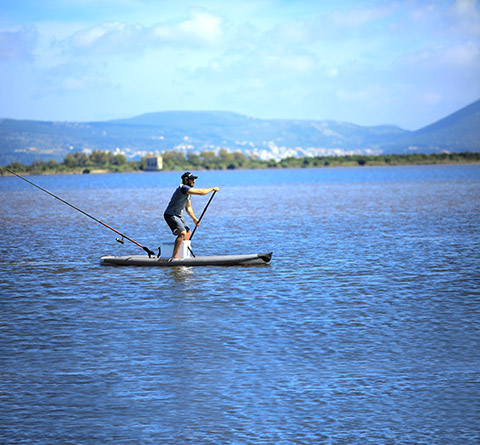 Fishing-DRIFT 10'10"
The super tough and durable drop stitch core material makes a stress-free trip for your favourite fishing hole or trek down a lazy river. With the best fishing companion – DRIFT Fishing Cooler (optional accessory), the DRIFT just offers everything you need for an ideal paddling and fishing experience.
For more www.aquamarina.com