Tweet
Casper Steinfath clinches his maiden Overall Racing World Title on the APP World Tour with a dramatic finish in Paris
(Press release – All Photos: John Carter / APP World Tour)
Paris, France 10th December 2019: Casper Steinfath knew what he had to do coming into the Final event of the season and sitting in pole position: stay ahead of Arthur Arutkin and Michael Booth at all costs. Recovering from the flu, his pre-event build up had not gone completely to plan, but with a wealth of support from a strong Danish contingent of fans present to witness history in the making in Paris, Casper looked calm, cool and collected, ready to take on the biggest test of his career.
A win in the sprints on Day 1 would be enough to secure the World Title in advance of his weaker discipline, the distance race on Day two, and as the sprint rounds progressed on Day 1 in the Pool, it looked as though Casper was on target to do just that.
However, having made it all the way to the Final, an on form Connor Baxter proved an unsurmountable opponent in the final showdown, with the multiple times World Champion taking victory on Day 1. This left the Title conversation open until Day 2, although Michael Booth had slipped out of this with a disappointing sprint result, and leaving 2018 World Champion Arthur Arutkin with the unenviable task of winning the Seine distance Race in order to retain the Title.
Unfortunately for Arthur, it wasn't to be, as despite a strong start, through the backend of the distance race, Arthur seemed to hit a wall, falling back through the pack and allowing Casper to cruise to his maiden World Championship Title, much to the delight of the raucus Danish fans on the RIver bank at the Finish.
It has been an incredible year for Casper, proving himself dominant in the sprint racing discipline to take the Overall Sprint Title for 2019 with two wins and a 2nd place his 3 counting results. He then took advantage of the extreme Red Bull Heavy Water distance race to swing the Title conversation in his favor, as he was able to win in dramatic fashion (repeating his 2017 feat), making all the difference to his Title bid.
His subsequent performance across the remaining long distances was enough for him to secure the coveted 2019 Racing World Title.
While the APP World Tour is wrapping its tenth year in 2019, the Racing discipline was launched in late 2011, as we are now crowning Racing World Champions for the 8th consecutive season. Incredibly, out of the 8 seasons, there have been just 4 Champions: Kai Lenny and Connor Baxter, both from Maui, share 3 a piece, with Arthur last year's World TItle, breaking the stranglehold the two Maui athletes had for 6 straight years and bringing it over to Europe.
Casper now continues the European theme with this victory and is in good company with these celebrated World Champions on the APP World Tour.
APP World Tour Overall Racing Podium for 2019:
Casper Steinfath (Denmark)
Arthur Arutkin (France)
Michael Booth (Australia)
So congratulations go out to Casper Steinfath on a phenomenal season in 2019. Make sure to check out the highlights, galleries, full recaps and much more by going to appworldtour.com and @appworldtour
---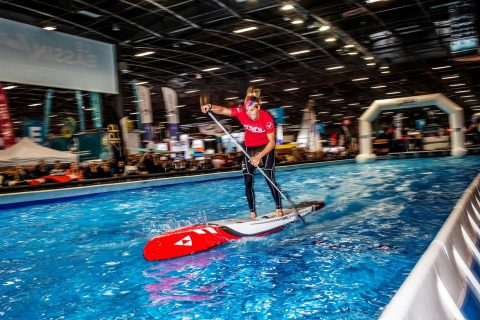 Seychelle Webster makes history in 2019 with one of the most dominant performances ever witnessed in the sport of SUP
It has been an impressive year for Seychelle Webster: first year on Tour, and a wide range of conditions and disciplines to adapt to in order to secure her maiden World Title on the APP Wordl Tour. However, right out of the gates, it seemed that this was all in Seychelle's stride, as she posted a pair of bullet wins at the first event of the year in London, putting the world on notice that she meant business and was going to be the Woman to beat on the APP World Tour in 2019.
Moving onto New York, Seychelle voiced concern about her exoerience in Surf Racing, yet went onto secure another win in the sprints, proving any naysayers wrong, while slipping back a little in the distance to finish in 4th. Seemingly addressing that slip immediately, Seychelle went onto win the distance in Osaka and then finishing on a high on Day 1 in Paris with another win in the sprints to secure the 2019 World Title.
Her dominance was unquestionable, although challenged at every step by an equally on form April Zilg, and a distance expert and previous World Champion Fiona Wylde: 3 straight wins in her counting sprint results and 2 wins and a 2nd in her counting distance races is the most impressive record that has ever been posted on the APP World Tour.
It was clearly an emotional achievement for Seychelle, as she shared with the crowd what it meant to her to not only win, but experience this incredible global journey towards a World Title, both personally and professionally. Her message was an inspirational one, heartfelt and full of appreciation.
Again in good company, joining Annabel Anderson, Lina Augaitis, Candice Appleby, FIona Wylde and Terrene Black as the previous World Champions on the APP World Tour, there is no doubt that Seychelle will be the Woman to beat in 2020, as the newly crowned World Champion with the target well and truly on her back.
APP World Tour Overall Racing Podium for 2019:
Seychelle Webster (USA)
April Zilg (USA)
Fiona Wylde (USA)
A big congratulations go out to Seychelle Webster for her incredible achievement in 2019: make sure to check out the highlights from the Paris SUP Open and the season as a whole at appworldtour.com and @appworldtour
---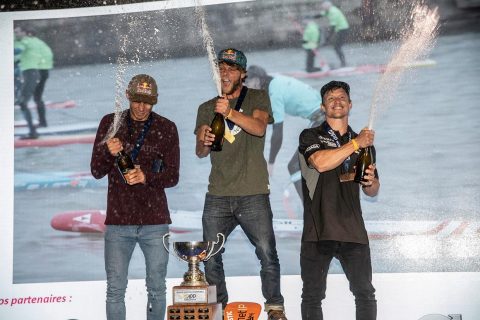 Casper Steinfath takes the Sprint Racing Title for 2019 amid a wealth of new talent on Tour
Casper Steinfath has established himself as the most dominant sprinter in the World over the past few years, winning more in this discipline than any other athlete on Tour. However, in 2019, there is no doubt that this challenge is getting tougher than ever and competition is intensifying at each and every stop.
Previously known more for his downwind skill above all else, 3 times World Champion Connor Baxter from Maui once again showed that he continues to be one of the most dangerous athletes in the World, finishing in a close 2nd in 2019 and finishing on a high with one of the most impressive performances of the year in the Pool in Paris.
Noic Garioud from New Caledonia, also known more for his downwind prowess, proved another dominant force in 2019, kicking off with a win in the sprints in London, and following that up with consistent performances through the year to secure 3rd overall in this discipline.
Also of note was Danny Ching, the American paddling legend who is clearly well disposed to this racing format, posting a second and a third in 2019, as well as Claudio Nika from Italy, increasingly a real threat in the sprints and not forgetting, the 2018 World Champion Arthur Arutkin whose consistency had him finish in 4th overall in the sprints.
Check out the highlights of all the action from the 2019 APP World Tour Final, the Paris SUP Open as well as all the other stops on Tour at www.appworldtour.com and @appworldtour
---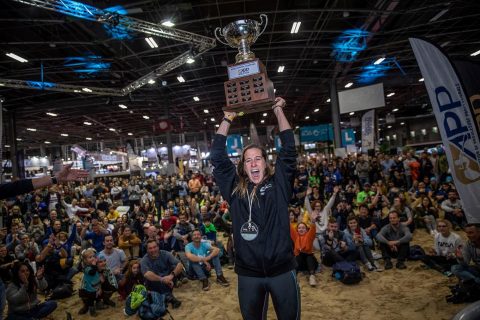 Seychelle Webster proves herself untouchable in the APP World Tour Sprints with a perfect record of results for 2019
Seychelle Webster put on a dominant performance in sprint racing across all stops on the APP World Tour in 2019, with 3 wins out of 4 races this season, the 4th a discard when calculating the Overall Sprint Title. This means a perfect score for Seychelle across her counting results, an unmatched performance since the inception of the APP Racing World Tour back in 2012.
However, this was not without major challengers for Seychelle, with April Zilg to battle with her across every step on Tour, taking the win in Osaka, and finishing in 2nd in Paris and London to put her in a well deserved 2nd place in the Sprints overall.
Another impressive sprint performer was the young talent from Maui, Annie Reickert, who posted two second place finishes across the Tour and finishes in 3rd overall for the Sprints in 2019. All in all it has been an incredibly exciting year for the Women on the APP World Tour in 2019, with dramatic racing, intense battles, unparalleled competition and phenomenal camaraderie as the performance level continues to skyrocket and the future is bright.
Make sure to check out the highlights, broadcast replays, recaps and galleries from the entire 2019 season by going to appworldtour.com and @appworldtour
---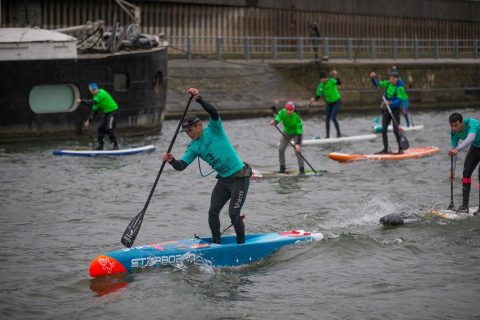 Michael Booth continues to be the most dominant force in distance paddling, posting a perfect record across his counting results
Michael Booth from Australia has long been regarded as one of the most powerful and fastest distance racers in the World, and 2019 only strengthened that reputation with a truly dominant performance across the 2019 APP World Tour.
With 3 bullet wins counting towards his overall Distance Results in 2019, Michael solidified his grip over the distance races on Tour and ensured a podium finish for the overall on the strength of these results despite weaker finishes for the Australian Champion in the sprint racing. The polar opposite to the Sprint Racing Champion Casper Steinfath in approach, Michael is improving at each and every stop in the sprint racing, and continues to be a major contender for the overall World Title as we look ahead to 2020 and beyond.
2018 World Champion Arthur Arutkin from France is one of the most well rounded athletes on Tour, but his results certainly favor distance racing as he finishes second overall for this in 2019, with a win in New York, 2nd in Red Bull Heavy Water, and 3rd in Osaka. Arthur continues to be the major Title Contender as we look ahead to 2020, narrowly missing out on the Title this year.
In 3rd, Lincoln Dews from Australia put on some great performances in 2019, most notably his battle with Michael Booth for the distance win in Paris, that finished at the finish line by a matter of feet. Lincoln is without doubt one of the most promising Title Contenders on Tour, with a well rounded game that bodes well for his Title hopes in 2020 – he will definitely be one to watch out for next season.
Make sure to check out the highlights, broadcast replays and recaps from the entire season and stay tuned for build up to the 2020 season at www.appworldtour.com and @appworldtour
---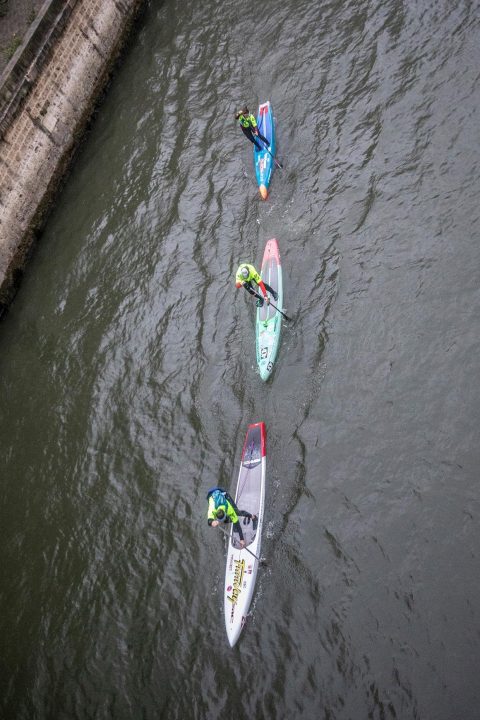 Seychelle makes it a trifecta, winning the Overall Distance Title ahead of Fiona Wylde and April Zilg in a dramatic finish
Seychelle's dominance stretched to the distance racing as well, although a single 2nd place accompanied her two victories to make up her final scorecard in this discipline. That being said, the competition was once again fierce, with close finishes across every stop on Tour and a major push from 2nd place overall, Fiona Wylde, who capped her year with an impressive victory on the RIver Seine at the Paris SUP Open Final to go with her second place finishes in New York and Osaka.
Again, April Zilg was right there, all year, having to settle for 3rd overall for the Distance Title with her win in New York, the highlight. Once again, April's performance in 2019 was exceptional, and if it hadn't been for Seychelle's incredible achievements this year, the Title conversation would have been very different.
When talking distance, 2014 World Champion Lina Augaitis is always one to watch out for, and this season was no different: with a  2nd place finish in London, just pipped at the post by the new World Champion Seychelle, Lina also lead the majority of the Osaka Race, losing ground on the sprint to the finish, but nonetheless remaining a major contender in this form of racing.
All in all it has been an amazing year of racing here on the APP World Tour and one to remember. Make sure to check out highlights from the entire season and stay tuned for the build up to 2020 by going to www.appworldtour.com and @appworldtour
---
Gran Canaria Pro-Am kicks off in Las Palmas de Gran Canaria with an epic forecast in place and spectacular action anticipated
The holding period for the Gran Canaria Pro-Am is now open with a great forecast in place for what promises to be a specatcular close to the 2019 APP World Tour Surfing Season. After a dynamic 3rd stop of the Tour in Barbados last month, all eyes are now on the North Shore of Gran Canaria, specifically Las Palmas for a week of intense action and the crowning of the 2019 APP World Surfing Champions.
With Poenaiki Raioha in pole position, the contenders, Luiz Diniz, Leco Salazar and Sean Poynter are all still in there with a chance at the Title this season, as we anticipate fireworks coming up this weekend with a large, long period swell hitting on cue.
Meanwhile in the women, it is a battle for second, as Fiona Wylde, Shakira Westdorp and Vania Torres all battle for positioning at this all important final stop of the season. Make sure to stay tuned for the event updates and the morning call at 7:30am each day and watch all the action go down LIVE at appworldtour.com and @appworldtour
---