Tweet
PHOTOGRAPHY TIPS
Words  Allen Meyer  //  Photos  Allen Meyer & Leah Marshall
It's fair to say, for as long as we've had paddleboarding we've also had digital photography. We're now at a stage where we're spoilt for choice with incredible optics on our phones, gimbals, affordable drones and DSLRs but a good photo won't take itself. The adventure of photography is discovering new locations, perspectives, times of day even, and capturing that moment. Photography can add another element to your paddling sessions, giving direction and purpose to your search, and your session continues long after you get off the water as you work through your images looking for the pot of gold. We spoke to Allen Meyer to get some insight to setting up a great shoot…
I am a commercial photographer and videographer based in Cincinnati, Ohio.  My goal has always been to capture imagery that inspires people to get outside and experience nature in a healthy way, for both the individual and the landscape they visit.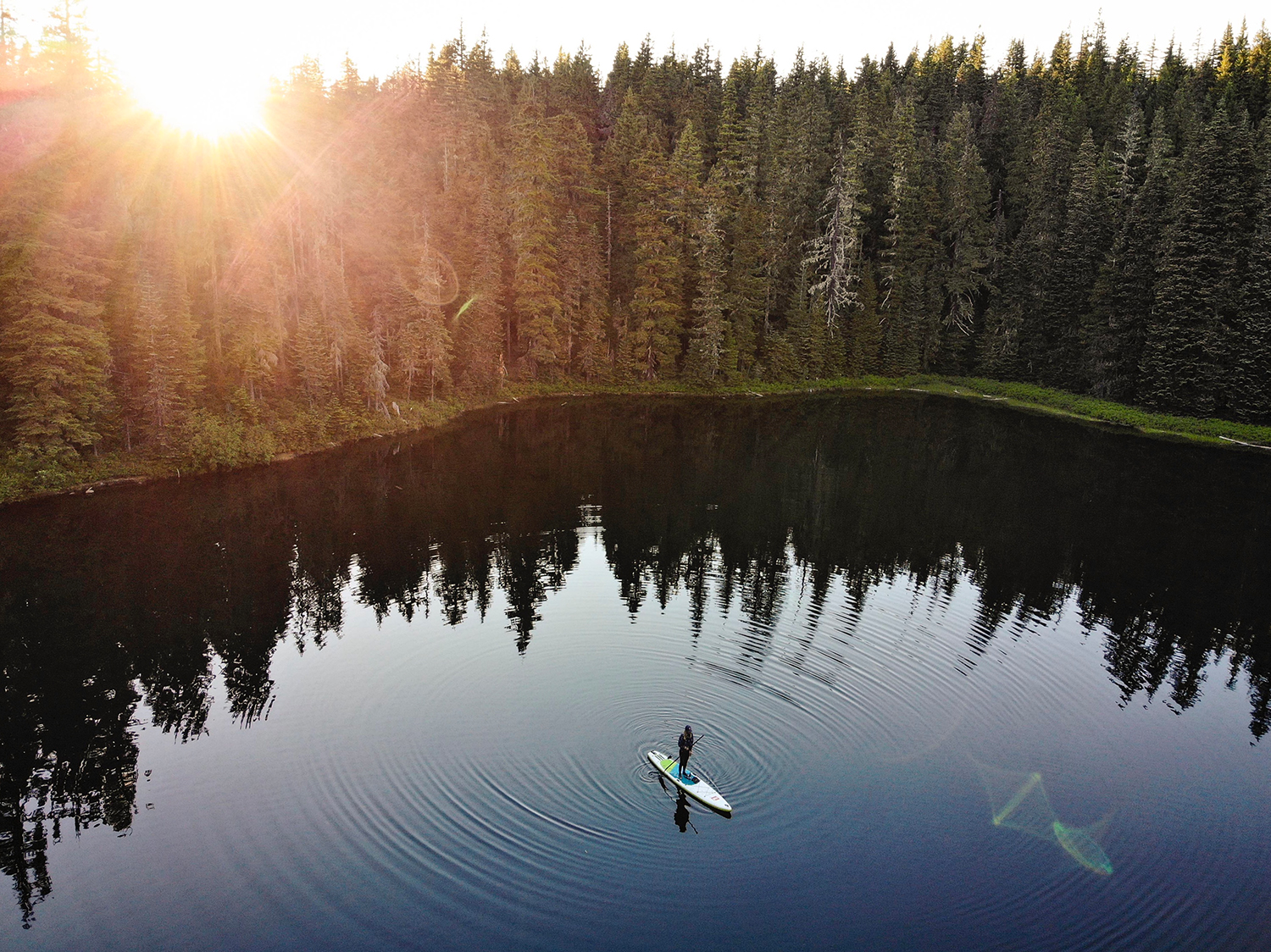 FIND THE LIGHT
This is the main factor in turning an average image into a truly beautiful shot.  Committing to waking up extra early so that you can catch some early morning glow and glassy waters will make a big change to the imagery you can create while out paddling, not to mention, this likely means you'll have the lake to yourself. 
---
Don't be afraid to stay out late either – If you can stay on the water until the sun passes below the horizon, you're likely to get some incredible colours. Always keep track of the water conditions and have your PFD and leash on hand especially if you are searching for those super remote spots.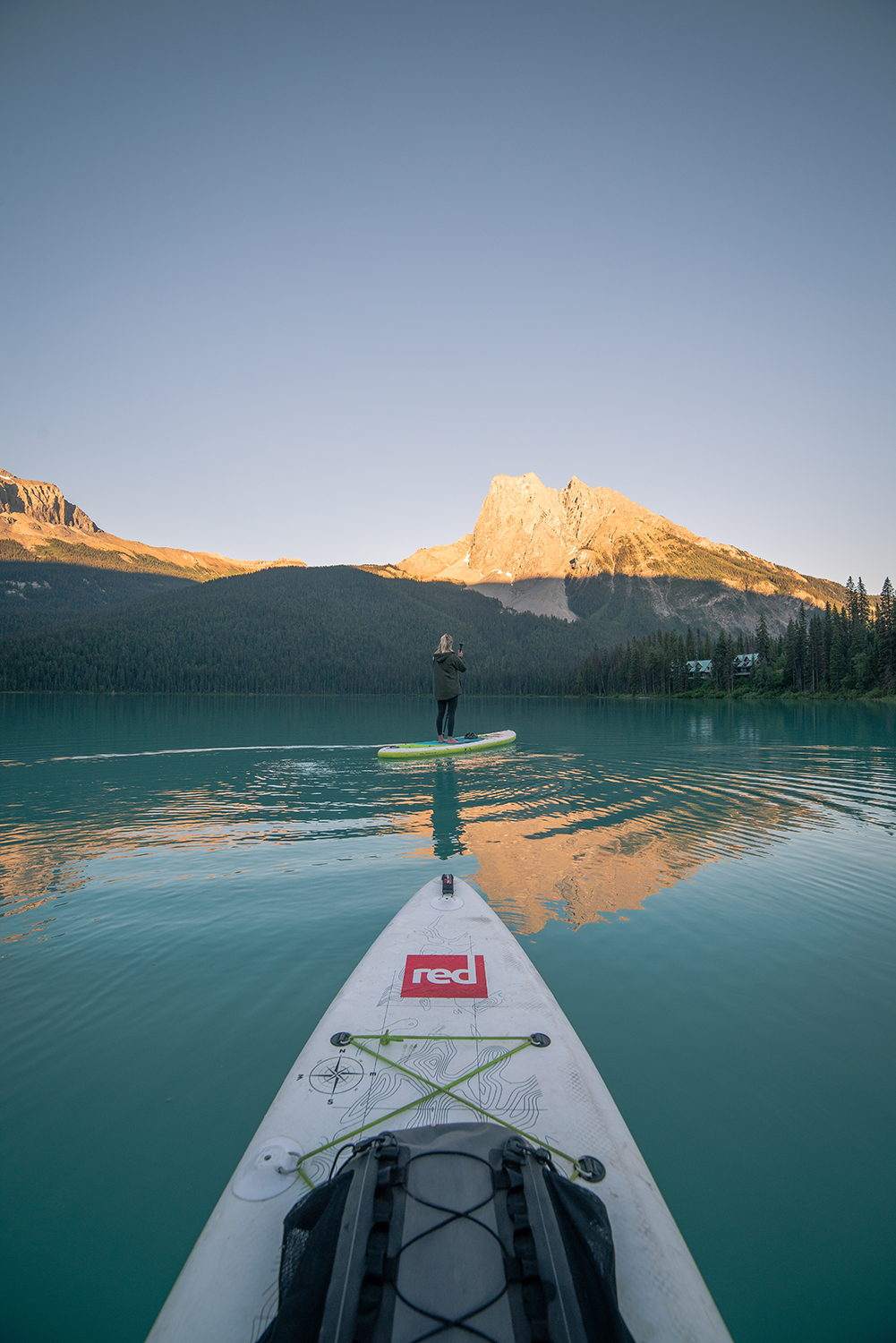 BRING YOUR CAMERA OUT ONTO THE WATER
Settings: Nikon D810 // F-stop f/9 // Exposure 1/200 sec // Focal length 14mm
If you are in a situation like you see here, where the water is perfect glass and there's no risk of tipping, be brave and bring your camera along for the journey. When I go out, I use the Red Original Deck Bag to carry several lenses, my camera, sometimes even my drone.  This allows you to get up close and personal with your subject, or hop off at a different shore from where you started to capture a new angle.
---
I am a self-taught photographer; I started diving into photography with a simple entry level kit while I spent a few months traveling during my college career, going on backpacking adventures, hiking, and camping.  Eventually, I had a few people reach out in regards to purchasing prints, and that's when I started to develop photography into a full-time career.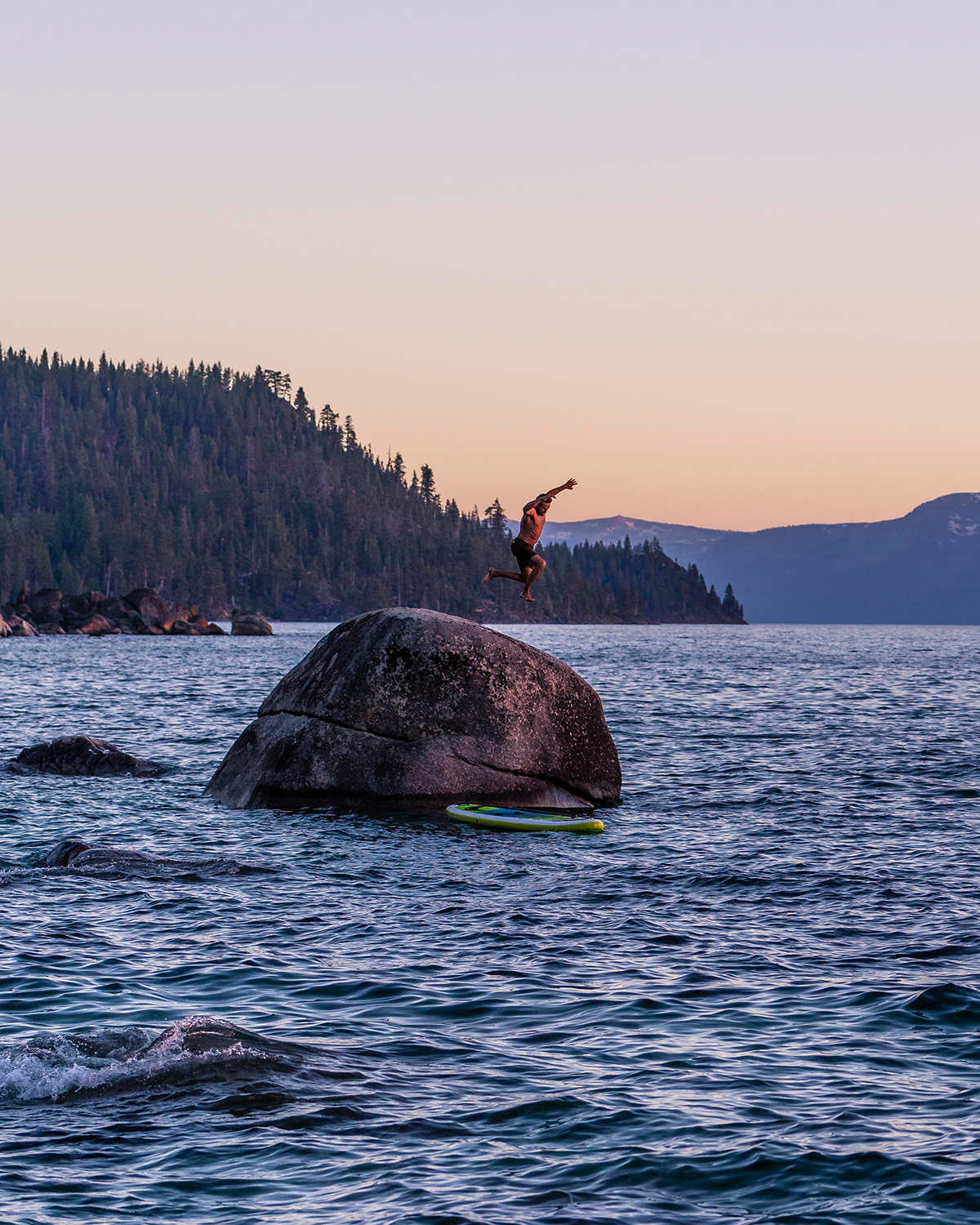 GRAB THE LONGER LENS
Settings: Nikon D810 // F-stop f/3.2 // Exposure 1/1000 sec // Focal length 75mm
A lot of times when I'm out shooting, I end up keeping my wide-angle lens on my camera in order to capture the full landscape behind a subject. Sometimes, to give a stronger perspective, you can use a long lens to zoom in on that subject, making the landscape behind look much larger. Leah's behind the lens on this one and that's me jumping off.
---
For me, paddling is a wonderful way to experience a landscape from a new perspective.  It connects you with the body of water and the surrounding landscape.  As a photographer, I chase beautiful light and colours, which means getting up early to be there when the sun rises.  Sunrise happens to be a perfect time to paddle, as the water tends to be most calm during the early hours of the day.  This allows the confidence to carry thousands of dollars' worth of photography equipment with me, out into the middle of alpine lakes, to capture an entirely different angle than I may get from the shoreline.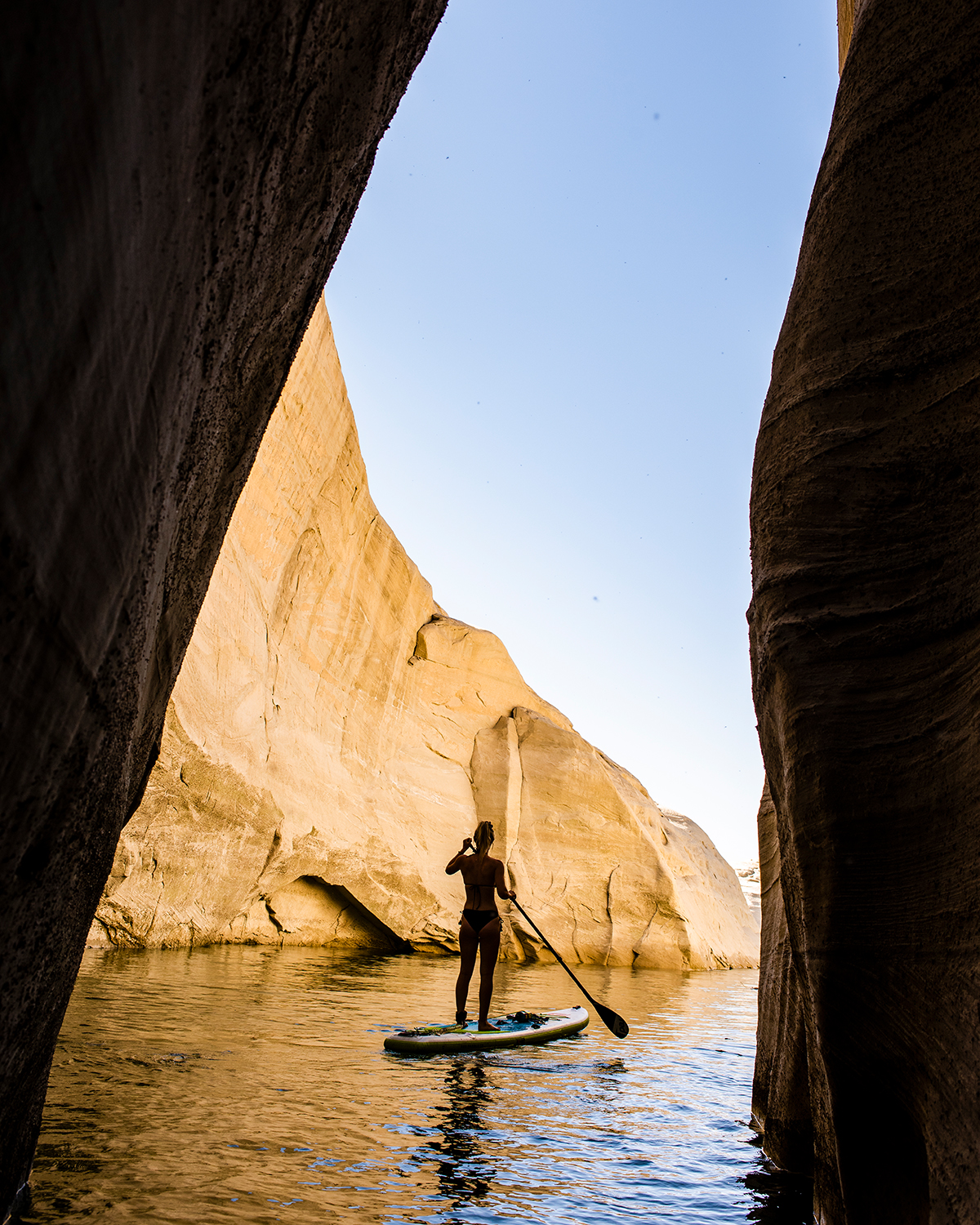 CHASE NEW LOCATIONS
Settings: Nikon D810 // F-stop f7.1 // Exposure 1/320 sec // Focal length 28mm
When I'm not on the road, it can be a real challenge to want to go explore new lakes or rivers. I have my standard three hour river trip, and my standard lake to flat water paddle. The times where I try a new section of the river, or an unknown lake are always memorable. This summer we were constantly chasing new locations to paddle, using maps on my phone to find random bodies of waters in the mountains or additional fingers of lakes.
At Lake Powell, Utah, I used my phone to find this slot canyon, we paddled out to it, not knowing what we would find.
---
Leah is my partner, in life and adventure, and the paddler in most of these photos.  She assists me on the majority of my photography assignments and is most often the subject for my adventure imagery.  Leah is an elementary school teacher, she's passionate about the outdoors and her career enables her to travel during school breaks.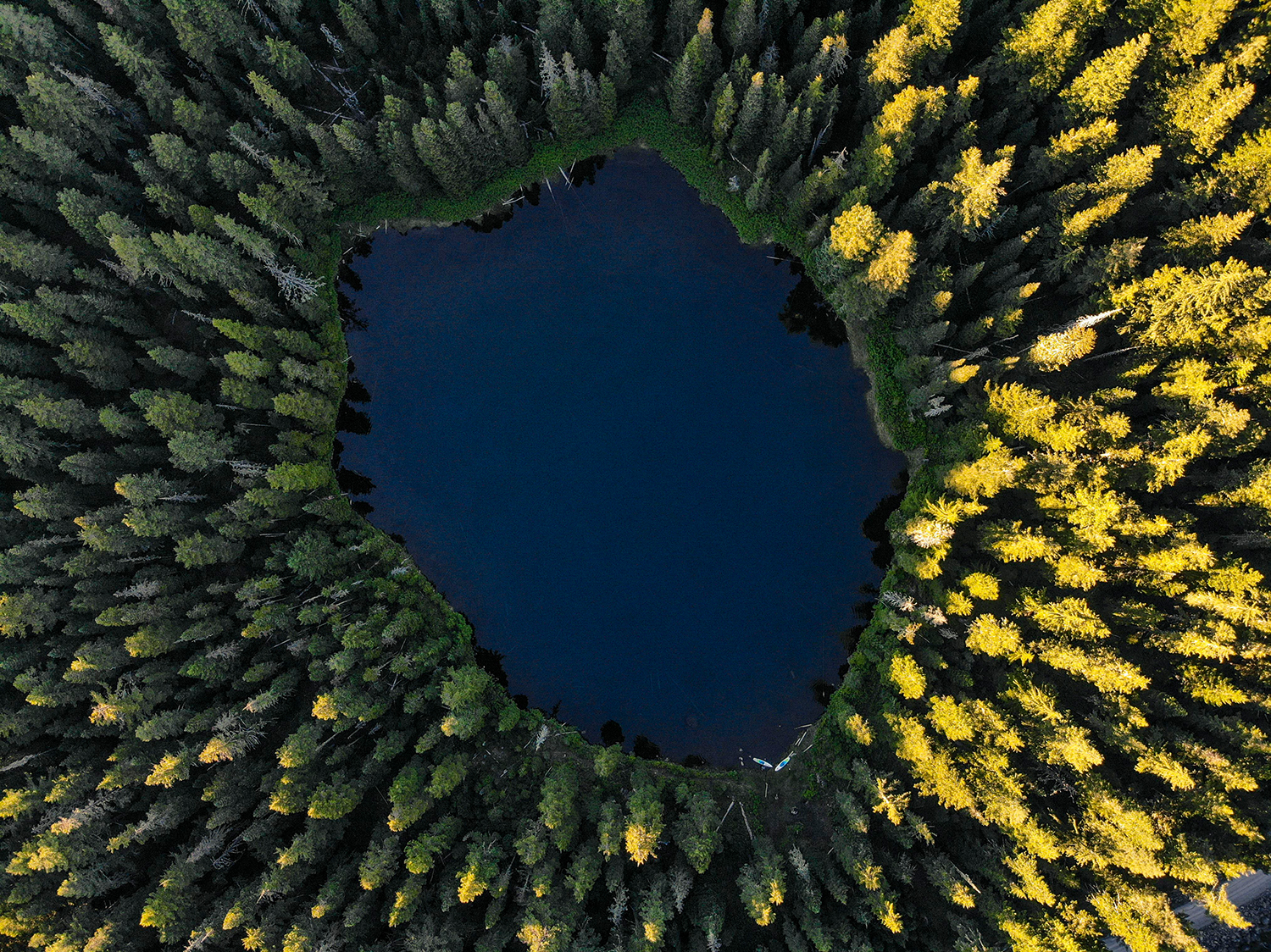 GET IN THE AIR
Settings: DJI drone // F-stop f2.8 // Exposure 180 sec // Focal length 24mm
Not everyone owns a drone, which is probably a good thing, but if you do have one to hand and you like to paddle, try shooting aerial imagery of your favourite lakes or rivers.  It's an incredibly fun way to capture a perspective you wouldn't get any other way.
Be sure to follow all local policies and be well in control of your drone at all times.  Drones can be a pest to other people out enjoying nature, I try to not fly when there are any others around.  Drones are absolutely not allowed in National Parks in the United States or Canada.
---
Ultimately, photography and paddling are meant to be fun.  Don't be afraid to try new things and you'll likely get some awesome images along the way. SUP International
See more of Allen's work at www.allenmeyerphotos.com and Instagram @Allen_Meyer