Tweet
GET PSYCHED #5 –

SUP BOTHY ADVENTURES
Bothy adventures combine all the elements I love and enjoy, hiking in the grandeur of a wilderness setting, escaping the hustle and bustle of regular life, living without mod cons, having a digital detox, and above all the excitement of a night's stay in a bothy.
Paddle boarding allows you to go on a journey; just roll up your board and stuff it in a duffle bag and off you go on your adventure. Walking, paddling, exploring; a bothy adventure is like VIP wild camping.
Each bothy experience is different; the unknown of will you have guests joining you, or what the bothy will be like. It is so fascinating to meet people in the bothy, to share your exciting tales, whilst cradling a mug of steaming tea by a roaring fire, watching the candle flame shadow dancing along the wall.
Bothies are something truly unique, visited by such a diverse range of characters on their own little adventure quests. It is a great feeling to be a part of it and to share a special experience for the night, a brief glimpse into a bit of nomad living.
SO, WHAT IS A BOTHY?
A bothy is a basic shelter such as a small hut or cottage, usually left unlocked and available for anyone to use free of charge.  Public access to bothies is either on foot or boat, so perfect for us paddleboarders.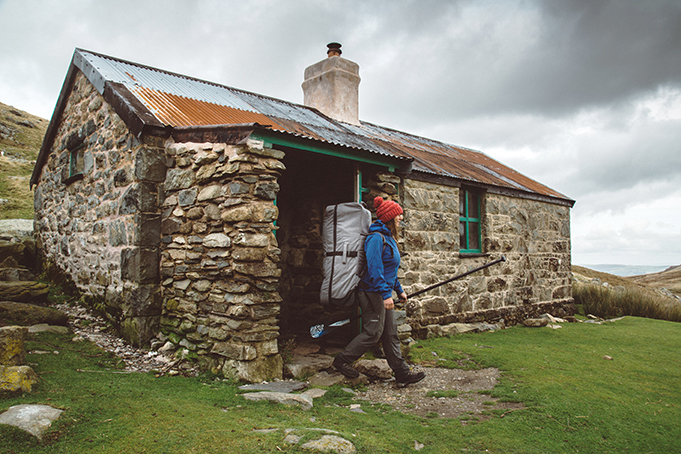 WHAT TO EXPECT
Bothy accommodation is very rudimentary, it is important to assume that there will be no facilities that we often take for granted, such as a tap, sink, beds, lights, and even if there is a fireplace, you will need to take your own fuel. So you need to make sure you are prepared and carry what you need for your SUP adventure with the equipment you would normally take when going camping.
Bothies have great character, a real charm, but they can be cold, dusty, damp and very dark. However in the evening once you have candles lit, fire roaring, hot food and a glass of wine, the bothy is transformed into a snug abode for the night.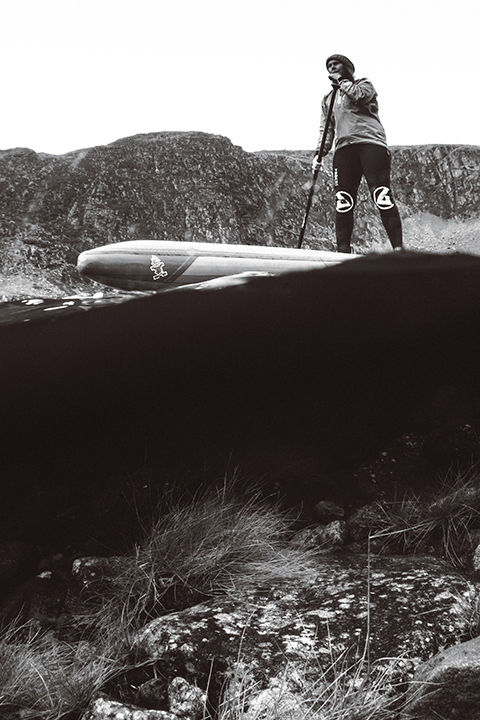 THINGS TO CONSIDER
Sleeping
At the most, bothies will have a table and a couple of chairs. Bothies have a simple area, some may even have sleeping platforms, otherwise you may be sleeping on a stone floor, so think about what you can kip on to make sure you have a reasonable night's rest.
Water
It is important to know you will need to make your own arrangements for water and should be aware that there may not be a suitable supply near the bothy. Remember, take drinking water from a fast-flowing stream, never from standing water and avoid water downstream from a bothy or any other habitation. My advice is to boil the water first or use a filter purification kit. You certainly want to avoid getting poorly.
Outside toilet
Few bothies have toilet facilities, some have latrines, however with most be prepared to go in the wild. When going in the wild take a spade, you should walk at least a couple of hundred metres from the bothy and 50 metres from the water supply before you use your outside toilet. Dispose of human waste by burying it at least 8 inches deep and at least 200 feet from natural waters. How are you going to dispose of rubbish such as toilet paper? You need to consider the environment and how you leave it. We are all passionate about the outdoors and we need to make sure we protect it by being responsible.
---
"It is so fascinating to meet people in the bothy, to share your exciting tales whilst cradling a mug of steaming tea by a roaring fire, watching the candle flame shadow dancing along the wall."
---
Food
Consider the weight and how you are going to transport it such as in the SUP bag or on the board. Dried food is great as it is a lot lighter to carry and quick to cook. Also take snacks to keep up the sugar levels and morale. Remember to take items to make a hot drink and bring a bowl, cutlery and mug. Be aware you should store food away, as mice can be a problem in bothies and they are usually peckish.
Fuel
It is advisable to take a stash of kindling, matches and firelighters to light a fire to help warm up the bothy. I put these items into a dry bag, naturally outside of the summer months bothies can be damp and chilly.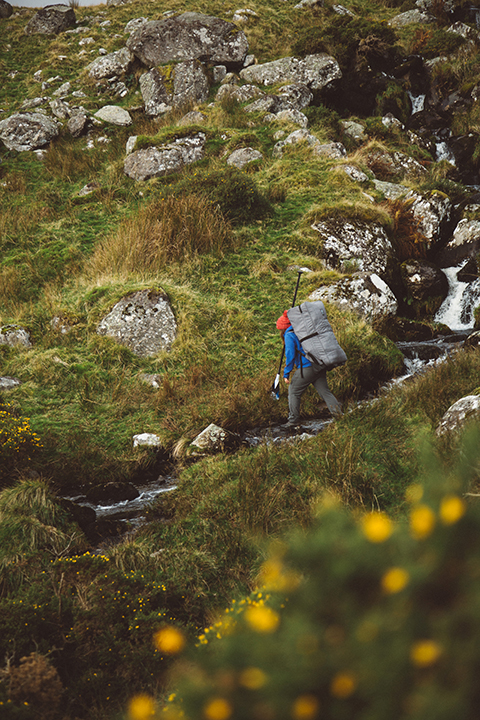 Weight
Seriously think about weight, how can you reduce and save weight without ditching the essential items? Take into account if you will be hiking or carrying your inflatable board for a couple of hours. Or are you launching on a loch and heading to your bothy? Weight it a big factor and it soon adds up. It becomes much easier if a couple of you go off on an adventure so you can distribute weight between you.
Paddleboarding kit
Decide how you are going to transport your kit; is it carried on your back or strapped onto a paddleboard? Be prepared for change in weather too. I also always wear footwear to ensure I protect my feet as you might be scuppered if you cut your foot on something sharp.
---
"A lovely bothy tradition is to leave some essentials behind for the next person to use. It's always a Godsend when someone leaves extra kindling for you to use on a cold night"
---
Clothing
Obviously have clothes which are suitable to travel to the hut and for paddling. The key thing is to make sure you have warm layers when you head to the bothy for the night as the temperature will plummet. I take a down jacket, hat, and gloves for that extra layer of warmth. For sleep wear, something suitable such as thermal mid layers help keep you warm in your sleeping bag.
Bothy etiquette
There are no formal rules for using a bothy, however a bothy code was developed by the Mountain Bothies Association (MBA). The ethics is to retreat others with respect and to leave the bothy in the condition in which you would wish to find it in. Remember it is not a first come, first served approach, bothies are shelters and open to all to use and enjoy.
Top tip: when you get to a bothy, don't do a kit explosion, people won't appreciate you taking up so much room nor will they be impressed you've turned a lovely bothy into a carboot sale! Keep your stuff organised and together to avoid misplacing anything or leaving it behind.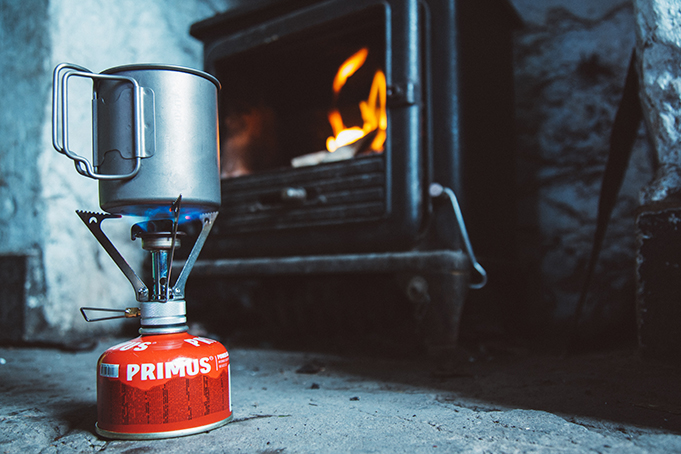 The bothy community
Most bothy goers have a strong community spirit. People share food, hot drinks and suggestions of recommended routes based from recent experiences. A lovely bothy tradition is to leave something essentials behind for the next person to use. It is always a godsend when someone has left extra kindling for you to use on a cold chilly night. It is a wonderful community spirit. It is also worth noting some bothy goers head to the bothy for some solitude, where others for a social gathering. So just go with the flow.
Rubbish
Remember, leave no trace, what you take in, you take out. A top tip: try and avoid single use plastic. It creates an unnecessary amount of rubbish and has a harsh impact on the environment.
The Bothy Book
Keep up with the tradition by adding details of your trip in the Bothy Book. In the rare event that a rescue party has to work out where you are heading if you get into difficulties, they'll have some info to go on. You can also pick up recommendations from the book such as where to get water, updates of routes etc… SUP
---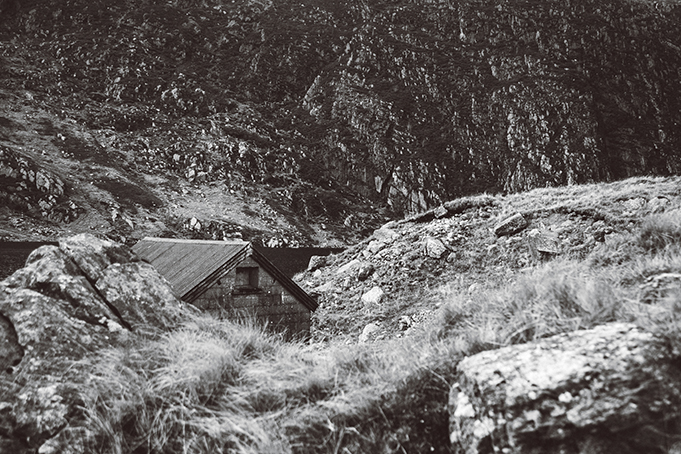 BOTHY CODE:
• Bothies are used entirely at your own risk
• Leave the bothy clean and tidy with dry kindling for the next visitors. Make other visitors welcome.
• Report any damage to whoever maintains the bothy. Take out all rubbish which you can't burn. Avoid burying rubbish; this pollutes the environment. Please do not leave perishable food as this attracts vermin. Guard against fire risk and ensure the fire is out before you leave. Make sure the doors and windows are properly closed when you leave.
• If there is no toilet at the bothy please bury human waste out of sight and well away from the water supply; never use the vicinity of the bothy as a toilet.
• Never cut live wood or damage estate property. Use fuel sparingly.
• Respect any restrictions on use of the bothy, for example during stag stalking or at lambing time. Please remember bothies are available for short stays only. The owner's permission must be obtained if you intend an extended stay.
• Because of overcrowding and lack of facilities, large groups (6 or more) should not use a bothy nor camp near a bothy without first seeking permission from the owner. Bothies are not available for commercial groups.
Enjoy your adventures and the people you might meet on the way. Safe and happy sup'ing!
Further details can be found here: www.mountainbothies.org.uk
---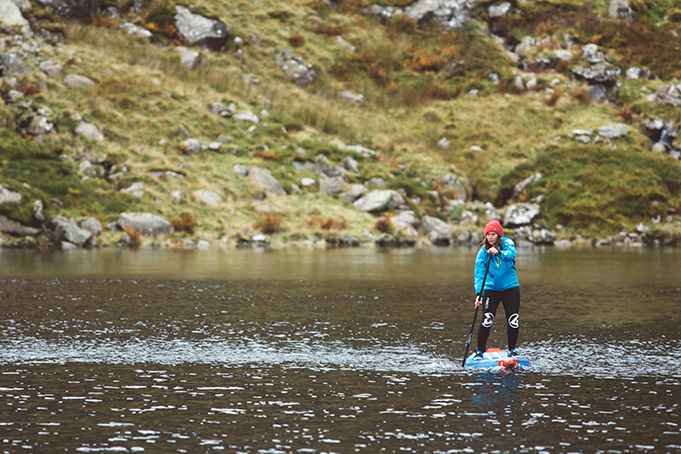 RECOMMENDED KIT LIST:
• Paddling kit
• 3 season sleeping bag (add luxury with a silk liner to keep you warmer)
• Sleeping mat, or you could use your board
• Bivvy bag
• Sleeping wear
• Extra warm layers i.e. synthetic jacket or down jacket
• Hat and gloves
• Food and snacks
• Camping stove and gas
• Cup, bowl and or plate
• Map and compass
• Matches, firelighters, kindling and candles
• Penknife
• Water bottle (optional purification kit)
• First aid kit
• Communication (i.e. mobile phone, sat phone, tracker)
• Toilet paper, zip lock bags for carrying litter, hand sanitiser
• Basic toiletries
• Head torch and spare batteries
• Biodegradable washing up liquid and washing up cloth
---
ABOUT SIAN

Sian is a fully qualified International Mountain Leader and SUP instructor in Wales, UK and runs her own business Psyched Paddleboarding www.psychedpaddleboarding.com Sian has travelled the world, building up vast experience of leading expeditions to Nepal, Mongolia, India, China, Peru, Morocco, Iceland, Europe and the Alps. Sian's mission is to inspire others to SUP and to offer high quality SUP training and safety advice. She offers memorable stand up paddle boarding adventures whether hiking to a tranquil wilderness lake, exploring stunning coastlines and of course leading SUP expeditions.