Tweet
Feeldouro Adventure, Kite and SUP cruises in the north coast of Portugal.
Fancy heading somewhere sunny, quiet, and with a multitude of world class SUP'ing options available from your luxury yacht? 
Season:
May to September
Why Go?:
For those who aim to experience new cultures, enjoy the best weather conditions for kitesurfing and SUPing, discover the traditional villages and Portugal's historical heritage, and taste the wonderful cuisine. This is a unique, diverse and exciting holiday experience that will give you the opportunity to take a break from reality and get plenty of water time in.
Wind Factor:
From May to September the north coast of Portugal has constant wind coming from the north, the Nortada. The trade winds usually start in the afternoon and blow between 15 and 35 knots. Still the SUP lovers will find, apart from the amazing rivers, some protected spots with good waves to practice SUP surfing.
Riding on offer:
The north coast of Portugal has the best spots for water sports. On board our Lagoon 39 you will be able to experience each one of these spots and choose whether you want to enjoy a nice SUP touring along the rivers and bays in mirror flat water, or practice SUP surfing in the waves.
Where to Stay:
Aboard our comfortable Muscat, 2014 Lagoon 39.
Flight Factor:
Porto Airport, our van will pick you up at the airport and take you to the boat.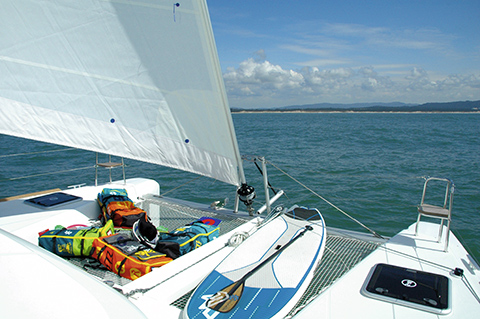 Equipment // Tuition available:
To take the most out of this experience, we have on board, included in all the packages, one inflatable Fanatic SUP for each person. The common characteristic between all the stopovers are, not only the magnificent rivers for SUP touring, whether they are in the middle of forest or between to cities but also some great spots along this coast for SUP surfing.
Other Activities:
Sailing classes or rent a dinghy, do some walking or bike tours in the greenest region of Portugal, or go Scuba Diving…  You can also count on our crew to show you the best places to relax and have fun in the evening.
Special Offer:
As a special "Launching Promotion" we are offering 20% to those who book between the 1st of May and the 15th of June. SUP
Contact Details
adventure@feeldouro.com
+351 913103983
+351 220990922
www.feeldouro-adventure.com