Tweet
THE FRONTIER 
Some call it the end of the road. I prefer to call it the beginning of the adventure. This small fishing town on the west coast of Vancouver Island has grown into one of the most popular destinations in Canada, and it did it without even trying. 
WORDS By: Catherine Temple
This feature originally appeared in the Summer 2013 issue of SUP International. Print and digital subscriptions for readers worldwide are available HERE.)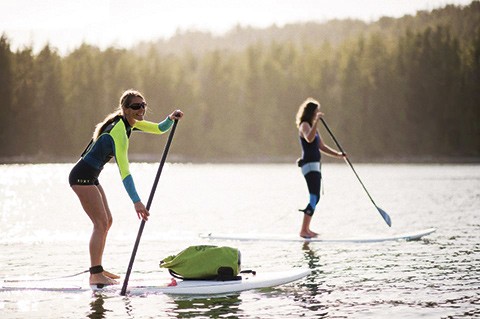 It only takes one visit to recognize the vast and overwhelming beauty of this place. Many people come to visit and never leave. The landscape and the town itself caters to everyone. Whether you love to fish or surf or simply eat fine foods and beach comb, it all happens in Tofino, every day of the year. After stomaching the three hour drive over the backbone of Vancouver island (an adventure in itself), you are rewarded with kilometres upon kilometres of uninterrupted sand beaches, most of which lie in the pacific rim national park. The terrain is rugged and exposed, the surf, unending. You could spend 6 months, hell, a lifetime here, and not see all that it has to offer. At the very end of the peninsula is the charming town of Tofino. It is small and quaint but has lots to offer. Every service can be found in Tofino. For the outdoor enthusiast there is surfing, sea kayaking, rainforest hikes, deep sea fishing and more. If you prefer to relax then you have whale and bear watching, natural hot springs, tons of restaurants and even a few spas. From organic veggies to triple scoops of homemade ice cream, and paddle boarding to pedicures, it's here.
Multi Faceted
Most people come for the ocean, and for good reason. The power and beauty is undeniable. If you're going to experience it, a board is a great way. The life blood of this region is definitely surfing and the beaches of Tofino serve it up to the novice and the pro. The paddle boarding potential here is epic as well and relatively untouched. From surf to multi-day expeditions the options are endless. The exposed coast is rugged and great for surfing or running downwinders and those with less experience can explore the protected waterways on the inside of the peninsula. No trip to Vancouver Island is complete without Tofino on the itinerary. Google it, visit it. I dare you to leave. See you soon. SUP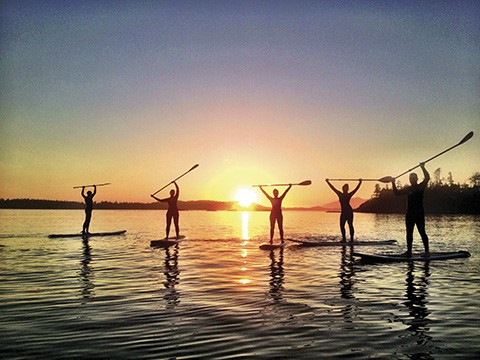 Inside Info
Swell// March to November pumps and a mix of beaches, reefs and points keep visitors and locals alike very happy.
Water// 7 degrees in Jan, up to 15 in Aug. It's not that different to Northern Europe. It's a maritime climate so business as usual for the British and Irish.
Bears// Yes 🙂
Guiding, info, lessons// Tofinopaddlesurf. com Catherine is a lifelong local and Paddle Canada instructor trainer.
Flight times// 11hrs approximately from from Heathrow. Land in Vancouver, and make the overland passage via rental truck. Get a big one!
"  The paddle boarding potential here is epic and relatively untouched. From surf to multi-day expeditions the options are endless… "