Tweet
SUP INTERNATIONAL MID SUMMER 2019 ISSUE 
On the pulse: the ultimate downwinder, dry season Mentawais and training for speed and distance fitness. Plus, Dragon racing, summer iSUP round up, Barbuda after Hurricane Irma and UK racer Ginnie Betts speaks out…

---

Subscribe and receive your copy in either premium Print or Digital format.
(Prices include delivery anywhere globally four times a year.) In shops soon.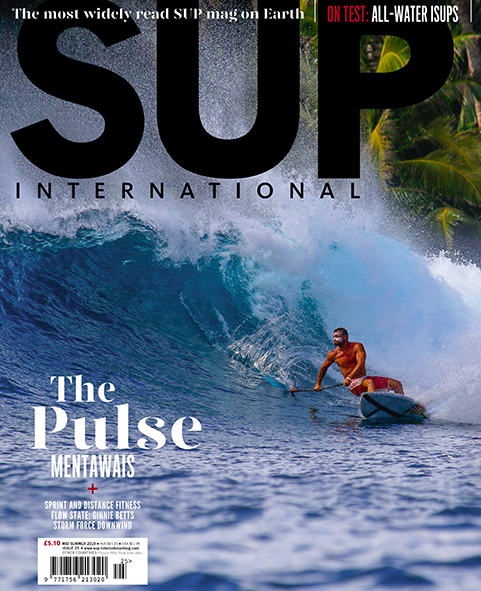 Front Cover Davide Codotto bends into a perfectly refracted Mentawaiis façade | Photo Massimo
---

Core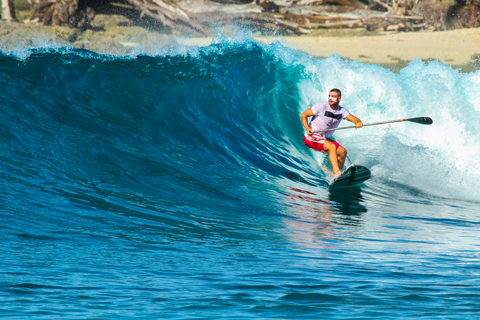 On the Pulse:
Has the three month surf sabbatical been superseded by 'on-a-chart' strike missions? David Codotto doesn't think so; six months in Indo puts him on the tail end and start of the Mentawai dry season surf.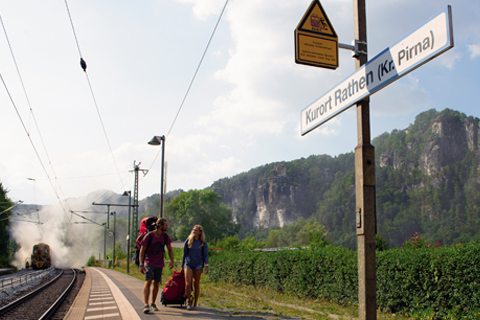 Long Haul Trucking:
Paulina Herpel and Val Illichmann embark on the trans-Europe express on a journey that takes them from the backwaters of Dresden to the tanker-surf of Hamburg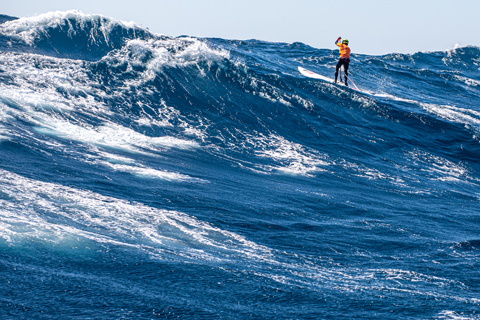 Storm Force Ten:
Ever wondered what it would be like to paddle your board in the middle of the ocean when it is being whipped by a proper, code black storm? Brothers Jeremy and Ludo Teulade find out.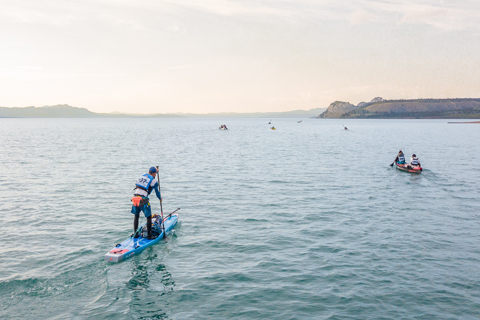 The Yukon Quest:
444 miles on a paddle board through the remotest parts of the Yukon Territory sounds like an adventure many of us would sign up for. But to do it in two and a half days? Bart de Zwart did…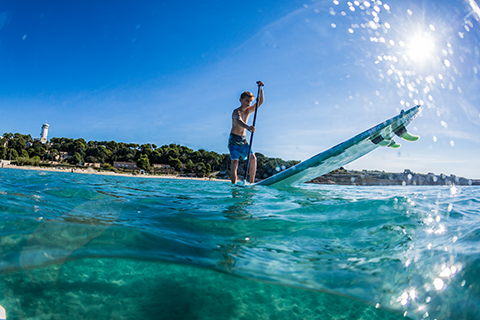 Uprising:
Raf Filipi leads a frothing grom-fest in a Canonball Run chase around south west France to discover waves, downinders, and the crude but time-saving art of not showering for a week.

Skin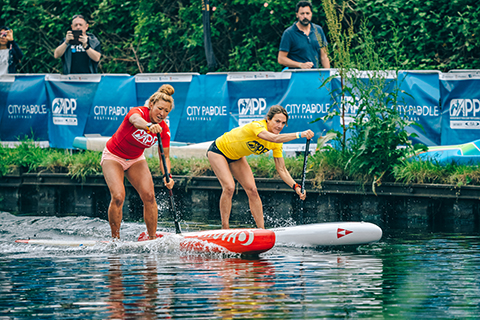 Ginnie Betts:
Ginnie just has one of the best stories in SUP at the moment. Around four years ago after watching a race she made the decision to start paddling. Today she's breaking into the top 10 international racers and presently on a jet to the SIC Columbia Gorge Paddle Challenge.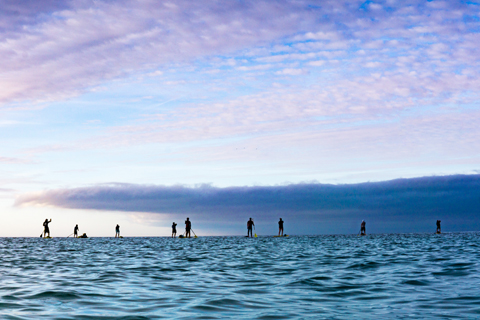 The Endeavour:
A journey across the Celtic Sea from Porthcurno to the Isles of Scilly. It's not the first time it's been done, but surely the first time with a nylon paddle and inflatable board. 11 hours in, things got transcendental.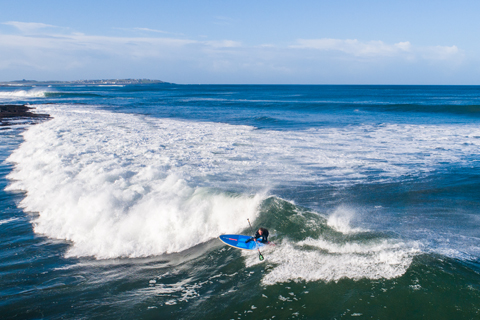 A Change for Good:
Finn Mullen explores how applying yourself generally to SUP, rather than specialising on your favourite style, can actually speed up your learning process and ultimately lead to better performance in that chosen style.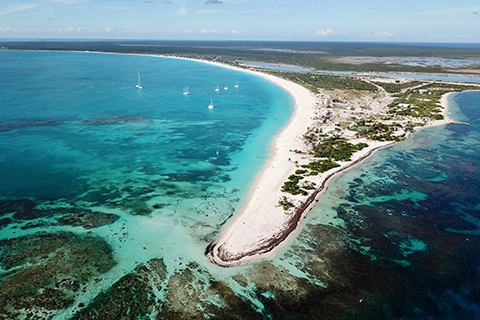 A Forgotten Place:
Barbuda slipped into the public consciousness for a moment after Hurricane Irma caused the evacuation of the entire island. Sara Hebert sailed across to discover if life could find a way back.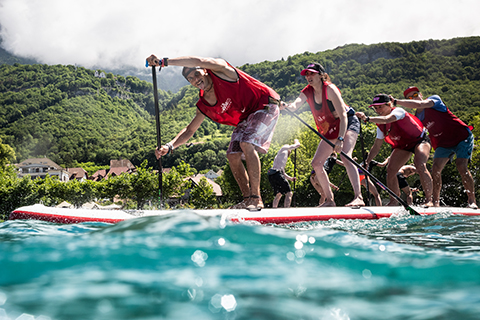 Way of the Dragon:
The more we here about the Red Paddle Co Dragon World Championships the more we realise we need to get a team together. With no selection process there's nothing stopping us either, except maybe a publishing deadline.

Pips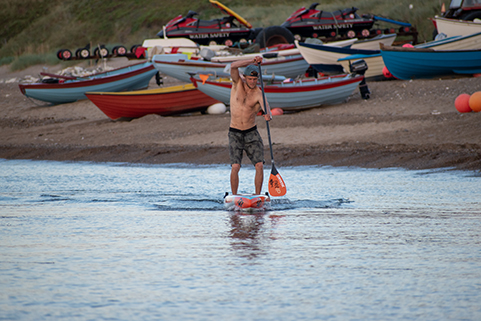 Paddle Science:
Following on from fast and slow twitch muscles, this time we're looking at how to train for sprint and endurance paddling by hacking our energy systems.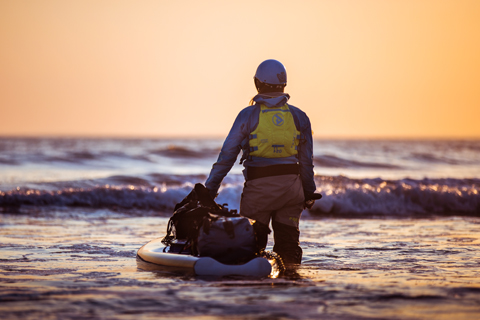 Get Psyched:
Sian's drawn up some expedition red lines to help us go further, for longer, and with fewer embarrassing consequences.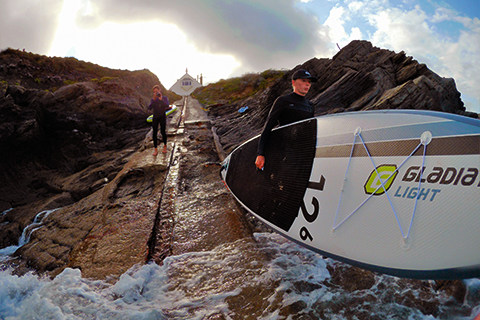 Test Reports:
The high summer round up comprises inflatables Bic Performer Air 10'6, Gladiator Lite 12'6, Red Paddle Co Voyager Tandem 15'0, RRD Aircruiser 12'0, Two Bare Feet Sport Air Double Chamber 10'0, and hard board Hypr-Nalu Pono 11'0. Plus foils from KeNalu and Neil Pryde and a foil board from JP.
The Close Out:
If you're too busy to do an hour's foiling each day, that means you need to do two…
---


For further information email us at subs@arcwind.co.uk