Stats
Volume
175L
Weight
10kg
Length
9'4
Width
32
Thickness
4.5
Fin(s)
US Centre
Price
RRP: £999
Tweet
AZTRON APUS 9'4 TEST REPORT
---
Verdict
Aztron have brought a stylish carbon board to the market that will delight anyone wanting more volume, for less than a grand. The 9'4 APUS carries volume and width where you want it for an easy time between waves while a generous rocker and low volume tail work with the low swing-weight for a fast reacting surf sup. Goes great in everyday surf with the supplied fin set up, and if you upgrade the centre fin the APUS feels solid in more serious surf.
Overview
The Aztron Apus stands out as a predominantly surf shape with all-round ability enabling the rider to comfortably ride in a broad spectrum of surf from mushy bumpy windswell through to 'proper'. Up front is the surf-style wide pointed nose which houses four leash plugs for cargo straps followed by a 2/3 deck grip, breather plug and recessed handle. The tail pad sits quite far forward and includes a significant kick to really dig your foot into through the most powerful turns. Rails are soft 60/40 with a sharper edge around the fin area providing plenty of forgiveness through the turns. Entry rocker is low to medium with a lot of volume up front gets you into waves early while the high tail rocker and low volume in the tail area allows tighter turns and more grip in the pocket. Concaves on this board are a very pronounced version of the modern high performance combination – deep single in through the nose into a double just rear of the middle followed by a strong Vee in the tail. Included fins are a 9" Nylon US fin with two small stiffer FCSII fins in front.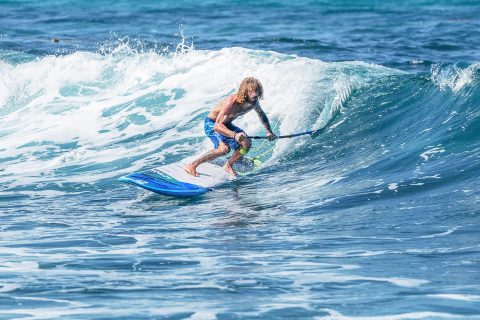 Brand claim
The newly developed APUS 9'4″ Carbon Surf SUP is great all-rounder and able to handle all sorts of wave conditions. It is built around a high performance yet intelligent shape that excels in most conditions from small to large waves.
The extra 32″ width at the standing area makes the surfing session easier, more comfortable and last longer. While the square tail increases stability when stepping back on the kick pad and offers release out of turns. Equipped with a 2+1 fins set up (10″ nylon center fin with two FCS II side fins), the tracking performance on flat water increases significantly and optimized drive and control in surf.
Performance
Don't be fooled by the rounded shape of the nose, it may look like a stiff longboard but performs just as a performance wave SUP should and is incredibly stable. Kick turns are a breeze so you can turn and burn in a moment's notice. Once in the wave turning is super tight and fast with very little swing weight, this made the slalom run between learner surfers on the first sunny weekend at Fistral since summer ended a lot easier than usual; and we even got some great turns in between! The board feels very light and loose yet incredibly stable making this board a very smart choice for riders around the 100kg mark who are contemplating a winter of wild conditions at their local beach!
Vital Stats
Price: RRP: £999
Length: 9'4″
Width: 32″
Thickness: 4.5″
Volume: 175L
Weight: 10kg
Fin: US Centre