Stats
Weight
8.7kg
Length
11'4
Width
32
Thickness
6
Fin(s)
US Centre Touring Fin
Price
£639
Tweet
GLADIATOR ELITE 11'4 PADDLE BOARD REVIEW
For new paddlers' looking to commit to SUP, the Gladiator Elite 11'4 is an excellent proposition. It retains the stability and accessibility of the ubiquitous 10'6 that many centres run beginner sessions on, but delivers more straight line glide and actually a bit of surfability, without stepping up to a 12'6 touring shape with the increased windage and larger turning circles. Gladiator's stiffening Elite construction is right up-to-the-minute and the packaged carbon paddle and Super pump combine in a set-up that will provide many seasons' development and fun without you needing to upgrade any components.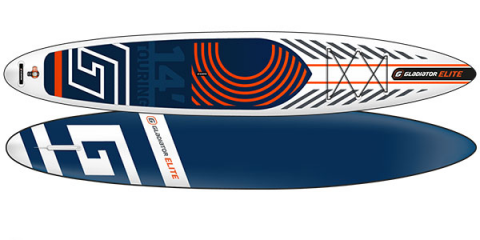 Overview
So what IS a performance all-round board? Gladiator have taken the most popular shape in inflatable SUPs – the 10'6, and drawn out the length to 11'4 so that the regular all-round nose could be remodelled into a more, efficient drawn in touring shape. The extra 10" in length means that the rails are able to remain parallel to retain tracking qualities. The width and thickness are kept at the practical 32" and 4.75" but the tail is also redesigned with a squared-off touring shape that will improve release and stability over the regular rounded all-round tail.
The 11'4 Elite from Gladiator is built using the same tighter packed woven drop-stitch base yarn construction as their 14'0 Elite on test this issue (and all other boards in Gladiator's Elite line up). Likewise, it comes with a smart three-piece carbon paddle, raked-back touring US centre fin, the substantial Super pump, coil leash and wheeled pack.
Brand Claim
The 11'4 x 32″ Elite performance all-round SUP is a superb choice for the majority of paddlers. This performance all round board has been specifically engineered and designed to offer performance and speed to paddlers who want a step up from the all-round board but still want flexibility of use. Its length and nose shape make it fast, its width and squared tail make it stable, the premium construction makes it light. If you want a board to go anywhere and do a bit of everything, this is the one.
Performance
This 11'4 Elite from Gladiator is the embodiment of practical design. We loved the extra carry handle above the tail (this features across all their Elite range) and the forward tow-point for buddy-assists. At 4.75" thick, rather than 6" like so many all-rounders, you benefit from a lower centre of gravity, a more connected feeling with the water and also less windage in cross winds – and all these benefits come with no compromise in board stiffness thanks to the integrity of the woven drop-stitch base yarn. If you have had a few lessons or hire sessions, or want to step up from your existing 10'6 but don't want to lose the instant fun factor and hassle-free paddling regardless of your environment, this refined 11'4 'performance all-rounder' shape makes great sense. It's a board your skills can grow into for many seasons and owing to Gladiator's excellent construction will look just great all through the journey.
Vital Stats
Price: £639
Length: 11'4′
Width: 32"
Thickness: 4.75″
Weight: 8.7 Kg
Fin: US Centre Touring Fin