Stats
Volume
130 Litres
Length
8'11
Width
29
Fin(s)
FCS glass quads 4.5", 3.5"
Price
LTD £1749
Weight
8.8kg
Tweet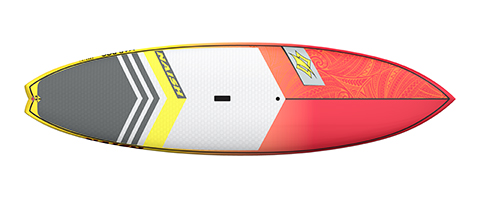 NAISH 8'11
MAD DOG CARBON
TEST REVIEW
Verdict:
New for 2018, the 8'11 Mad Dog provides a full performance wave board for slightly bigger guys. The 130 litre iteration gives a light, fast, grippy ride perfect for dropping into waves of consequence. Its narrow higher rocker nose will get you out of any steep drop and the quad finned claw tail holds in on the hollowest of waves; the 8'11 is build for charging.
Overview:
Naish's Mad Dog range – all at 29" wide – now come solely in carbon construction so feel very light and stiff with their full sandwich laminate. On deck the long sleek nose comes back to a mostly textured deckpad with tail kick, a med ledge handle and a single leash point. Underneath, the Naish starts with soft vee which runs all the way through to the tail where its 4 glass quad fins fit into FCS 2 boxes, there's also a long US centre box fitted too.
Brand Claim:
Positioned between the slimline Hokua and wider Hokua X32 series, Mad Dog boards are characterised by their significant volume and low profile rails. At 29" wide, these high-performance wave boards strike an excellent balance between stability and responsiveness and appeal to riders looking for heightened performance in a more accessible format. Lightweight and stiff, the Carbon construction delivers a more direct feel for a crisp and responsive riding experience.
Performance:
This board is built for charging, if you're looking for a board for mushy gutless waves, this is not it. The Mad Dog was at home in the chunkier swell and was by far the best of the bunch when the waves turned on. The narrowest board on test, the sleek lines hide the volume well. Naturally it doesn't have training-wheels stability at rest but when it counts and you're committed to a steep drop the Mad Dog feeds back stacks of assurance. A very lightweight smart looking product, however we found the deck pad could do with being a bit longer over the nose, you'd certainly need to wax the deck in front of the pad to give you confidence paddling into fatter waves. Also the deck pad further back was non textured which tended to be where your back foot lands when dropping in, but again a rub of surf wax would sort this out. Overall this well-mannered high performance board with its chunky mid section and full rockered bottom is perfect for dropping into session-of-the-year and confidently holding a line. The thin quad tail gives you grip and control and rewards with smart snaps under the lip when you push it; if you're serious about charging big winter time reefs, this is it. Naish have made a reputation of building performance boards for charging bigger stuff, this new 8'11 makes it more accessible for larger riders and keeps the reputation going strong.
---
OTHER BOARDS IN THIS TEST:
• STARBOARD 9'5 WIDE POINT STARLITE
---
---