Tweet
Press release
Making sporting events climate positive by planting mangroves
Sports reach hearts, set trends and unite people. Mix awareness with good intentions, and sports events can become climate positive by using nature's own efficient CO2 sequestration technology.
On the way to more climate positive sports events, Starboard is showcasing how to not only offset their own and their team riders' carbon footprint, but also how to put in place the stepping stones for sports focused events to become climate neutral. The latest events that have become carbon neutral through this collaboration are the Head of the Dart SUP challenge in Dartmouth, UK and the Outdoor by ISPO trade fair in Munich, Germany.
Svein Rasmussen, founder and CEO of Starboard believes that every company and every individual on our planet can be ten times climate positive. He showcases his vision by constantly contributing to the growing of mangrove trees in the Thor Heyerdahl Climate Park in Myanmar. Mangroves not only absorb 1 ton of CO2 over 20 years, but also create a healthy ocean habitat for several species and protect shorelines from extreme weather.
"In order to bring our planet back into balance, we all need to act now. By being up to 10 times climate positive, we can also make up for debts from the past, we call that 'past climate positive'. That's why at Starboard we do not only decrease and offset our own footprint, but also motivate as many other people as possible to do the same" (Svein Rasmussen)
After offsetting the ISA World Championships 2016 in Fiji and the Nautic Paddle 2019 in Paris, Starboard also started to develop environmental partnerships with global industry leaders in various fields.
How does it work?

For the Head of the Dart event the Starboard environmental team supported the event organisers, Tushingham Sails, to collect all travel data from their participants. From the total number of travel miles and mode of transport, the carbon footprint was calculated. From the calculations, it is clear to see that 13 mangrove trees need to be planted to sequester the event's emissions.

For the Outdoor by ISPO fair all of its emissions through electricity use were offset 10 times over, therefore, going past carbon neutral to being carbon positive for this element of the fair. In curation of Brands for Good, Starboard supported the organizers of Outdoor by ISPO in determining the expected energy consumption of the fair (comparative value ISPO Munich 2019) and the corresponding CO2 consumption is offset by planting 320 mangrove trees.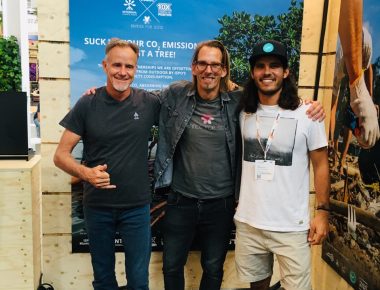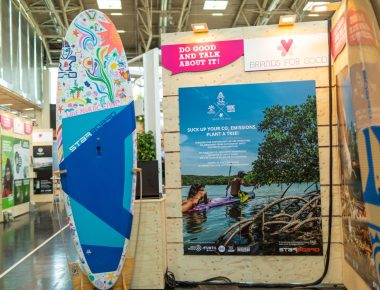 In 2012 Starboard established the relationship with "Worldview International Foundation" who founded the Thor Heyerdahl Climate Parks. The Foundation's goal is to plant one billion mangroves in Myanmar. Starboard itself had planted around 230,000 mangroves by mid-2019, making the company carbon positive and offsetting the entire CO2 footprint since 1994. For every Starboard board sold, a mangrove tree is planted at Thor Heyerdahl Climate Parks in Myanmar.
Now Starboard's aim is to motivate even bigger outdoor events like the SUP Euro Tour or the PWA events to take action and become carbon neutral, as well as more sustainable overall. The next collaboration for climate neutral events is between Starboard and the European Freestyle Pro Tour (EFPT).
www.blue.star-board.com/mangroves/