Tweet
What happens when two forces of nature collide? Well usually one of them is irrevocably changed for the worse and the other grows stronger for it. But we're not sure that applies to when Nick Healey visited Alaska, because a) Big Nick is a nature loving guy who takes only photos and b) he was buzzing like a fridge when he landed back in Cornwall after his nine day unsupported expedition through the great Alaskan wild…

Words Nick Healey // Photos wesup.co.uk & Jeff Allen
(This feature originally appeared in the Summer 2013 issue of SUP International. Print and digital subscriptions for readers worldwide are available HERE.)

"I have been frequently asked what were the highlights of this trip. Big animals, big mountains, big ice, extreme environment springs to mind, huge glaciers calving off (close up), paddling in broken ice with seals (on an inflatable board, got to be a 1st), paddling with whales – that felt like I was going to surf his wake, campcraft/survival skills, brandishing a Magnum 44 that was for sale in the supermarket. Or maybe being given two 20lb plus red sockeye Alaskan salmon by local fisherman fresh out of the net. Or what about 25+ degrees for the majority of the trip. hottest out there since 1936?
The expedition left from Whittier Fjord and we planned to go as far as we could whilst exploring around the islands. Having no fixed plan meant we could spend time with whales and exploring glaciers and such, then circumnavigating Colross Island we returned back to Whittier, The mileage was approximately 100,  and that took nine days. This trip was not about clocking up miles however it was physically taxing, spending up to six hours a day paddling with kit.
We arrived to snow capped mountains and not too much wind, that was a relief. I'm doing it, I thought. This expedition was real trial and error, and here are the nine biggest things I found out there: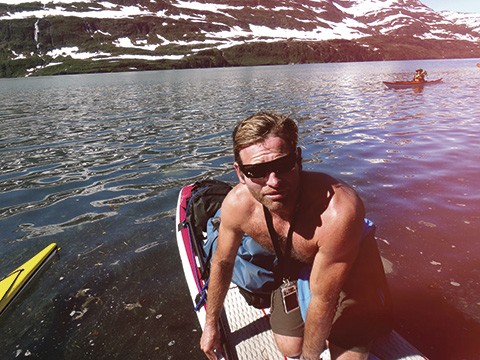 1. I've (got) Lost. (It's) The Remote(ness).
This is the wilderness described on every number plate "The last frontier". Scotland on steroids. The animals are big, the mountains are big, the ice is big and there are lots of big boys toys. It's like sleeping in a wood full of wolves like in a film, only these animals in real life are better tooled up. The isolation is one of the reasons to do a trip like this, No e mails, no phones beeping or any of the usual day to day life binds. You have the feeling of survival and it triggers different thought processes to what you experience in day to day life as we know it.
2. Does a Bear Shit in the Camp? Yes.
We saw black bears within 100m of the camp  The bears live in this wilderness, sure the black bears are supposed to be shy but the Grizzlies most certainly are not. We had bear poo in  our camp, not steaming but most definitely fresh. We were reminded by more than one local, that 'you are not top of the food chain out here'. Jessica and Levi gave us a lift to the start. She explained it was only two days ago that whilst out cycling she came round a corner to be confronted by a Grizzly. She put her bike above her head. and had ten seconds of wondering if she was going to get eaten. The bear nonchalantly wondered off, to her relief
3. Whale Breaching.
We had hump back whales passing within 20 feet of us. breaching and surfacing with mouths wide open. At around 30 feet long, the aerial view from my paddleboard made me feel pretty small. I feel very privileged to have witnessed this.
4. The Inevitable Puncture.
Having just filled my water bottle from a glacier waterfall, I was enjoying rehydrating after some long periods of paddling, when my board brushed up against a particularly un-accommodating rock and suddenly I heard the 'Whoosh!' of air leaving my single chamber inflatable paddle board (it should be noted that I was wearing shorts; it was a warm day I was sat on an inflatable paddle board with all belongings necessary to survive in the wilderness, four days from the nearest phone box and the water temp is around 2 degrees.) I was offered a tow by Jeff, who I'm sure was struggling not ty to burst out laughing, to the nearest beach landing site. I had my finger over the hole in an effort to prevent sinking. We made it to the beach to start repair. I remained anxious about the repair, after all, I'm on an island inhabited by bears, with no other way of leaving other than on my board, or in their bellies.
5. The Drugstore Cowboy.
We were in Wallmart, redneck cousin of Asda, only in Wallmart you can by automatic weapons and I picked up a Magnum 44 calibre handgun. I put it back before I went through the self scan checkout though.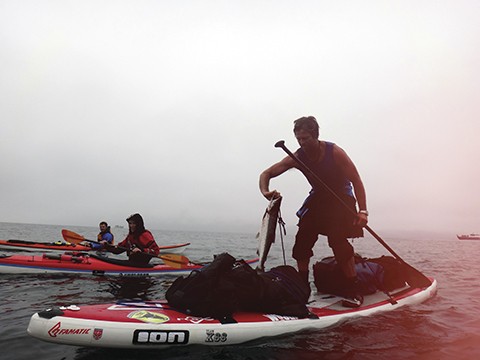 6. Chest Of Drawers On My SUP.
Well 40kg of gear anyway. It was hot during the day but cold at night. The water was frigid;, we were paddling between ice blocks up to 400 feet thick. It's not the sort of kit you'd take on your average camping trip: counter assault bear deterrent. for example, survival knives, for real – perhaps a little bigger than necessary. Dry socks, dry bags, sleeping bag liners. fire starting flints. Puncture repair kits, freeze dried food. I liked the macaroni cheese.
7. The Good Times.
Life out in the wilderness allows you to feel and behave slightly caveman like (surely you mean even more? – Ed). It removes all the unnecessary stuff that we have to deal with in day to day life. Emails, phones, text messages etc… I certainly did not miss that. You only carry minimal kit. Things break, you have to fix them. If you loose gear it can be serious. You have to use the environment to your advantage. We discussed to five key elements needed to give one the best chance of survival in a situation: preparation, determination, knowledge, equipment and luck.  This is the adventure you dream of as a kid and a fully grown immature adult. 
8. Glaciers: Always a Thrill, Always a Gamble.
You never really know when a glacier's going to calve, thrusting upwards, or allowing gravity to add impetus to its incredible weight and mass and explode outwards, but you still let them draw you in ever closer, the electric blue becomes a magnet. And so we paddled closer  when150 meters off the left hand face calves and hundreds of tonnes drop into the sea. It's not enough mass in the deep water to kick up much wave action but I put in two quick sweep strokes and manage a  rapid 180, adrenalin levels red lining. We heed the glacier's warning and move further back.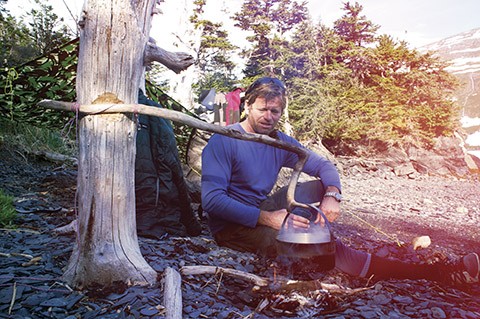 9. Alaskan Salmon and Coffee. Together At Last.
Deep into the trip, I think it was the sixth day in,  we saw a fishing boat and paddled over to ask if we could buy some salmon. These guys gave us the first two 20lb plus salmon from their nets. They did not want our money and just hoped we would enjoy some of their local produce. The coffee lasted the trip. That came down to good preparation.
Thank you to the crew: K-66 Fanatic, ION, Quick Blade Paddles, Club WeSup,  Freeriders surfshop, FCS, friends and family.
 "WE DISCUSSED THE FIVE key elements needed to give one the best chance of survival IN ANY situation: preparation, determination, knowledge, equipment and luck"