Tweet
THE RISE OF THE INFLATABLE
Inflatable boards are ubiquitous in sup, but it wasn't always that way. It was summer 2008, and the stand up paddle landscape of the UK looked a lot different to what it does now. I was having a cup of tea with John Hibbard and Roger Tushingham, co-founders along with Dave Hackford of the newly formed Red Paddle Co. brand. They were talking about their new inflatable sup designs and how they believed it was the way of the future.

INTRO Dom Moore / INPUT John Hibbard & Luke Green / PICS Red Paddle Co.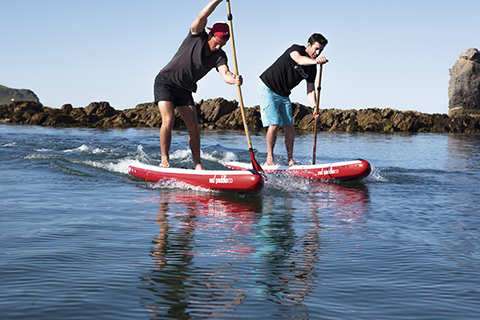 We went outside to the van and a board was unceremoniously hauled out onto the pavement which I was invited to jump up and down on. I'd never been able to treat a piece of watersports equipment like this and it was bit surreal, but I was getting my head around the concept and the benefits seemed obvious. Would the public at large be as keen? Surfers around our way were finding it hard enough to deal with the thought of using a paddle never mind combining it with an inflatable board… Seven years on and we all know how it played out. Inflatable boards make up 70-80% of board sales (conservative estimate on a straw poll I conducted) across retailers that offer rigid and inflatables, and of course a 100% in stores that only offer inflatos.
There's a touch of serendipity as to how John Hibbard himself got into sup. Back in 2006 on a windsurfing photo shoot for Fat Face at Watergate Bay, the wind had failed to show up but 2ft of clean surf did. Borrowing a sup board, John spent day one practising and day two on the shoot. Realising how good it felt he thought to himself, 'this is golden!' Coming off the back of a high profile windsurfing career, John was inspired to travel all over the country to meet with other early sup adopters, purely to share the stoke of the simple act of paddling. Seven years ago he wrote the first ever contribution to this magazine, an article about beaches where you could surf waves and then head inland and paddle up an estuary. Hibbard was an unrepentant supist by the time he pitched the idea of an accessible paddle board to Roger and Dave, and what follows is how the inflatable rose to dominate the sup board market today.
What inspired you to make an inflatable sup board?
When we first got into SUP we looked at several different options, initially heading down the rotomoulded route but these turned out to be incredibly heavy and difficult to transport. Looking at the issues that they presented us with, we saw that an inflatable board would offer easy transportation, storage and be incredibly durable which would appeal most to the average paddler. We could see that there was a need for a different solution to board technology. There was a fair bit of resistance from people who had no space for a hard board, had no way of transporting it and had concerns over the durability. We'd seen some of the early inflatable boards and we knew we could radically improve on what was being offered at the time. So we weren't the first, but we did take what was already available and start refining it.
Where did the technology come from, is it an original concept or did it already exist in another industry?
Drop stitch has been widely used in the floor of inflatable boats, kayaks and white water rafts, as well as being used by the rescue services in various applications. It was then adapted for the SUP market as the sport began to take off which is where we then came in.
Looking back, do you think the inflatable has solved any problems, or created opportunities that you hadn't foreseen at the start?
I think the inflatable board has solved many problems that their hard board cousins pose. Be that durability, transportability, storage and all round ease of use. I think they have actually opened up the world of SUP to a whole new audience of land locked people who don't have large garages for a 14' hard board or a roof rack. They also mean you can travel with your gear without the worry of it coming out in two pieces the other end, as has happened to us many times transporting our windsurfing kit! While these solutions were foreseen I don't think we originally expected it to be quite as successful as it has been.
How did you decide on what shapes to go with in the beginning? And over time, where did you identify the biggest need for change?
Something we realised very early on is that you couldn't just copy the shape of a hard board – a mistake that many have made and still make. It took us some time to understand the effect that rail construction, plan shape and rocker line has on the performance of the board. Our boards are designed as 100% inflatable boards. They are designed to exploit all the characteristics of the material technology as well as work within its constraints. As for changes, we've always tried to keep a concise range to make the buying process  easier and allow a good crossover between shapes.
How has the technology evolved over the years and what areas of the inflatable board required change and development the most?
Since we made our first boards in 2008 the technology has come on leaps and bounds. Be that in the shapes, rail construction or drop stitch material. We have also pioneered the RSS system, which is a stiffening system that radically increases the stiffness of our smaller boards – 40% stiffer. This is our patented design and has been instrumental in allowing us to produce the absolute best boards available. We believe that riding an inflatable board shouldn't be a compromise and therefore our focus is directed to making this a reality. The other big area of development has been the pump.  There was a big opportunity to make inflating the board faster and easier without the need for an electricity supply. We spent 18 months prototyping and testing designs before the Titan pump was born. The Titan pump cuts the time and effort taken to inflate a board in half, leaving you more time and energy to paddle. Anybody who has inflated a board will know how much of a game changer the Titan pump is!
" We always knew that SUP was a sport for everyone. We don't see the inflatable so much as opening up the entry level but more that it has opened up every level…."

On the water
The RED Inflatable has definitely opened up the entry level side of the sport massively, has this surpassed your own expectations?
We always knew that SUP was a sport for everyone. We don't see it so much as opening up the entry level but more that it has opened up every level. We have race boards that can compete with their hard board cousins but allow you to travel to any race with ease. Our White Water boards are the go to for this discipline and our Ride boards mean everyone can enjoy paddling in its purest form. We are biased but we see the inflatable side of the sport has allowed stand up to really flourish; we haven't done it single handily of course as there are lots of inflatable boards on the market. The inflatable technology and specifically our focus on making the boards really durable just means there is a viable product for all types of paddlers whether it be schools, families or people looking for the most practical solution. We are delighted that we have been able to get so many people into the sport and this is ultimately our main goal, but we are always working hard on increasing the level of performance so it is a viable option over a composite board. Our RSS and focus on stiffness has made authentic performance a reality. This is highlighted by Sam Ross winning UK SUP club series events as well as challenging hard in the 2013 11 Cities race and 2014 Battle of the Paddle. (Sam also won the Bay SUP 2015 Battle of the Paddle 14' class in early June).
Tell us a bit more about how inflatables have become favoured as an exploration / expedition tool.
We also see a lot of people wanting to travel large distances or venture into the unknown choosing to use our boards, from exploring the Okavango Delta, to paddling down the Amazon, to going from source to sea on the River Severn. Also with the board's ability to fit into a bag which can be checked in as normal luggage there really is endless possibilities as to where you can take your board without the fear of it getting damaged. We have one customer who is a pilot for British Airways that takes his board everywhere he goes.
We see that inflatables place well on race result tables, but it's hard to know if this is down to the paddler or the board without repeated testing. So, all things being equal, how do the Elite boards compare against a similar hard board?
I think that it is actually a combination of both, yes you need a good paddler but with our focus on making boards to deliver authentic performance the gap between hard and inflatable boards has been narrowed. We feel that a Red Paddle Co Elite race board is now a viable choice for those that want to travel and race or don't have the room for a 14' board in their house, but still wish to be able to potentially podium instead of just making up the numbers. In BOP and downwind race events you can see the gap closes even further to a point that in some conditions an inflatable race board is actually better. A point proven by Sam Ross winning the Jersey SUP Club race in 2014 14' class where there were 30 knot gusts and over head high swell during the event.  Sam was also the first to compete at the 11 cities tour on an inflatable, placing 14th overall even though he had some terrible luck during the week with broken paddles (not a Red one ;-)) and wear on his fingers. Some were laughing at the start but as he powered past them it soon silenced the critics!
On the river

Would it be fair to say that among all constructions available, inflatable is the best choice for white water?
When you take into account the safety aspect as well as the durability and performance I would say yes. There are some rotomoulded boards in the market but personally I wouldn't want one following me down a river if I fell in, inflatable all the way! And unless you have just won the lottery and have cash to burn a composite hard board is completely out of the question as it will be a pile of dust when you reach your journey's end.
What shape and design specifications did you have to work into the Flow to make excel in swift water?
We worked heavily with our team in New Zealand who are a core group of paddlers that were already using our boards in pretty epic white water conditions. They helped us develop the shape and fin set up primarily. We also considered additional carry handles to make putting in and getting out super easy as well as a tail kick pad for improved turning. The plan shape also gives the rider great control on a fast moving river.
How does the construction differ to other boards in the Red stable?
Our River board the Flow is made in exactly same way as all of our other boards – they are built to last – the shape was the key element with the Flow.
In the surf

What's the main challenge of surfing with an inflatable?
We can some it up in one word: rails. The fatter rails on an inflatable board mean it is hard to get a fast, driving turn. 18 months ago we developed a hard tail system. It made a difference to the performance for higher end riders who are capable of riding their board from the tail, but we decided that this was not our target audience and the performance uplift it offered wasn't significant enough to really make the hard-core rider shift over to inflatables. These riders accept the potential hassles of travelling with their hard board in order to get the very best performance. For everyone else though an inflatable can work quite well for riding small waves.
Off the shelf

What type of boards are you selling the most of?
Our biggest selling boards are our all round Ride boards as they cater for the widest audience. We really focus on making boards that offer authentic performance, functionality and durability. The opportunities in the racing world are an exciting part of the future as well.
Picture the world of standup without the inflatable paddle board, what do you think it would look like?
I think participation levels would be way down and the sport would likely be more focussed on the niches of surfing and racing. Travelling with your board would also become something only achievable for a few willing to suffer the pain and expense and we would be seeing a lot less adventure stories and challenges in the magazines! The inflatable technology is defining the sport as something for anybody, anywhere. SUP