Tweet
The region of Friuli in Northern Italy is blessed with an ample share of rivers, lakes and ocean, not to mention its close proximity to the Alps. Local sup school operator Francesco Leggio pulls the shutters down on his enterprise for the season and sets off to sell his soul at Devil Bridge in return for eternal life and a client list full of beginners who aren't actually afraid of putting the entire paddle in the water (probably).
Words & Photos – Francesco Leggio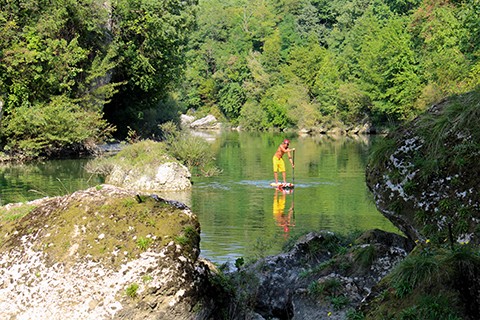 It's Autumn and at last I've got some time  on my hands. I was frothing with joy when RRD sorted me out with a neat little AirSUP, just the tool for allowing me to discover some new places and let me experience the beauty of this fine season. The place I had in mind was Cividale of Friuli, which is an old village near Udine. Believed to have originally been settled by the Celts, the town if Cividale was founded in 50BC by the man himself, Julius Caesar. Today, this place is famous for the big bridge called "Devil Bridge", that connects the two banks of the Natisone River that flows down from the Julian pre-Alps, cutting a natural border between Slovenia and Italy.
The water was so incredibly clear, I was able to skate across the marble flat surface and gaze down at the drowned world below me as if I was floating over it in a dream. Enraptured, I cruised lonely as a cloud for six kilometers surrounded by green nature and clean fresh air, my senses recharging with the positive vibrations and negative ions, until after an hour I could hear the gentle rush of the weir, signalling that it was probably time for a double shot of espresso and a slice of panettone.
With the sugar and caffiene coursing through my system, the return journey was an almost kaleidoscopic experience. Picture yourself on a sup on the river, where people drink coffee and eat slices of pies. Everyone smiles as you drift past the flowers that grow so incredibly high. Newspaper taxis appear on the shore, waiting to take you away, climb in the back with your sup packed away and your gone. Back in the real world, our RRD Air Sup V2 adapted perfectly to the environment, thanks to the technology of the new dynema belt, you only need to pump it to a languid 15psi and it'll be ready for you to jump right onto it. The reinforcements of PVC on the bottom of the sup allowed me to mount the stoney banks and rocks like Fred Patacchia himself. SUP