Tweet
STARBOARD GENERATION: TEST REVIEW
---
Verdict
The Generation will do anything you want. It covers the three main SUP disciplines: surf, race and tour without compromise. It would be right at home cruising wide lowland rivers or as a club racer. But it really comes alive in the surf and rough stuff. We think it it's the most versatile choice for paddlers who find themselves in diverse water environments.
Overview
At first, the 12'6 Generation looks like a fast tourer but there are a lot of surf/downwind crossover features shaped into this board. A deep twin concave runs nose to tail. It starts at the ocean-going Vee nose and runs to the thruster fin cluster. The rails sharpen from the mid-point towards the refined square tail. The rocker lifts the nose and flows to a flat mid-section. Overall, the Generation looks like it will prowl through all water and come alive on the plane in surf or downwind.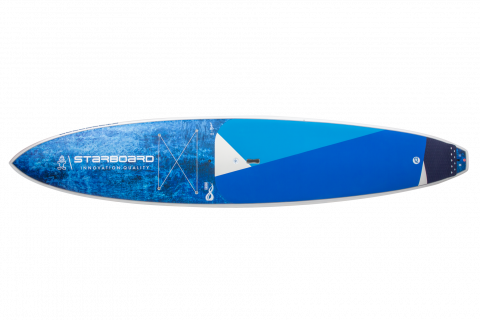 Brand Claim
The Generation is the best of 3 worlds; Surfing, Racing and Touring. The Generation is basically the perfect board for a one board quiver. A true high-performance all round paddle board.
Due to popular demand, the range has expanded to 6 sizes in total to accommodate all riders' weight and skill levels.
Performance
Our Generation came in the strong LITE TECH build with eye-catching photo print graphics. It's stiff, light and feels high ding-resistant. The standing area is reinforced with Australian pine to prevent deck-sink over time.
We loved the gentle concave of the deck; it gives you something to brace against in bucking side swells. If you want to challenge your balance and reactions in rough water, the Generation is built for it. It's slightly lower volume than a pure tourer and sits in the troughs and pockets a little better. It also handles dreaded side / quartering chop beautifully and holds its line without cork-screwing through the water.
This all adds up to a resilient board that can paddle through the surf, so can it surf? Yes, very well. 12'6 may seem long for a surf craft, but for SUP it's very practical – if some other things are in place. Such as the Generation's sleek, parallel outline and refined tail. You get excellent tracking when you're smashing the paddle to get into a wave followed by a gentle roll-in. It slices through chop on the face giving you a steady speed increase as you drop in. The refined tail lets you keep that energy through a genuine bottom-turn to set up for a zippy down the line run. It will even hop up onto the lip for a re-entry. It sounds fun and it is. In our opinion the Generation's surf style represents what surf SUP is really about; mobility, speed, and the freedom to go anywhere.
Stand Up Paddleboarding Starts Here » Starboard SUP (star-board.com)
STARBOARD GENERATION: TEST REVIEW
Vital Stats
Price: RRP £1199
Length: 12'6
Width: 28"
Thickness: 6.3"
Volume: 249 litres
Weight: 13.1 kg (LITE TECH)
Fins: 8" centre plus 2x 5" sides