SUBSCRIBE
Subscribe to the World's No.1 Stand Up Paddle Magazine and you will get it delivered to your door! Prices include global delivery (scroll down for international postage options or the digital edition).
SUP International Magazine is published: Spring / Early Summer / Mid Summer / Fall
---
SUBSCRIBE OR BUY THE PRINT EDITION NOW:
Scroll down to select international postage options.
Specify your subscription start issue.
---
---
---
If you have any queries or questions about your order please email subs@arcwind.co.uk
All orders will be confirmed by email via PayPal.
Please specify the recipient's delivery address when purchasing your order at Paypal.
Buying as a gift? Please click here to download and print the SUP International Magazine Gift Card to complete your order.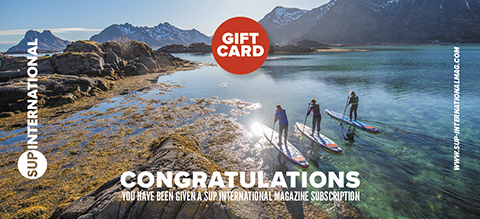 ---
DIGITAL EDITION
Purchase the digital edition here
The SUP International Magazine App
SUP International is available in digital form for tablet and mobile devices. Download the latest edition now..
Available for your iPad, iPhone, iPod, Android, and Windows devices.
Easy access to the latest issues of SUP International.
Mobile optimized for all devices with EZRead function.
Get the most out of your device with a full-screen experience.
Share copies between devices.
Quick access to reviews, techniques, and travel articles.
Receive notifications when a new issue comes out.
Available offline once downloaded.
The best SUP photos and stories from the biggest names in the business.