Tweet
Starboard are launching their 2021 hard boards which feature a lot of exciting new innovations and have released this clip of the all-new Wedge Surf Paddleboard line!
The all-new Wedge Surf Paddleboard line upgrades the previous range of Wide Point boards. These boards have a pro performance and feel without compromising stability or volume. All boards are 32'' wide to provide oat and stability for heavier riders to rip. This is a versatile range for big to small conditions, best suited for beginner and intermediate riders.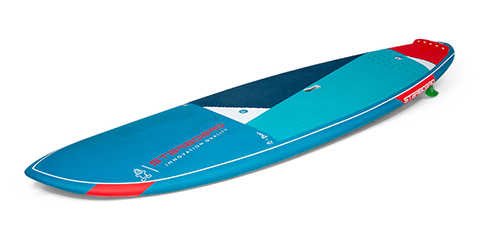 Key features of the 2021 Wedge Surf SUP by Starboard:
NEW SHORTER NOSE OUTLINE Makes it easier to rotate turns, t tighter in the critical section of the wave, and makes it lighter to throw around through high-performance manoeuvres.
NEW LOWERED NOSE ROCKER Helps get into waves easily and early. NEW THIN RAIL PROFILE Thinner rails on the 8'7" and 9'2" gives the Wedge its pro-level performance with faster surfing speeds, better grip, and turning capabilities. The thinner rails are inspired by the much-loved Longboard range for the ultra-responsive and reactive feel.
STRAIGHTER OUTLINE Produces greater drive. MONO CONCAVE Generates lift, drive and speed as it channels the water from nose to tail, through to double concave for sensitive rail to rail turning from the midpoint, through to vee tail for reactive pivot turning on the tail.
NEW ROUNDED PINTAIL The Wedge has a new rounded pintail to maximize the turning ability in these wider models. The new pin tail makes it easier to engage and sink the tail for faster bottom turns and top turns with more drive. The rounded tail also gives the board a better drive out of the turns. FIN SET UP Thruster fin set up provides comfortable straight-line tracking on flat and gives drive and control in surf. 8'7″ features both thruster and quad. Quad fin set up uses 4 side fins and gives fast acceleration and instant down the line speed as it does not have a drag from the larger centre fin.
Learn more at the product page: https://sup.star-board.com/hard-paddl… Locate your nearest shop: https://sup.star-board.com/shops/