Tweet
"The Big Stand Up" For Men's Health
Charley Boorman leads a group of friends, including Iwan Thomas, Wayne Bridge, Matthew Wright, and Damon Hill to stand up paddle board (SUP) the length of the Basingstoke Canal in support of men's mental and physical health
Basingstoke Canal – Odiham to Weybridge – May 17th – 18th 2021
11 paddlers, who themselves have suffered from testicular cancer or mental health challenges
Are doing a stand up paddle boarding challenge of 30 miles along Basingstoke canal
Paddle originally planned for Blue Monday, the most depressing day of the year now taking place on 17th May due to COVID Restrictions.
Aiming to raise awareness and funds for Movember
London 16th March 2021 – In May 2021 a team of 11 men are embarking on a 30 mile endurance paddle in just two days to complete the length of the Basingstoke Canal in support of Movember and raising awareness of men's mental health and the importance of social connection during these unprecedented times. The team will set off on the 17th May to give hope and optimism to others for the coming year. Originally planned for Blue Monday (The most depressing day of the year) Covid19 lockdown forced a change in dates but the team are committed to take on the challenge show that fun and adventure can be found close to home.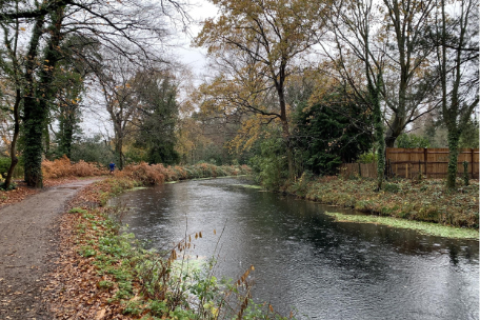 The team consists of Charley Boorman (Adventurer/Presenter), Wayne Bridge (England Football), Iwan Thomas (Olympic 400m runner), Damon Hill (F1 World Champion), Matthew Wright (Journalist, Presenter), D*Face (Street Artist), Nick and Giles English (Bremont Watches Founders), expedition organiser Ben Bowers and paddle guide Paul Hyman.
The group of friends are coming together, shoulder to shoulder through a shared activity to set an example for other men that no matter the situation you find yourself in, looking to friends for support and sharing in experiences can be a good way to get through the tough times. The trip will require both physical and mental resilience which all the team members have developed over time through their own personal challenges. Building the resilience to overcome those challenges, talking about their experiences and seeking help and support have been vital tools to thrive.
Paddling together they will help each other through the challenges on the water whilst also taking time along the way to connect and talk opening up about some of the tough stuff in their lives.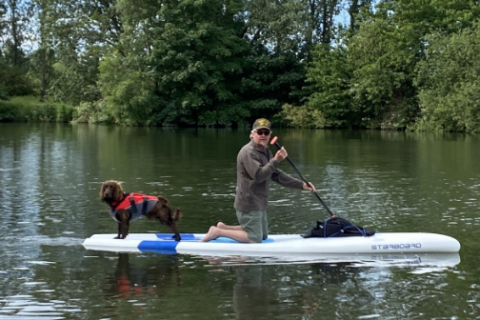 The initiative has been spearheaded by two-time testicular cancer survivor and Movember Ambassador Ben Bowers and his good friend, Charley Boorman who has also had testicular cancer as well as many other life threatening accidents over the years.
Ben said: "Having had a pretty tough year as everyone has in 2020, I was in need of doing something positive not only for myself but for other men. I've had worse years through my cancer fight and I was able to draw upon the resilience built through those experiences to stay mentally well in lockdown. For me keeping mentally well meant getting outside and engaging with nature. I'm so pleased that with Charley's help we've pulled together our crack team of paddlers and hope we can inspire others to take positive action regarding their wellbeing. "
Charley said: "I first met Ben a number of years ago. We both had gone through  a scare with Testicular Cancer. Our path's crossed through a mutual friend and we became friends for life. When Ben asked me to get involved in the expedition to highlight men's health and mental health I jumped at the chance. All my life and all our lives we are faced with challenges big and small. It's how we get through them and what we do that counts. Our family and friends around us are also really important. So I'm delighted to join a bunch of like-minded people and get involved in this challenge in May."
We are inviting media to cover our training days in the run up to the challenge as well as covering the event itself. Please get in touch for more info and to arrange accreditation. Note all COVID precautions will be in place as required at the time.
Press Office Contacts
Ben Bowers
ben@benbowers.co.uk +44 (0) 7950 806141
About Movember:
Movember is the leading charity changing the face of men's health on a global scale, focusing on mental health and suicide prevention, prostate cancer and testicular cancer.
The charity raises funds to deliver innovative, breakthrough research and support programmes that enable men to live happier, healthier and longer lives. Committed to disrupting the status quo, millions have joined the movement, helping fund over 1,250 projects around the world.
In addition to tackling key health issues faced by men, Movember is working to encourage men to stay healthy in all areas of their life, with a focus on men staying socially connected and becoming more open to discussing their health and significant moments in their lives.
The charity's purpose is to have an everlasting impact on the face of men's health. To donate or learn more, please visit Movember.com.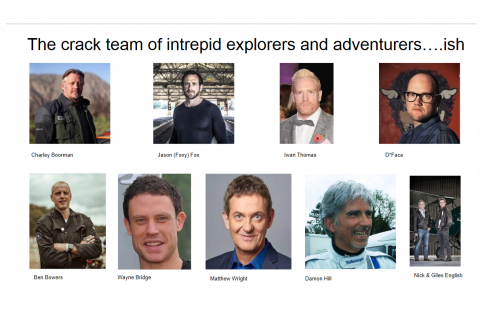 Paddler Profiles:
Charley Boorman
Adventurer and co-star of the "Long Way" motorcycle adventure series, Charley has faced numerous challenges including the loss of his twin sister, Testicular Cancer and numerous serious motorcycle accidents. Talking and being open has been a big part of his recovery both mentally and physically as had his drive to get back on his feet and onto the next adventure.
Iwan Thomas MBE 
Iwan is a former British sprinter who represented Great Britain and Northern Ireland at the Olympic Games in the 400 metres, and Wales at the Commonwealth Games. He is still the British 400m record holder. A positive mental health champion Iwan has been very vocal raising awareness around mental health issues and often takes to social media to talk about the day to day struggles he has as well as trying to spread some kindness and positivity.
Matthew Wright
Broadcaster and Journalist, Matthew was diagnosed with PTSD two years ago. Chronic insomnia has ensued following a series of mental bumps and knocks at work and home including the suicide of a close friend.
Damon Hill
'I've suffered with depression since losing my father, aged 15. Post racing career fell into a deeper depression which was resolved with the help of talking to a therapist. Thinks one of the best therapies is being outside and doing something exciting, like paddle-boarding! Especially with a great bunch of people.'
D*Face
Dean Stockton, better known as D*Face, born in 1978 in London, is an English street artist who is recognised as one of the most prolific contemporary urban artists of his generation. "It's no secret that many artists across history and including myself, have battled with issues of isolation and loneliness. What Street Art brings to the table for both artist and viewer alike is a catalyst for conversation, a common point of reference for casual discussion – removing the social stigma that prevents so many men from opening up to friends and family. So much can be achieved in such few words, someone just needs to start the conversation."
Wayne Bridge
Ex footballer Wayne Bridge's wife Frankie's mental health experience has taught him that it's much better to talk about his feelings. "I didn't realise just talking to someone can make you feel that much better," Having struggled during his career particularly with self-confidence he has spoken out publicly about the importance of talking about your mental health and supporting those around you.
Nick & Giles English  – Bremont Founders and Brothers.
Nick – Involved in a vintage plane accident with major injuries I 1995 which saw me being in intensive care for a significant period of time. Lost his father in the same accident.
Giles: – Lived through Nick and fathers plane crash then broke my back flying a 1930's Gypsy Moth in 2013 with my Godson. Quite a few broken bones between us both plus a big knock to Nicks head…
Ben Bowers
Two time Testicular Cancer survivor and Movember ambassador knows a thing or two about challenges and the importance of talking about your mental health. Having struggled mentally after beating cancer twice in his 20's Ben has spent over ten years campaigning for men's health. Needing a challenge for his own wellbeing during the pandemic, the idea for "The Big Stand Up" was born.