Tweet
Casper Steinfath retains his Red Bull Heavy Water Title in 2019 with a spectacular win in one of the toughest races ever witnessed

San Francisco, USA, 18th October 2019: Red Bull Heavy Water, a highlight on the Pro Standup Paddleboard circuit, returned to San Francisco today, Friday October 18th, after a cancellation in 2018 due to unfavorable weather conditions. Ideal conditions of over 10ft waves were called early in the weather window of Oct 15 – Nov 7, and athletes from all over the world descended on the Bay Area in anticipation of an event for the history books.
The Men's title was claimed for the second straight time by pro paddler Casper Steinfath, 26, of Klitmøller, Denmark, an area he likes to call, "Cold Hawaii." Trailing race leaders Mo Freitas and Connor Baxter for most of the race, Steinfath was nearly 400 meters behind when the paddlers reached the pounding surf at Ocean Beach, where 10 – 15 foot waves were obscured by a dense fog.
"I wanted to conserve energy, for sure. I'm a sprinter, not a long-distance racer," said Steinfath. "This race is all about keeping your head calm, because we literally couldn't see the set waves. I'm still in shock. This is by far the wildest and craziest race in the world, and I wish there were more of them."
Stay tuned for full highlights, broadcast replay, recap and photos at www.appworldtour.com and @appworldtour. You can also see what created the dramatic conditions from today's race by seeing the simulated models created by Sofar Ocean (@sofarocean) official partner of Red Bull Heavy Water at www.appworldtour.com/san-fancisco-red-bull-2019
---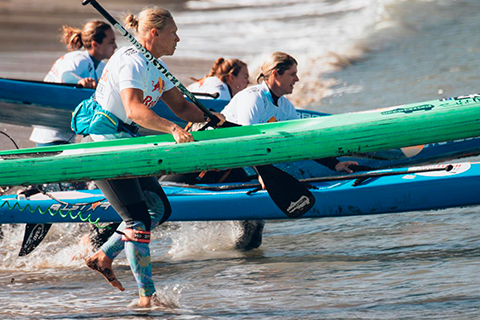 Terrene Black is awarded top honors for what was an impressive display of courage and determination by all of the Women
This year marked the first time women took part in Red Bull Heavy Water, and from the starting gun, North Carolina native April Zilg, current World #2, comfortably led the five-women field, arriving at the beach first.
While competition was called off due to deteriorating conditions before they could finish, it was Australian Terrene Black who had made the most headway, to break through the seemingly impenetrable surf at Ocean Beach to be awarded 1st place by Race Officials.
Given the commitment and fortitude of the remaining women taking part, it was deemed appropriate to share the remaining purse equally.
Make sure to stay turned for the full highlights, recap and broadcast Replay as well as galleries of shots to follow over the coming days at www.appworldtour.com and @appworldtour
---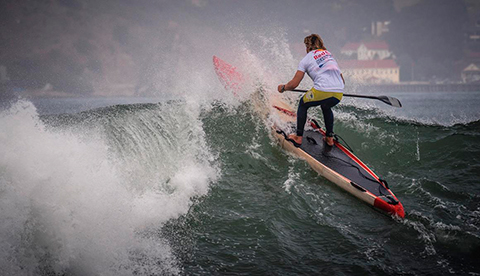 Red Bull Heavy Water once again redefines the term "Heavy Water" to deliver a thrilling spectacle and unparalleled challenge
The 13.5km (8 miles) course, paddling through rough waters and strong eddies from Aquatic Park, under the iconic Golden Gate Bridge, and finishing at Ocean Beach, saw 25 of the world's best male and female athletes assembled to test their skills against the best of the best in the rapidly growing sport of Standup Paddleboarding.
Split evenly between the male and female categories, $75,000 was designated for the prize purse, along with important points towards the Overall APP World Tour Rankings.
Red Bull Heavy Water Race Director and CEO of the Waterman League, Tristan Boxford, expressed his enthusiasm for the caliber of athletes in the 2019 race, stating,
"It was an incredible show of bravado and skill out in the challenging waters of San Francisco today. Ocean Beach has been regarded as the real equalizer since the inception of Red Bull Heavy Water back in 2016, but this year, the whole course provided what was without a doubt the most challenging and 'heavy' race to date. A big congratulations to all our competitors this year – what a spectacular show."
---
Red Bull Heavy Water celebrates its top 5 standings from 2019 and thanks the City of San Francisco for their support of the event
Top 5 from both Men and Women at the 2019 Red Bull Heavy Water are as follows:
Women:
Terrene Black (Australia)
April Zilg (USA) / Annie Reickert (HI) / Fiona Wylde (USA) / Shakira Westdorp (AUS)
Men:
Casper Steinfath (Denmark)
Arthur Arutkin (France)
Mo Freitas (Hawaii)
Christian Anderson (Denmark)
Zane Schweitzer (Hawaii)
Red Bull Heavy Water is held in San Francisco, California and all interested parties can visit www.redbull.com/us-en/events/heavy-water and www.appworldtour.com/san-fancisco-red-bull-2019
A big thanks goes out to the City of San Francisco, National Parks, the Coastguard, SFPD, SFFD and the emergency management division of San Francisco for their support of the event.
We would also like thank our partner, @sofarocean for the incredible forecast technology we had access to as a result of their advance buoy placement systems across the North Pacific, allowing us to accurately watch aproaching swells @sofarocean and call on Red Bull Heavy Water.
---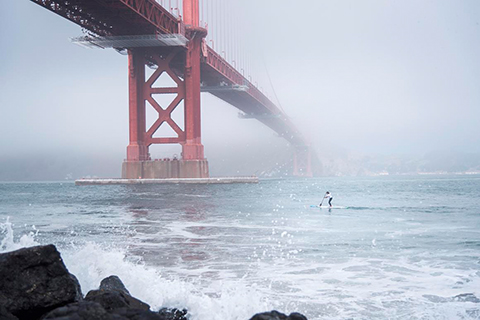 Red Bull Heavy Water partners with Bay Area based Sustainable Surf committed to wipe-out carbon footprint of the event
In addition to the APP's ongoing commitment to supporting the fight against plastics and cleaning up our oceans through our existing partnership with Sea2See eyewear, Red Bull Heavy Water has partnered with Bay Area-based Sustainable Surf, committing to 'wipe-out' the carbon footprint of the event – including all athlete travel with its ocean-positive SeaTrees program.
For every mile traveled by the 36 athletes attending Red Bull Heavy Water and Sustainable Surf will plant and protect SeaTrees in coastal ecosystems, including mangroves forests in Indonesia and kelp forests off the California coast.
This positive action also provides sustainable employment for local communities and creates critical habitat for countless species. For more on Sustainable Surf and their SeaTrees program please go to: sustainablesurf.org