Tweet
Recognising the market need for dedicated foil boards for standup and prone take offs that are more specialised than adapted truncated SUP designs, Sky Solbach, shaper at Fanatic has created the fortuitously titled Sky SUP and Sky Surf boards. We caught up with him to find out about the development process and what it means for the end user – i.e. you and us.
Words  SUP International  //  Photos  Sky Solbach

---
Where and with whom did you do the testing for the Sky SUP range?
We developed the Sky SUP Foil board range on Maui last winter. With such a huge variety of foil waves around, there is usually some kind of wave to foil somewhere or at least some strong wind for doing downwind coast runs. I did most of the early testing together with Ken Winner as well as various local surfers and later on in the process also involved Airton Cozzolino.
In terms of versatility of the SUP foil equipment, do you find there is less need for an extended range of kit when you compared other sports? Does it make your job in R&D easier?
The incredible thing about foiling is that you don't need good waves. In fact, you don't even WANT good waves. The best foil days are when the waves are small and crumbly and slow. The simplicity of foiling and lack of gear needed to have a lot of fun in mediocre conditions makes it an amazing sport on its own and a great compliment to other sports like surfing and wind sports where you ideally want to have good waves and the right wind. In terms of R&D, yes, it's easy to focus on the finer details when you don't have a such a huge range of equipment with a lot of moving parts, and you don't need to find the perfect conditions to test your latest prototype.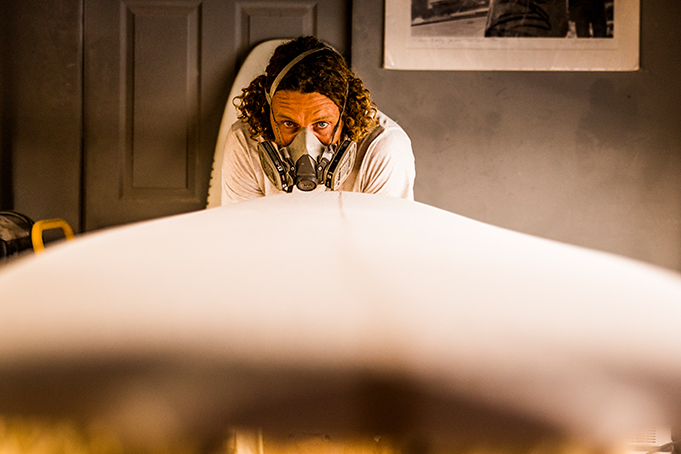 Would a good foiler have a quiver of boards for different conditions or is it more about changing the foil?
I would say for me, I just have one foil surf and one foil SUP board and then simply change the foil.  Most people are going to buy these boards for smaller conditions, so one board is definitely going to do the job, but you may want to have a few different wings for different conditions.  For example, one for steep waves, one for not such steep waves, one for down-winding, whatever.  That's kind of where you would build your quiver, with your wings.
For you, what is the deciding factor between going for a sup foil session and a surf foil session?
I like to mix it up, but for me it all depends on the spot. I really enjoy the feeling of flying over the water on a small surf board because it's the ultimate feeling of freedom, but the SUP gives me much greater access to a variety of waves that are difficult to prone paddle out to on a small board. The outer reefs on Maui are perfect for foiling and there's no one around but they are pretty far from shore, so I usually take the SUP when I go there.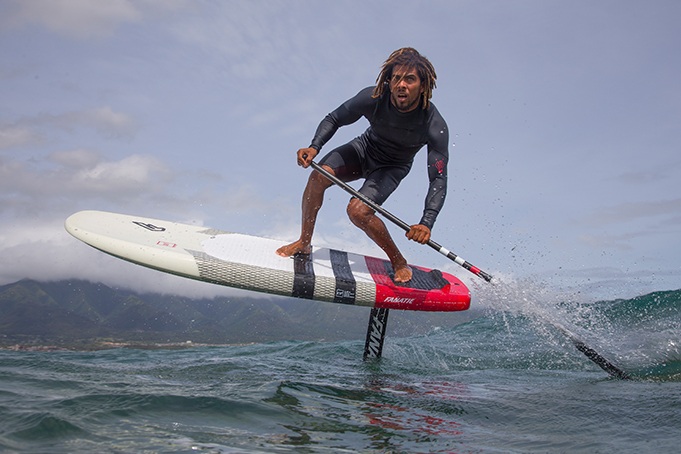 Assuming you can already SUP or surf, how much more difficult is it to learn foiling?
Once you know how to SUP or surf I think foiling just adds a new dimension to it.  It is a bit different, when you first start dropping into a wave and the board starts rising out of the water.  It takes some time to get used to but it opens up a whole new world of possibilities and conditions.  Particularly having a lot more fun in smaller waves. You don't need to have any special strength or fitness.  It's mostly about technique and positioning on the board.  When you are learning you can play a lot with foot positioning.  If you stay forward on the board it holds the board down and as you step further back it encourages the foil to lift, so when you are learning you can stay forward a bit more until you are comfortable enough to step back and let it fly and eventually you will find your sweet spot.
How excited are you now that foiling is sitting comfortably in the mainstream, seemingly accepted and understood by a much broader audience?
I'm personally really pumped on foiling and having so much fun on the water and I think the main reason foiling has been so well accepted is that it just makes sense. I mean, it's hard to argue that it's not a great sport when you see guys and girls getting minutes long rides and doing big swooping turns on 1 foot waves that would not even surf-able on a long board. I don't think there are many people out there who would say that gliding effortlessly across open ocean swells for miles at a time is not a fun thing to do. There's a lot of potential still to explore on the foil and I look forward to it every day. SUP International