Tweet
GLADIATOR ELITE TOURING 14'0 PADDLE BOARD REVIEW
Verdict
Gladiator are really driving the construction and affordability of high-end inflatable equipment with the 14'0 Elite Touring. This board has a current, parallel-rail template that carries area through to the tail which promotes better release through the water and improved tracking since the paddler doesn't have to reach out over a wide mid-section. Coupled with Gladiator's leading-edge woven dropstitch construction and smart, functional accessories the 14'0 presents as a redoubtable open water board for rough water and ultra-distance paddling.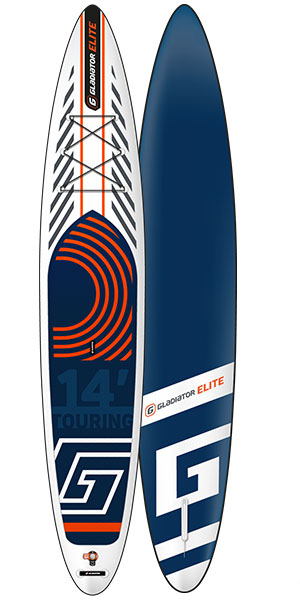 Overview
The Gladiator Elite Touring represents the vanguard of premium inflatable sup construction with its woven drop-stitch technology which creates a lighter, stiffer board by using a tighter packed woven base yarn rather than the industry standard knitted base yarn. This is a proper blue-water touring board fitted with a large capacity forward storage bungee and a sensible smaller capacity tail bungee, large D-ring leash point, a forward D-ring tow point, comfy carry handle and a second handle over the tail. Comes with the upgraded 3-piece carbon Elite paddle, 20psi rated Super pump, wheeled pack and raked-back touring fin.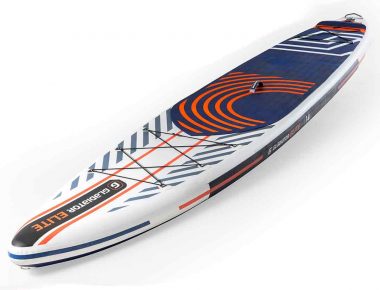 Brand Claim
The Gladiator Elite Touring is Gladiator's adventure board, 14′ long and 30′ wide. This board is perfectly engineered for sleek speed on long day touring adventures, flat and choppy waters or a down-winder. With cargo loops front and back there is enough room for camping equipment too. The Gladiator Elite Range are made with the new, world's most advanced woven dropstitch, offering a board that's even stiffer with no compromise on durability. The weave has less give than the traditional knitted method, which gives the superior flex and rigidity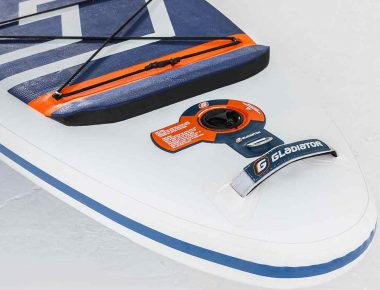 Performance
At a shade under 20psi (thanks to the Super pump) the Elite Touring was impressively solid and the modern tourer shape was reassuring to the eye considering the confused sea we were about to launch into.
The board is 30" wide but has a sleek, parallel outline to it that reduces drag and helps catch bumps – both of which add to your overall speed – but also improves stability when you step back on the deck or find yourself in the 'pocket' between steep bouncing chop rebounding off harbour walls and rock faces. The Elite Touring is a real go-anywhere take-everything board. With the extra portage handle and forward tow ring, two of these would make for great expedition boards for you and a buddy on a serious crossing or adventure.
The distribution of the cargo bungees is intelligent; the larger, forward one balances the board well when loaded up with the rider stood in the normal position, while the smaller tail bungee is unobtrusive when not in use.
This is a stable, rigid, tough board with clean, elegant graphics and an ocean-ready carbon paddle that should still feel great after several hours paddling. If you've got ambitions to get over the horizon this season or fancy taking on a winter Scottish loch on a camping expedition, the Gladiator Elite Touring could be your solution.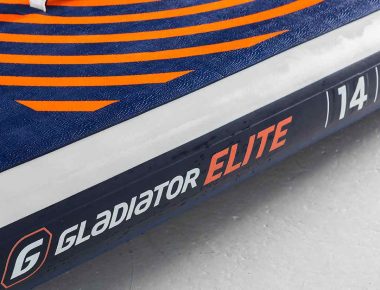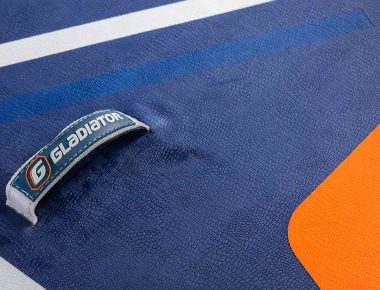 GLADIATOR ELITE TOURING 14'0 PADDLE BOARD REVIEW
Vital Stats
Price: £699
Length: 14′
Width: 30"
Thickness: 6″
Weight: 10 Kg
Fin: US Centre Touring Fin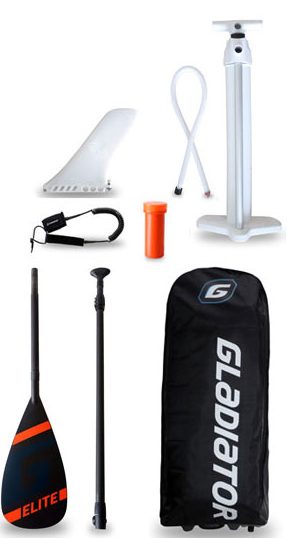 GLADIATOR ELITE TOURING 14'0 PADDLE BOARD REVIEW