Tweet
Seychelle Webster puts on an impressive show in the APP World Tour Sprints to clinch the 2019 APP World Racing Title in Paris
Paris, France 7th December 2019: The action inside the Nautic Salon Nautique in Paris today was red hot – the APP World Tour is in town for its final, climactic stop of the 2019 Season and the Sprint Racing today did not disappoint:
There were so many takeaways from today's action, from the electric atmosphere in the Salon, to some of the most exciting racing yet on the APP World Tour. But for one person, it was an incredibly special day, as not only did she power her way to victory in the sprint racing component of the Paris SUP Open in front of a mesmerized crowd, but she clinched the 2019 Racing World Title ahead of the Final day of action tomorrow.
That's right, it was an emotional moment as one of America's greatest paddling talents Seychelle Webster was able to secure her maiden World Title here in Paris, with a flawless victory in today's sprints, giving her three sprint wins for her first season on Tour, securing the 2019 Sprint Racing Title in the process.
In front of hundreds of passionate paddlers assembled here in Paris for this weekend's race, Seychelle was thankful, proud of a moment that she has worked long and hard for and finally able to add a World Title to her list of achievements.
So congratulations to Seychelle Webster and we look forward to seeing if she can back up that performance tomorrow on the RIver Seine for Day 2 of the 2019 Paris SUP Open. Check out the highlights from today's action and join us for the full broadcast of the distance Race tomorrow from 12pm CET at appworldtour.com and @appworldtour
---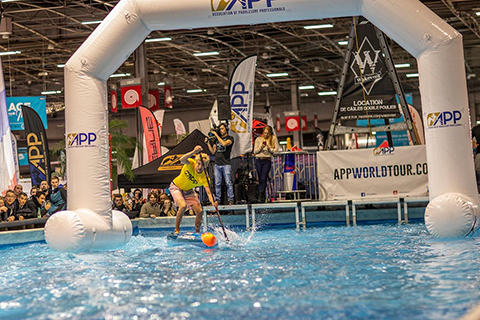 Connor Baxter is looking better than ever, finishing off his season here in Paris on a high with an incredible win in the Sprints
When looking at Connor Baxter's incredible career, it is hard not to notice that his form through the 2019 season hasn't been what we have come to expect from the multiple times World Champion. However, watching him take on the best of the best today and coming out with victory in the Sprints was a clear reminder that Connor is still very much at the top of his game and has a great deal more in the tank.
In a final that was without doubt one for the ages, Connor's grit determination, physical ability and mental strength, enabled him to overcome Denmark's Casper Steinfath to take victory, at a moment where Casper was one heat away from securing his first World Title. An incredible achievement by the celebrated Champion from Maui, as he now sets his sights on the Paris SUP Open event title in tomorrow's distance race down the RIver Seine.
Connor's performance today not only sets the scene for a strong finish to the season, but already bodes well for a great year ahead, as Connor makes a statement at this all important final stop for 2019.
Check out the highlights from today's action and stay tuned for the full broadcast from tomorrow's Race down the River Seine from 12pm CET by going to www.appworldtour.com and @appworldtour
---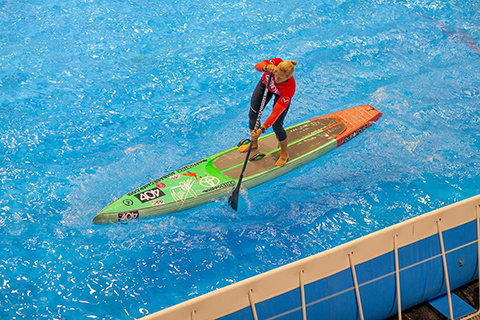 April Zilg continues her World beating form, to narrowly miss out on a win in the sprints, and looking strong going into Day 2 in Paris
April Zilg continued her spectacular 2019 form with another Finals finish, just falling short of the win at the hands of the newly crowned World Champion Seychelle Webster, but not without a valiant fight and a race to the end.
Going into Day 2 of competition, April has already secured her 2nd place overall for the year, and will be focused on a strong finish in tomorrow's distance race with the goal of winning the final, prestigious stop of the 2019 season, the Paris SUP Open.
Like Seychelle, this has been April's first season on Tour, and the two of them have dominated the year with consistency and versatility, from sprints to distance, clearly solidying themselves as the ones to beat. We can't wait to see how this newly found rivalry from these leading ladies develops over the coming season as the performance level on the Tour continues to go through the roof.
Check out the highlights and tune in for the full broadcast from tomorrow's historic distance race on the River Seine at www.appworldtour.com and @appworldtour, as 1,000 passionate paddlers take to the water in the middle of Paris for an adventure to remember.
---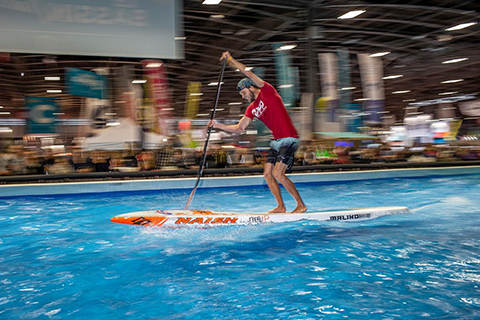 Casper Steinfath finishes 2nd in the Sprints, secures the Sprint Racing Title and strengthens his prospects for the World Title
While the 15 strong Danish support crew were disappointed not to be celebrating their Champion's maiden World Title today in Paris, Casper did do enough to secure the Overall Sprint Title for the year, together with an impressive finals finish finishing in second place today.
He also made another important step towards clinching that maiden World Title, with France's Arthur Arutkin falling out of the draw earlier than expected in the sprints, and Casper making it all the way to the Final.
As we go into the Last Day of competition, the reigning World Champion Arthur will have to take victory in the distance race in order to have a shot at defending his World Title, while Casper is in a position to improve on his current overall points with a strong finish tomorrow. After today's performance, he has posted another important notch on his belt and step towards that goal.
Check out the highlights from today's action and join us for the full broadcast from tomorrow's distance race at www.appworldtour.com and @appworldtour
---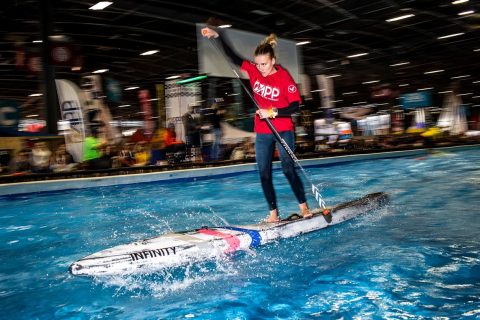 After a year plagued with injury, Shae Foudy is well and truly back, posting an impressive performance at the World Tour Finals in Paris
Shae Foudy from California, the 2018 Racing World Champion is back! After an injury plagued season in 2019, Shae hasn't been in a position to defend her World Title, but came back to the place she secured it back in 2018 to show that she is back and ready to reclaim her position on Tour.
Her performance through the rounds in today's sprint racing was a testament to this, as she powered her way through to the semi finals, just falling short of April Zilg, but able to overcome Susak Molinero in the Consolation Final to finish in 3rd place.
There is no doubt that Shae will be one to look out for tomorrow on the River Seine, as she looks to continue her comeback and finish the 2019 season on a high.
Check out the highlights from today's action and join us tomorrow for the full broadcast from the distance race at www.appworldtour.com and @appworldtour.
---
Danny Ching continues to impress in 2019, showing that he clearly still has it and is one of the very best of the best in the sport
Danny Ching has long been one of the most respected figureheads in the sport, and remains one of the most dangerous competitors on the APP World Tour as he once again took his incredible technique and invaluable experience to overcome a string of the World's very best athletes on his way to the semi finals.
While he wasn't able to overcome Connor in the Semis, he did manage to take victory over Italy's Claudio Nika to take 3rd, putting him in a great position coming into the final day of competition here at the 2019 Paris SUP Open.
Danny's strategic approach to racing and his flawless technique have provided and continue to provide inspiration to present and future Champions, while he continues to make his presence felt as a leading Contender on the APP World Tour: long may it continue.
Check out the highlights from today's action and join us for the full broadcast from tomorrow's distance race by going to www.appworldtour.com and @appworldtour
All Photos: John Carter / APP World Tour