Stats
Volume
145 Litres
Length
9'2
Width
31.5
Fin(s)
QR US box centre + 2 FCS sides
Price
Acetec Red £849 - Acetec White £799
Weight
11.0kg
Tweet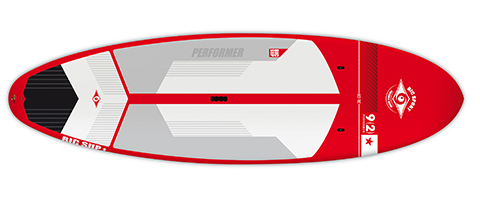 BIC PERFORMER
9'2 ACETEC
TEST REVIEW
Verdict:
Bic's tough 9'2 Performer is the smallest in it's range but still very achievable for most riders. The 9'2 was super stable for its size, caught waves and surfed easily and forgivingly.  A perfect first step into SUP surfing, tough predictable and flattering to ride.
Overview
Bic's plastic skinned lightweight Acetec construction is well proven as a tough-as-it-gets build without limiting performance. The 9'2 has a wide nose and tail, a softly textured deckpad with kick pad, and is the only board in this size with 2 cargo tie down points too. The comfortable ledge handle and single leash point finish off the gloss red deck. Underneath its flat bottom runs through to a single concave and then into a soft double concave on the wide tail, where three plastic fins and quad boxes fit in. The rails have a small seam running along them, so no need for rail tape on the board.
Brand Claim:
If you're looking for a board that's equally at home surfing a wave as it is relaxing on the local lake, look no further than the Performer series. We've blended surf-inspired longboard outlines for solid wave performance with confidence-inspiring stability and a moderate rocker profile for versatility in flat-water conditions. Find the size that's right for you and join the thousands of riders who've made the Performer series an international best-seller.
Performance
The 9'2 Performer is super stable (the most stable on test) due to it's wide nose and tail, it glides well and could also be used a compact all rounder. Surfing is very secure and steady in it's supplied tri fin mode, but you can also drive it as a quad for a more reactive feel.  Its smooth and forgiving riding style isn't as sharp as some of the other boards on test but it lets you get away with rookie mistakes and you'll come out shining. The rails are pretty thin for a board of this size and have no problem holding in even in the chunky choppy stuff we tested it in. The nose rocker was a little low but didn't seem to catch even when coming back off the white water, and it helped with glide and stability. The 9'2 deck was the softest on test, which was comfortable but not quite as grippy as others for radical surfing. Overall the performer has plenty of shelf appeal, it's gloss red finish looks classy and tough and won't scratch through to white. The board is super tough and is ideal for a large range of riders: lighter people's compact all rounder, easy first time wave board with stability to spare, or a tough wave board for larger riders.  It ticks a lot of boxes and will surf better than you'd expect at this great value price point, surely a winning formula.
---
OTHER BOARDS IN THIS TEST:
• STARBOARD 9'5 WIDE POINT STARLITE
---
---