Stats
Volume
130 Litres
Length
8'10
Width
30
Fin(s)
3 x Glass 5" Futures
Price
LTD £1649
Weight
TBC
Tweet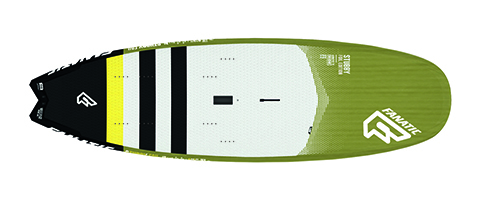 FANATIC
8'10 STUBBY LTD
TEST REVIEW
Verdict:
Fanatic's largest Stubby blurs the line between corky, stable, compact SUP's and performance all-round boards in this size. The 8'10's new slim line rails and drawn in double diamond wingered tail provided smooth, grippy predictable feel on the rail, but a real sharpness and bite to the turn from the new narrow tail. We enjoyed the looseness of this lightweight forgiving board but also found it really easy and nimble on a wave. A smooth slick board with the stability of a far chunkier board.
Overview
Only available in Fanatic's premium LTD construction, this super lightweight board is stiff and solid feeling. On deck it has a very wide nose with super slim rails, its deckpad is really grippy and large with a kick pad in the tail, it's also the only board on test with a windsurf insert fitted. A ledge handle and double leash plug complete the deck. Flipping the Fanatic over the wide nose hides a single concave running through to the centre and finally into a soft double concave in the tail. The 3 glass 5" fins slot into the tail where you'll also find quad boxes.
Brand Claim:
Short in length, the Stubby has a less curved rail line for maximum hold on the wave and through the turns. The super wide nose gives extra stability and easy wave catching, allowing you to ride with less volume and a narrower centre. A surfy rocker line and the new winger swallow tail adds looseness to stay right in the pocket with heaps of control and flow. Our high performance compact surf concept comes in four sizes ranging from 7'10 to 8'10. You'll be blown away by the stability, speed and reactions, especially when the waves are less than perfect.
Performance
This new 2nd generation Stubby has really leapt forward in performance. Gone are the chunky rails and wide tails and now these slimmer, parallel railed narrow tailed boards still have the stability so craved for, but with the bite and sharpness to the turn. We really enjoyed the combination Fanatic have stirred into their new Stubby. Catching smaller waves,the 8'10 was almost longboard like in feel with it's wide single concave nose, it felt like it wanted to be nose ridden it was that secure. However as soon as you moved back a little the Stubby  felt like it wanted to be thrown around more and it has the grip ready to be pushed. As a stable performance board the slippery loose feel of this Stubby really worked well. It's the sort of board you could surf with your family in knee high waves and have fun but also take out on a big day and drop into some chunky waves with ease, it has a very broad accessible appeal. We enjoyed its light stiff feel on the water  its eagerness to be pushed and its forgiving nature. A smartly evolved 2nd
generation Stubby that's well worth saving up for.
---
OTHER BOARDS IN THIS TEST:
• STARBOARD 9'5 WIDE POINT STARLITE
---
---