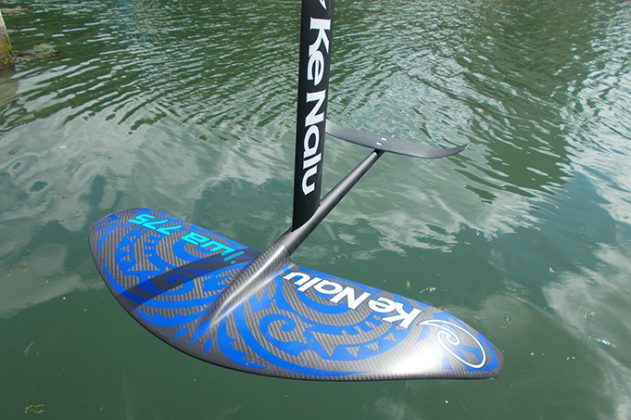 Tweet
KE NALU
IWA 775 FOIL
TEST REVIEW
.
VERDICT
The Ke Nalu foil comes boxed in a foam block with 65cm Alu mast, fuselage and surf plate for a double US box set up. The removable top plate connected with 6mm stainless bolts, the fuselage has two rear positions for more control or a more forgiving ride (it can be shimmed if required). The front carbon wing is fairly light and is full carbon, 77.5 cm across and with and area of 1496 cm2, the rear wing is 40.5 cm across with up turned tips. The front wing is attached onto the male part of the fuselage with two bolts underneath. The top plate is attached onto the board with four x 4mm stainless bolts into brass plates. The whole foil feel solid and tough, and the front wing looks great with a complex curved wing shape to it.
ON THE WATER
Once up and riding on the Ke Nalu we found it was slightly stickier to get up to plane but once foiling, the foil was fast and predictable to trim height, and the faster you went the more planted and smoother it became. In the smaller, more gutless waves it required a bit more movement to keep it going than some other bigger foils. This is a great looking solid foil which worked better with more speed. This would make a great foil for easy foiling but required a little more push to really come alive, the very stiff lower aspect front wing gave a secure ride and it is built to last.
OVERALL
We enjoyed the solid tough feel of the Ke Nalu, once up and going it offered secure stable foiling at speed, with a great looking finish on the front wing, and fine mid sized versatile foil. Overall finish  the 'Iwa 775 looks great, a little heavier than some foils but seems built to last, we felt the small stainless bolt could have been a bit chunkier but other than that a fine looking and well performing product.