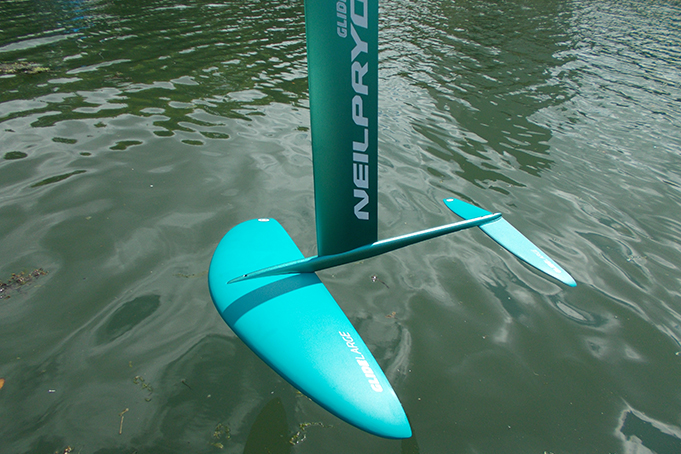 Tweet
NEIL PRYDE
GLIDE SURF
LARGE FOIL
TEST REVIEW
.
VERDICT
The Glide Surf Large comes with an all-alloy anodised finish and a removable top plate with rubber backing to prevent you scraping the paint off your board. Mast is 65 cm and is attached with three chunky 8 mm titanium hex key bolts (chunky hex key supplied). Front carbon wing is 86 cm across and has an area of 1612 cm2, it is super light, with a deep powerful profile. The foils comes with two rear wings , a large and small with the large being 51 cm across, both down turned and attached with two titanium bolts to fuselage with a tuning shim also supplied for rear wings. Once connected together the whole foil feel really light stiff and looks great too.
ON THE WATER
This foil just throws you up in the air and is super pumpable, we loved the instant lift from the Neilpryde Surf Glide. Once up and foiling the wide rear wing gives massive stability and a really secure ride. Changing to the smaller rear wing give a sharper faster ride which loves to turn. Once you gain confidence on with the foil it gives great control, a light weight feel and power to ride or pump across the flattest of sections. The superb foil is a must in your quiver, great to get you up and riding and drives speed through your turns which will make you push harder and ride waves for longer.
OVERALL
This foil is easy to use, super lifty and feels light and agile, the whole package is perfectly finished with titanium and alloy chunky fittings (which will corrode less), the light carbon wings are interchangeable with the rest of Neilpryde's foiling gear and also can but bought with DT head if required. Make no mistake this is a top draw foil at a bargain price, we loved the foil, finish, weight and the two rear wings. A great foil at a very aggressive price, don't hesitate, they'll go up sooner or later.