Stats
Volume
292 litres
Weight
9 kg
Length
10'6''
Width
32''
Thickness
6''
Price
Easy fix central fin + 2 indestructable side fins
Tweet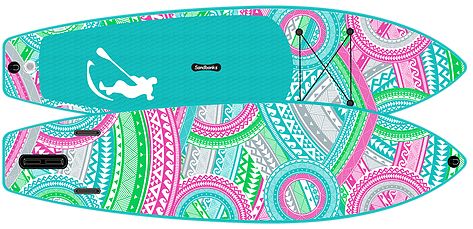 Verdict
SANDBANKS STYLE SUP REVIEW | ULTIMATE ART 10'6
Sandbanks Style SUP might not have reinvented the wheel, but they have re-engineered the ubiquitous 10'6 all-rounder. The Sandbanks Style SUP | Ultimate Art 10'6  is one of a suite of 10'6 boards from the Dorset-based brand that leads in three areas: increased rigidity, a more efficient shape, and affordable price (an unofficial fourth-member would be bright graphics). For less money you get a more versatile board that remains fun in a broader range of conditions compared to a traditional lozenge shaped all-rounder.
Overview
Some years ago when on the quest to acquire a sup board and seeing either expensive high end products or cheap knock-offs not worth the price, father son team Andy and Jordan Belcher took a big step and thought, 'maybe there's another way to do this'. Combining their knowledge of manufacturing and engineering they've created the Sandbanks Style brand which offers affordable pricing on boards with a high degree of structural integrity, and slick branding (which wouldn't look out of place in a Sunseeker brochure) that sends the mind to long, hazy days exploring Poole Harbour under a mid-summer south coast sun.
Brand Claim
Our brand promise is to deliver the very best quality the industry has to offer and give it to you at a price you can afford. Of course, industry leading quality has to be backed by an industry leading warranty. This gives you the confidence to just enjoy the experience of paddleboarding without worrying about the structural integrity of the board.
Our advanced lamination technology works by fusing a second layer of hard-wearing polymer to the dropstitch core, minimising our environmental impact while improving the structural integrity and longevity of our boards.
Performance
The Ultimate Art differs from its brethren in the Sandbanks Style 10'6 line-up by way of graphics; all the boards feature the drawn in touring style nose and wide, squared off tail which permit easier forward progress and improved stability over a standard 'double end' lozenge shape. The side walls are 6" thick which gives a high, dry ride and great rigidity in the board. OK, so a lower profile board may handle side winds better but the intention here is to minimise flex and lost energy. The complete package has all you need to paddle right away: new improved Bravo Super Pump for 2020, 3-piece alloy-Nylon paddle (carbon paddle upgrade option for £100), leash, and the board has the essential nose tow-point, twin side bit fins and a removable centre.
On the water the Sandbanks Style 10'6 feels lively and composed, it whips into step-back turns, and is a bright and comfortable place to be. The whole experience from price to performance on water to the fresh, original branding and graphics brings a smile to the face. Great to see this confident offering from a UK brand.
Vital Stats
SANDBANKS STYLE SUP REVIEW | ULTIMATE ART 10'6
Length: 10'6"
Width: 32"
Thickness: 6"
Weight: 9 kg
Volume: 292 litres
Fins: Easy fix central fin + 2 indestructable side fins