Stats
Volume
118 Litres
Length
8'0
Width
30.5
Fin(s)
2x FCS glass twins, 1x US Box trailer
Price
£1499
Weight
7.5kg
Tweet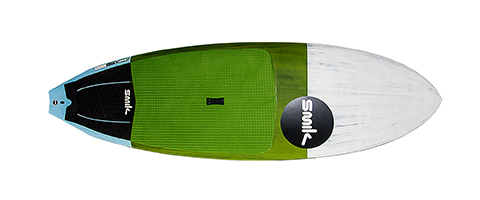 SMIK
8'0 HIPSTER TWIN
TEST REVIEW
Verdict:
The smallest board on test, we couldn't ignore this new nugget of a board from Scott McKercher's Smik brand: the Hipster Twin. Smik have bought to the market a unique product that has been bubbling along in surfing for ever, the twin fin board. The Hipster is not only short and wide but also was incredibly stable for its volume, and quite simply, it ripped. We loved its control and instant changes of direction, something we've not really come across in such an easy to ride board before.
Overview
Supplied in lightweight carbon with full sandwich wrap, the Hipster looked very similar to a Pro board from a few years ago, with its brushed carbon look. Its bold graphic paint band was simple and hid the colour coded deck pad well. A good size ledge handle and rear tail pad with kick pad finished off its pulled in narrow tail. Underneath, a single concave flows into double concave at mid section and vee in the tail, arresting at the large twin FCS fins with a small US Box trailer fin.
Brand claim
Scott McKercher: The board just felt like it had so much less drag. Which equated to a sensation of speed.  Which was highlighted when you put the board on rail and then experienced acceleration.  The next thing that blew me away was the rail to rail transition, which was so smooth. The way it fed up the face made everything feel so much more automatic. With its fuller nose and width just in front of the hip where it pulls in to a nice fine swallow tail, they're quite stable boards for their sizes.
Performance
The 8'0 Hipster didn't really feel that small in the water at all, in fact it felt comfortably stable for my 85 kg frame,(I normally ride a 100L size board). Its wide, soft railed nose pops over the white water and feels very amiable in choppy conditions. Paddling into a chunky, choppy Atlantic wave on a wide twin fin I thought would be a bit of a challenge, but the Hipster seemed to slide into the waves easily and has a ton of grip for a full compressed bottom turn. The surprising ace up its sleeve was the immediate controlled change of direction you could drive out of this board. The Twin just grips and spins around in such a tight radius it surprised us. It rebounded easily over white water sections which you quickly catch up to – be prepared to go faster than you maybe have on a sup before. So yes, we really enjoyed this board. It's more stable than the dimensions suggest, slippery across the wave and turns beautifully and doesn't get hung up in the mush after your final manoeuvre. This 8'0 feels more stable than many bigger 'Pro' style boards but proved to be tons of fun in a range of conditions. A cracking board and great value for a carbon build too.
---
OTHER BOARDS IN THIS TEST:
• STARBOARD 9'5 WIDE POINT STARLITE
---
---