Stats
Volume
153 Litres
Length
9'5
Width
32
Fin(s)
Bio resin 7.2" US box and FCS sides
Price
Starlite £1199
Weight
9.75kg
Tweet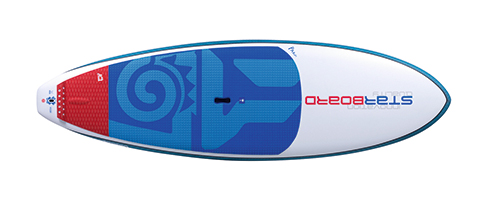 STARBOARD
9'5 WIDE POINT STARLITE
TEST REVIEW
Verdict:
2018 's new 9'5" Wide Point has yet again changed the perceptions of a 32" wide board. This year with it's new narrower nose and tail, and large flat deckpad the Wide Point has it's eyes on being more than an all rounder. The new performance shape was easy to pick up swells and hid it's volume well on a wave, a secure sharp larger board which surfed better than most 9'0" boards did a couple of years ago, an accessible performance package.
Overview
It's no secret that Starboard have a massive R+D program and riders to tweak designs year on year. This years Wide Point's new Carbon innegra paintless scratchproof rails feel super tough and seem to add stiffness too. On deck the narrower more rocker nose moves down to a grippy croc skin textured deckpad with kick and centre arch. A good sized ledge handle and single leash point finish off the deck. Below the water line a single concave runs through to vee all the way back. Fins this year are a Bio resin US box centre plus two FCS sides made from stiffer recycled fishing net plastic, yep that's right, they work a treat and follow Starboards green path too.
Brand claim
• 9'5" length handles bigger surf and offers tighter and faster turning for riders up to 100kg. • Pulled in nose for dealing with hollower sections. • Easy access to fun and performance for a range of weights and conditions. • Available in Blue Carbon, Pine Tek, Starlite and Starshot technologies.
• Bottom shape: "Continuous mono-concave to V tail" • Fine rails forward for smooth entry acceleration with mono-concave bottom shape to V off the tail for lift, speed and agility. • Thruster configuration and tail kick for smooth on rail carving and aggressive cutbacks.
Performance
Starboard have always had a strong product in this market, and the new 9'5" Wide Point is a great performance board in this category. Faster and more responsive than previous Wide Point's in this size due to its thinner and narrower tail, and harder rails, it's also super controllable in most conditions. We liked the stable wide flat deck area giving the rider a comfortable platform to move from. The 9'5" was the largest board in the test but felt nimble due to its narrower nose and tail. The narrow rockered nose made punching out over the white water very simple, the tail gave smooth turning and grip. The Starboard Wide Point this year have really made your introduction to SUP surfing super easy, but also given you performance to spare. The 9'5" is the type of board you can almost buy as a first time board if you've got surfing in mind. If you're light to med build you could learn the basics on it and then carry on until you're dropping into monsters too, it's got performance pedigree, which is easy to access. Ideal for bigger guys looking for a performance wave board to progress into waves or an easy step into SUP surfing from the start for more agile riders. The 9'5" still gives you that big short board feel and this year a more attractive package too, they also fun some fun graphics too if you can get one.
---
OTHER BOARDS IN THIS TEST:
• STARBOARD 9'5 WIDE POINT STARLITE
---
---