Tweet
TEST REPORTS – GO BIG & GO EASY

With Dom Moore & Rob Small // Photos Kate Starling.
Surfing must be one of the hardest sports to learn. But learning to surf on a sup is probably even harder.
This test review was originally published in the Spring 2019 issue
of SUP International Magazine.
Forget about the myth that being already stood up to catch a wave making things easier; any sup surfer will be able to recount the endless backwards running off the plank bails before things started to click. There is a solution to putting an uptick on the otherwise frustratingly flat learning curve of sup surfing and it is rather joyously an equipment-centric one: do all your flat water paddling on the same board that you want to learn to surf on. Now, on the wrong board, one that is too short and too low volume, this would result in boring, stale sessions on the lake with your mates always off in the distance, and beach sessions so frustrating you'd be at risk of self-immolation by the end of it. 
The answer? Use a bigger board! Really, why did we find ourselves in a race to the bottom for the lowest volume, shortest board? Such specialised boards have their uses but the waves in which they excel are usually crowded with surfers, and wasn't the whole point of sup to enable yourself to go further, and easily reach the waves that no one else wants? A turn in the right place on the wave will be dramatic and effective regardless of how big the board is. As Luke Egan once said in this very magazine, 'seeing someone throw a board around looks good, but don't you think it looks so much better on a bigger board?'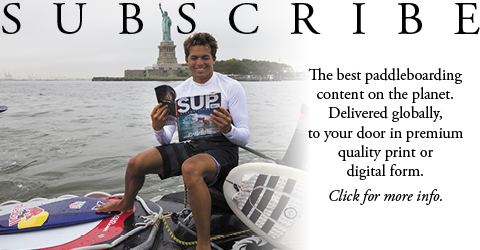 In the hardboard all-rounder category this issue we have the Starboard Drive: well-loved classic brought up to date with some bright, new clothes made from sustainable materials. Many a seasoned paddler has begun their career on a Starboard Drive, and it was wonderful to note that those early glides of years gone by are just as sweet today. Next up, practical surfboard giant NSP have their 10'6 Allrounder, built with renewable Cocomat and flax materials. A no-compromise all-rounder might sound like an oxymoron, but with the extra width in the tail this superbly finished board does exactly as intended. Finally we have a new arrival, the Pono, from Hawaiian based creatives Hypr Nalu. The widest board on test and easiest to paddle, it features huge double concaves and proudly displays its eco-centric values with a gorgeous wood veneer envoloping the board. 
And for those that have storage issues and budgets to meet, you have not been forgotten about. The 10'6 Gladiator inflatable is a completely new arrival to the scene and comes packaged with a roller bag, pump and smart three-piece adjustable nylon carbon paddle for only £500. SUP International
---
BOARDS IN THIS TEST:
Gladiator Elite 10'6
Hypr Nalu Pono 10'0
NSP Cocoflax Allrounder 10'6
Starboard Drive 10'5