Tweet
TEST REPORTS – NOW IT'S STARTED

Test Editor Dave Ewer // Photos Dave Read.
For me, the long hot Summer has been a double- edged sword.  It's been great to be super busy getting new people into the sport but it's also been a long time without much in the way of waves and wind. 
This test review was originally published in the Autumn 2018 issue
of SUP International Magazine.
While it's novel at first, when you've been SUP'n for some time, you start to want more than glassy river paddles with friends, more than pottering along the coast glancing down at the fish and rocks below the surface.
I am certainly one of those people who would like "more", some more adrenaline, some more excitement, some more wind for my wind sport-thirst or for my downwind habit, and some more waves, of course! So now the Autumnal change is bringing what I've been craving for all season, I feel very much ready for it. It's been a long time coming. This issue we've got "more"; more options, inflatable wave SUP, Foiling surf SUP, serious new long boards, a very compact iSUP, a downwind iSUP, a rock'n'roll surf SUP, the ideal step-into the waves SUP and a HD tough iSUP. If like me you're also looking for "more", sit back, think of what space you've got in the garage and work out a good plan that will convince your partner, that you need "more" in your life, well just one more board…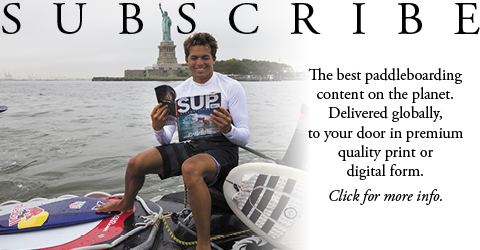 ON TEST
On test new for 2019 we have Fanatic's new Vector Net Technology (VNT) Allwave 8'9 – a proven shape in a great value but super tough spec, looking sharp. Red Paddle's 8'10 Whip, is an iSUP designed to be ridden in the surf and slipped into your suit case, the premium iSUP brand's refined newest shape. Even more refined is Red's potentially-revolutionary Compact iSUP that packs down to half the size of a normal inflato. Also from the future we have arguably the most non-SUP looking board we've ever tested, the new JP Foil 7'0  Pro board – it looks more like a foiling  kiteboard. 
Back in the present day, we have a couple of different takes on longboard surf shapes, both new for this year: the new RRD LongSUP 9'8 wood, a sleek nose riding board with its spoon nose and secure feel on the wave, and then the long awaited Starboard Longboard 10'. The board we thought they'd never get around to bringing to market. Tested in balsa, is it worth the wait? Loco represent with their El Diablo 8'2 surf shape; its mild manners between waves belies its performance when it's in them…Making their debut, Dutch brand Aqua Inc's Air-Rider 14' gets an outing on an Atlantic downwinder against a skinny carbon board. And finally, whether everyone wants one for themselves or their chubby friend, we have the 2019 HD O'Shea 10'8 – a solid feeling super stable durable iSUP, perfect for your more clumsy paddlers to get out and enjoy our sport. SUP International
---
BOARDS IN THIS TEST:
Aqua Inc Air Rider 14'
Fanatic Allwave VNT 8'9
JP Foil Pro 7'0
Loco El Diablo 8'2
O'Shea 10'8 HDX
Red Compact 9'6
Red Whip 8'10
RRD LongSUP 9'8
Starboard Longboard 10'0