Tweet
TEST REPORTS – WITH FRIENDS
LIKE THAT…

With Dom Moore & Jamie Crossman.
One of the ways in which SUP is unique in the boardsports world in that it's very easy to teach someone new how to paddle, even when compared to surfing. And especially when compared to windsurfing or kitesurfing. 
This test review was originally published in the Early Summer 2019 issue
of SUP International Magazine.
At the minimum, all you need to do is choose a quiet bit of water, bring a spare board and have your buddy come for a ridealong. Right away, they're participating. 
That it is so easy to tacitly pass along SUP skills to someone else is worth considering when you buy a board for yourself. Part of the magic of SUP is that a board that you might use for touring (such as the voluminous Two Bare Feet Sport Air 12'6 and Bluefin Carbon Cruise 12'0) will be so stable for a beginner that they could probably keep their phone in their shirt pocket without getting it wet. 
Coming down in size, hardboard all-rounders are probably right at the peak of the normal distribution curve of SUP sizes. A 10'6 like Bic's Ace-Tec Performer will get any of your prone-surfer pals crossing over to standup life in waves. The Hypr Nalu Kaimana 9'6 would not be an outrageous proposition for getting someone into paddling in flat water, while of course being a fast wave-catcher for your own use.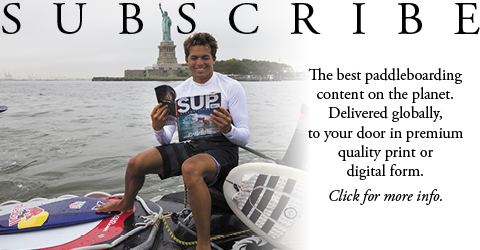 'Industry standard' 10'6 inflatables are always going to have their place when it comes to getting friends on the water. The Anomy and Gladiator iSUPs on test this issue fit the brief perfectly, you'll just have to decide if the graphics on the Anomy might be a little too captivating for your new paddler friends when instead they should be looking ahead…
So that being said, unless you are looking for outlier models such as 21" wide raceboards or sub-100 litre surf shapes it's perhaps not worth worrying about shaving the dimensions down on your next purchase, but be thinking about who else besides you might be using your board. It is true that the first way to make a simple paddle session even more interesting is to bring someone along with you.
SUP International
---
BOARDS IN THIS TEST:
• Anomy 10'6
• Aqua Marina Rapid 9'6
• Bic Ace-Tec Performer 10'6
• Bluefin Carbon Cruise 10'8  
• Gladiator 10'6 Lite
• Hypr Nalu Kaimana 9'6
• Two Bare Feet Sport Air 12'6
• Starboard Hyper Foil 7'2" + Starboard Wave DT Foil