Tweet
The ascendant star of MANCA NOTAR is one to watch. Signed with Naish International, the 17 year old Slovenian has a collection of European first places, as well as 2nd at the Abu Dhabi All Stars sprint race and 2nd in the mixed division Molokai2Oahu. Manca already knows the value of balance in training and study, so how'd she get so good, so quick? 
Photos Franck Berthuot

SUP: You've got a diverse background as a stand-up paddler, a windsurfer, and kitesurfer. Where did it all start?
MN: My parents once told me I was "lucky I wasn't born in the ocean" because they were passionate windsurfers who were always on the water. When I was 2 years old, I used to pretend to rig my father's windsurf equipment because I was so amazed by the setup process! It didn't take long before I got my own kit and I was rigging my own gear.  A few years later I also started kiteboarding. Unfortunately, Slovenia isn't a country with a lot of wind and ocean waves, so you can imagine there wasn't much opportunity for me to windsurf or kiteboard… so when SUP came to Europe, I fell in love with it immediately.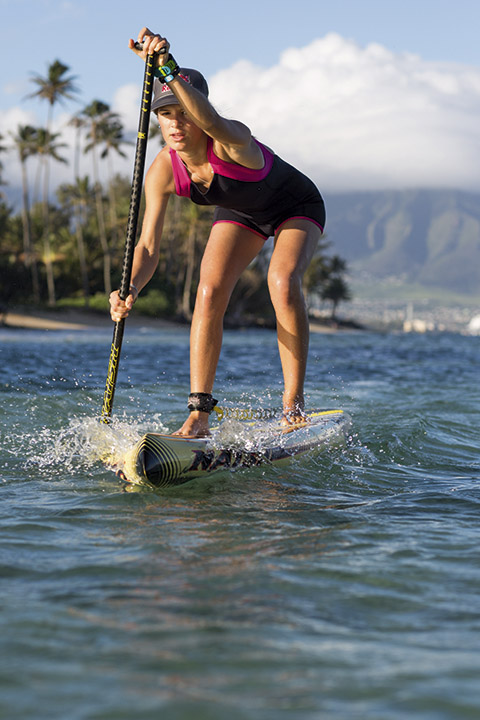 When did standup paddling click for you?
I started Stand up paddling when I was 14. After visiting a lot of windsurfing and kitesurfing spots throughout Europe, I began to realize that there weren't many girls who did all three sports. I really wanted to help promote these sports among my peers, so I wrote to Robby Naish. I will never forget the moment when I received a response from Naish, it was the happiest day of my life! Then, everything started happening really fast. I entered my first international SUP race in South France where I won using my Naish Nalu SUP board while all the other competitors raced on actual race boards. I received a lot of positive feedback about that.
Way to make a statement. Looking back 2013 was a banner year, what was your favorite racing experience?
Thanks!  It was such an amazing season and each race was really something special. I began the year in the most extreme conditions I've ever experienced in Abu Dhabi at the Stand Up World Series sprint races, where there was 35 knots of wind, endless sand storms and super high temperatures. It definitely set the bar and helped prepare me for upcoming competitions. My favorite racing experience, however, was definitely the Molokai2Oahu race, which I did in tandem with Naish teammate and friend, Michi Schweiger. It was a totally new experience for me and I learned a lot about the ocean and also about myself. I'm beyond proud that I'm the youngest European girl to paddle the "Channel of Bones".
Were there any races you wanted to enter, but couldn't for whatever reason?
At the beginning of the racing season my father (who also helps me with my training as he was involved in ski racing) and I made a list of races for me to enter. I had planned to go to the Chicago SUWS, but I was too tired to fly back to the USA again so soon after the Molaki2Oahu race. I also really wanted to compete in the Battle of The Paddle, but after much discussion, we felt I didn't have enough experience, so I decided to hold off until I was more prepared. I fulfilled most of my list, so I'm still really proud of myself.
Will you be entering those competitions in 2014?
I hope so. They are on my list…
How was your recent holiday trip to Maui?
How did you spend most of your days?
It was really fun and special because it was my first Christmas without snow! I had pretty bad jet lag, so I woke up at 5 am every morning. It all worked out though because I was able to get in the water at the crack of dawn and get in tons of training, regardless of what my coach said! Every day I was kitesurfing waves, learning how to surf on a variety of Naish SUP boards and I even got to test some new Naish racing boards.
How does training on Maui differ from training in Slovenia?
The difference is like day and night …when people on Maui are sleeping, I'm training; and when people on Maui are training, I'm sleeping.  At home I do a lot of flat water training in both warm and cold weather conditions. I really enjoy the change of seasons and conditions because they help make you a better paddler. When I'm on Maui, I really enjoy doing downwind runs and beach workouts because it's so different from how I train at home. I'm almost never indoors when I'm on Maui.
What is your training schedule like?
My dad is also my coach and he always plans out my training routines carefully, making sure it's always something special. This also has the advantage that we get plenty of family time together. I never visit fitness centers, all the workouts I do are outdoors in nature.
What's your favourite "go-to" gear?
When I'm training on flat water, I use the Naish Javelin 12'6" LE and for downwind conditions (which are very rare in Slovenia) I use the Naish Javelin 14'0" LE. I really like it because it reminds me of my time during the Molokai2Oahu race. If there are ever some fun waves, I'll take my Hokua.
What was your favorite lesson learned from 2013? Least favorite?
I learned that 32 miles is a long way to paddle.  I also learned to always believe in myself. My least favorite lesson – to never set my sights on the finish line because it might move at anytime. SUP
" I'm beyond proud that I'm the youngest European girl to paddle the Channel of Bones "