Tweet
SUP INTERNATIONAL AUTUMN ISSUE 2022
Exploration: Trevor Tunnington explores Iceland; Bruce Kirkby heads to Cape Caution; Phil Plume's Scottish Sojourn; SUP tip special; Luca Malaguti's freediving world; Ollie Laddiman SUP's Snowdonia; Nile adventure with Timm Kruse; Finn Mullen's wave SUP advice; Emily Evans interviewed; Inflatable board buyers guide; Six awesome distance boards tested and Robby Naish closes out!   

Subscribe or purchase a single copy in either premium Print or Digital format.
(Prices include delivery anywhere globally four times a year.) The Digital Edition is available now, print edition in shops and with subscribers soon.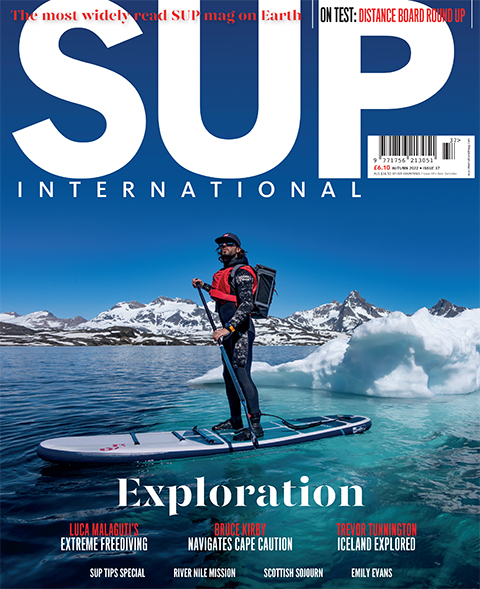 Cover Luca Sommaruga Malaguti taking SUP exploration to the next level. Photo Daan Verhoeven
---

Exploration  
Fire and Ice:
Trevor Tunnington was so blown away by the raw beauty of Iceland he has been lured back four times to explore and SUP its wild locations.
Cape Caution:
Bruce Kirkby and Norm Hann have never been shy of an adventurous paddle mission! This time, they set out to traverse British Columbia's notorious central coast by SUP.
The Water of Life:
Phil Plume of Cave Active Adventures takes a crew away from the crowds to Loch Shiel in Scotland for four days of paddling, camping, and memorable moments.
What Lies Beneath:
We hear from Canadian freediver Luca Sommaruga Malaguti, about his incredible lifestyle and how his Red Paddle Co SUP is used as an essential vehicle to access his adventurous diving locations.
Barefoot over the Nile:
Kiel journalist and adventurer Timm Kruse, together with his friend Turtle and a camera team from ARD, recall their crazy SUP journey down the Egyptian Nile!

Riders In The Zone
Welsh Spirit – Emily Evans:
We catch up with Emily Evans who has been turning heads at the European SUP Championship in Denmark as well as the Polish, ICF Stand-Up Paddling World Championships, to find out the secrets behind her success. 

Wave Hunt
SUP Snowdonia:
After a flat summer where the closest hint of a swell was a heat wave, RRD rider Ollie Laddiman decided enough was enough and booked up a guaranteed SUP fix at the Adventure Parc Snowdonia.

On Test
Tested:
Our test team has been busy on the water putting six amazing new boards from Aztron, Aquatone, Loco, RRD, SIC, and Starboard through their paces.

Learning Curve 
SUP Tips:
Due to popular demand, we have the second installment of awesome tips from the likes of Kai Lenny, Christian Andersen, Casper Steinfath and the SUP Sisters to help point your SUP journey in the right direction.
Salty Solutions:
As we enter prime-time wave season, Finn Mullen offers some useful advice for some of the more common problems in SUP surfing.  
Board Buyers Guide:
If you are contemplating buying your first inflatable SUP or upgrading to a new model, Dave Ewer has put together this detailed board buyers guide to help you make the right choices!
The Close Out:
Robby Naish tells us how constantly adjusting your paddle length can help you be a more efficient paddler, as well as help you feel stronger and more balanced at the end of your session.
---

For further information email us at subs@arcwind.co.uk