Tweet
Most of us would like summer to last all year, but in our post-industrial world I think winter is essential time for changing to a slower pace, regrouping and healing the body and mind from a long hard summer. You can do this at home in the UK with help of Graboid and a comfy sofa, but this year we headed to Fuerte, the sand pit that's full of options.
This feature originally appeared in the Spring 2014 issue of SUP International. Print and digital subscriptions for readers worldwide are available HERE.)

WORDS  Sophie Matthews // PHOTOS  Tom Court & Sophie Matthews
---
My original introduction to Fuerteventura came from once toy boy, now boyfriend, multi-disciplinarian Tom Court.  A few years ago he used this very island for some 'courting' excuse the pun, so he obviously he had good faith in the place. I like to consider myself a passionate and capable water women surfing, kiting, SUP and windsurfing but I also appreciate lazy sun filled mornings, sipping coffee in a hammock and horizontal afternoons under the sun's warm glow. We constantly dream of coastlines soaked in surf and kissed by afternoon breezes and this island has it abundance.  Fuerteventura carries a slight reputation as a stamping ground for Brits on Tour, but it's only really during summer months in the bustling towns that you will encounter this.  The general tone of life ebbs more towards a bohemian surfer community, where people are more inclined to socialise on the water rather than in the watering holes. If there is no wind, there are waves and with great food, cold beer, delicious wine, it's enough to induce a serious case of wanderlust.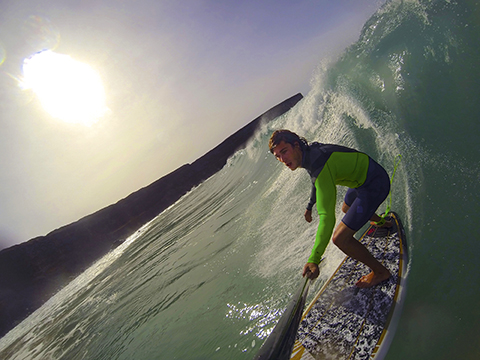 Dirty Panda
Just like in the Old Testament, the first sensory delight is the sunrise.  Appearing from behind the volcanic mounds in Lajares and casting shadows across the barren surroundings, it's like stepping into an Salvador Dali painting. It's the most natural and predictable of alarm clocks (well, one of them) that pulls you from your bed, straight into the car and off to the North Shore for the dawn patrol. Tom is the proud owner of an old Fiat Panda, and for that I am proud of Tom. Laden down with surfboards, SUP's, kiteboarding gear, you name it, it's in there.  A toy box on wheels, often glimpsed hammering along the hairy tracks of the North Shore at mach 10, arriving in a cloud of smoke. The North Shore is very much the wave and wind seekers stomping ground. Bays have formed after years of breaking waves and each one is rounded off by a rocky point. Greeted by still airs and lines of swell we hit Hierro, a popular local spot which lies next to an equally favoured break known as Derecha Alemán or German Rights.  Whether this is a cheeky dig from the Spanish about the 'majority' frequenting this wave, or a claim by the Germans (!) it's an awesome break. A long, gentle and fairly chunky right hander that has heavy potential in larger swells; it was a good introduction back into surfing after the cold winter at home.   
Lobos
If I was travelling solo, in addition to scoping the action side of things, I'd also be grabbing some 'me time,' stretched out on the beach with a good book and some tanning lotion. However, I am the girlfriend in 'consenting' tow, regularly mistaken for one of the lads, who rarely complains even though my heart was in my mouth as we paddled out at Lobos. 
My initial response to this jaunt to Lobos was 'NO!'  If I wanted to observe this 'pumping swell' I would do so from the comfort of a towel, on the beach and if I was happy then I would suit up and give it a try.  As it turned out this was impossible without hiking solo across this desolate island as the boat had one drop off point; the opposite end to the surfers.  Call me lazy but that was not happening so, I only had myself to blame as I jumped off a boat at 7am and paddled over to an island where I would be left for the next three hours.  
After all the tall tales from the boys the night before, to my surprise this was a great surf spot for most abilities.  When Lobos works well, there are about four breaks running perpendicular to the coastline.  Starting at the peak with the heavy rollers often cluttered with a lot of testosterone, just below a large hollower ride, down to a much more mellow wave and finally an ideal beginners break. I had tried and tested them all and the only downside to this otherwise perfect 'Surfers Paradise' was having a rest. After watching many a tourist try and exit the break unsuccessfully, I decided that it was best to hang out on the shoulder of the waves where many a local could be found taking time out.
Mountain Goat
One of our favourite spots is Esquinzo, often tricky to find as you seem to drive towards the edge of the world.  The track is so bumpy I suggest wearing a sports-bra but, it's one of the most unusually breathtaking beaches. Each time we scrambled down the cliffs with our surf and SUP gear I promised myself I would do it in a glamorous fashion but, I have yet to work out how. Esquinzo is not only a great little wave spot but it is secret and secluded.  Mini bunkers are dotted amongst the dunes that lead down to the crystal blue waters and if like me you like to flit between getting involved and spectating, then this is a place for you. Enjoying a cold beer after a full day on the water is one of life's simple pleasures so, ensure you arrive with a 6 pack and stay until sunset. It's like a scene from Planet of the Apes; well worth the journey back home even if it does shake your teeth out of your head.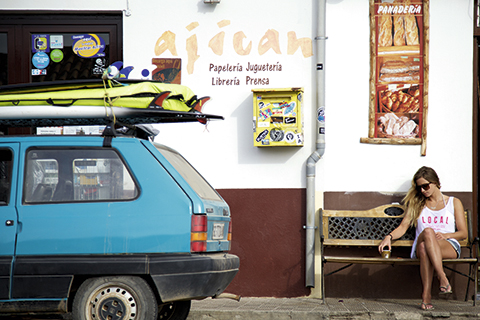 The lagoons in Cotillo really get the juices flowing and is often the go-too place to set up camp and stay there all day long.  Tom knows the score when it comes down to keeping the ladies happy on the beach so, if it looks like we'll be somewhere for a while then the GYBE inflatable tent comes out.  The ultimate shade and windbreaker often accompanied by a cool box and tunes. Whats not to love about that set up?  Dipping in and out of the flat waters to explore the lagoon reefs on a SUP is a sensation in itself and when the wind picks up, the lagoon turns into a kiteboarding paradise.  Out of season it's a playground for two with butter flat, waist deep water.  It's also my top spot for sitting behind the camera and capturing the action.
Fuerteventura is an Island full of options; you just need to look for them.  For every barreling break there is usually a more forgiving one a 100 meters paddle away. For SUP there is Majanicho, a progressive playground blending cruising and shredding conditions in one space. So, let me reassure you, an option to suit your level is always close by. Getting stuck in is the only route to improving and remember; if all else fails, there is always a good book and a towel waiting for you on the beach. SUP