Tweet
GET PSYCHED #10 –

GIVING BACK TO NATURE.
With – Sian Sykes
Photos – Pete Catterall

As we all know Stand up paddleboarding is the fastest growing water sport because it is so accessible, it's fun and enjoyable, you can do a variety of things with it, and above all it allows you the freedom to go and explore, re connect with nature, and take quality time out. However there are a number of things we should consider before jumping on the water with a board. We need to be aware about the impact we are having on the environment as without realising, our presence could have an adverse effect.
Recently I had an interesting conversation with Guto Roberts, the Cwm Idwal Partnership Officer for National Nature Reserve in Snowdonia, Wales. Llyn (Welsh for lake) Idwal has been designated as a RAMSAR site (for wetlands of international importance). Roberts explained he is concerned due the popularity of SUP that there are more people and foreign objects entering the water. This extra pressure has the potential to affect the sensitive balance of the water chemistry and biodiversity of the lake and in turn put the ecosystem under threat. Examples of foreign objects and chemicals include beverages, sun cream, litter, faeces (!), it can all affect the chemistry of the water.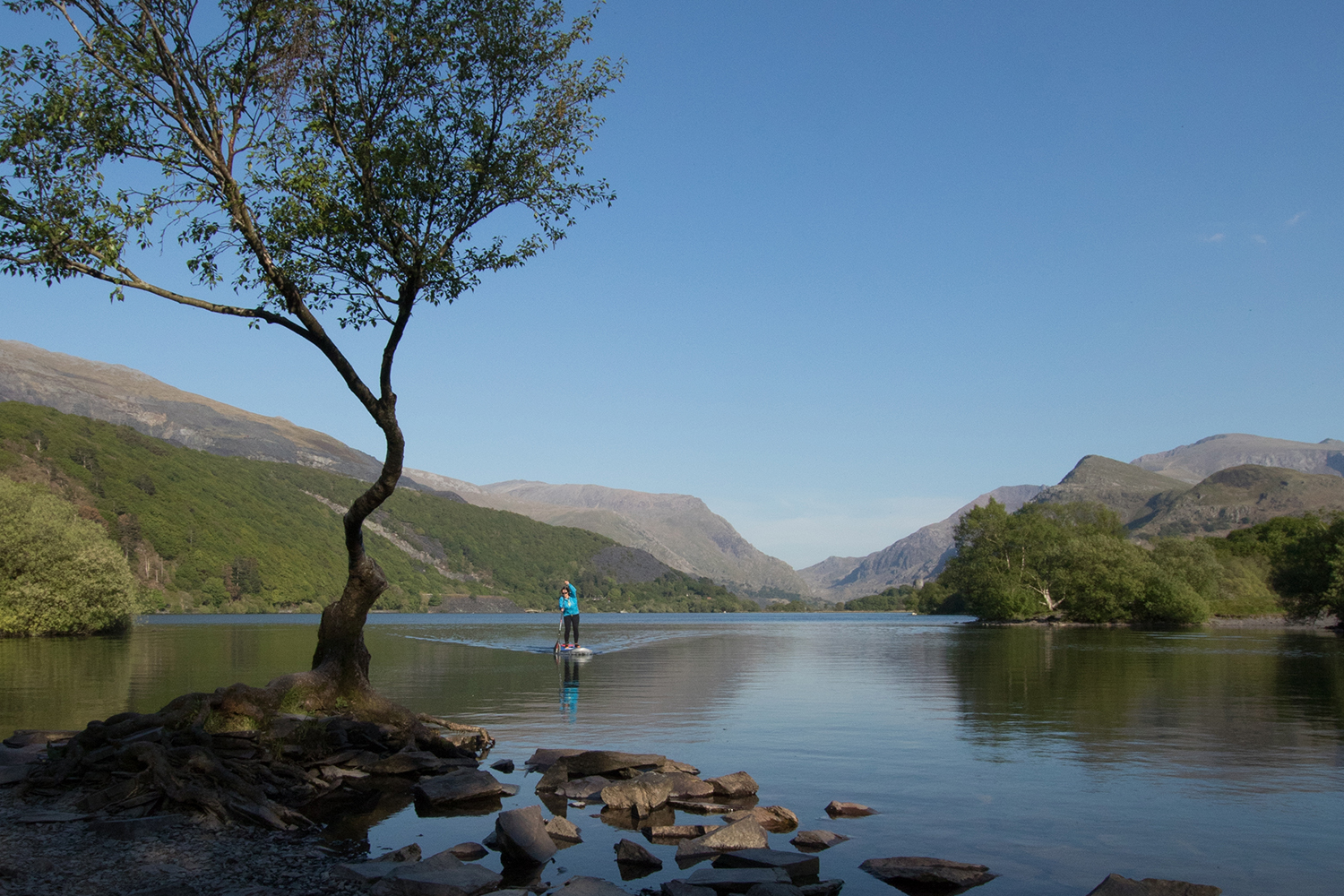 We might think it's a body of water to go and explore and for some, a great photo to add to an Instagram story as the first person to conquer the lake, but we need to stop and think twice and be aware of the delicate balance that needs to be sustained. If people are not aware of a code of behaviour, it might cause some species to be lost. 
---
"The extra pressure of our presence has the potential to affect the sensitive balance of the water chemistry and biodiversity of an ecosystem."
---
Here are some of considerations for inland water:
Access
• Avoid at all costs sensitive places, protected areas, species and breeding seasons.
• Check with the landowner for permission.
• Respect the needs of local people and visitors alike – for example, don't block gateways, driveways or other paths with your vehicle.
• Leave gates as you find them or follow instructions on signs.
• Where possible keep to any designated paths or launching points to prevent erosion so as it does not scar the land or create additional new footpaths. Avoid erosion to banks.
• Use gates, stiles or gaps in field boundaries if you can – climbing over walls, hedges and fences can damage them and increase the risk of farm animals escaping.
• Be careful not to disturb ruins and historic sites.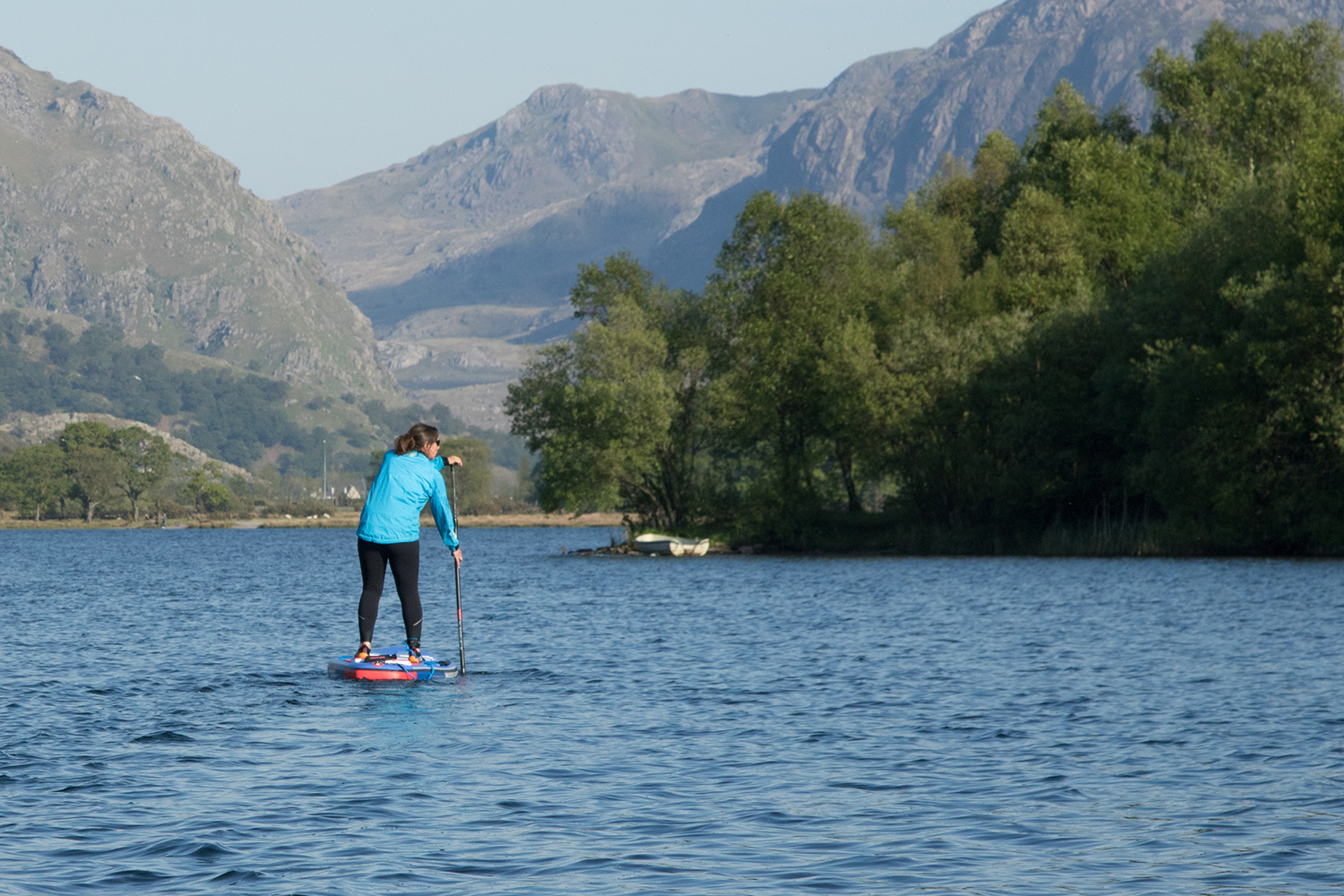 On the water
• Keep a safe distance away from wildlife to avoid causing disturbance and stress. Whilst you are paddling assess the wildlife around you. If you see signs of disturbance quietly move away.
• Try to keep as quiet as possible. By keeping any noise to a minimum you're bound to see more wildlife. I've been fortunate to see otters, kingfishers, deer…
• Do your bit and help with a litter pick, sadly 8 million pieces of plastic enters our oceans every day and as paddlers we can help to minimise it. Starboard for example provide a litter pick hook around paddles and a litter pick bag to encourage paddlers to do their bit. So when you are out and about, pick up some litter.
Off the water
• Leave the environment as you find it. Take your litter home with you, leave no trace of your visit.
• Check and wash kit after use. Always take measures to minimise the risk of contamination and to prevent the spread and environmental damage from invasive non-native aquatic species and diseases. 
We love the great outdoors and what it provides for us whilst we are out paddling, and we need to do our utmost not to put it under any further threat. Happy paddling. SUP INTERNATIONAL
---
ABOUT SIAN

Sian is a fully qualified International Mountain Leader and SUP instructor in Wales, UK and runs her own business Psyched Paddleboarding www.psychedpaddleboarding.com Sian has travelled the world, building up vast experience of leading expeditions to Nepal, Mongolia, India, China, Peru, Morocco, Iceland, Europe and the Alps. Sian's mission is to inspire others to SUP and to offer high quality SUP training and safety advice. She offers memorable stand up paddle boarding adventures whether hiking to a tranquil wilderness lake, exploring stunning coastlines and of course leading SUP expeditions.