Tweet
GET PSYCHED #9 –

COMPOSITE OR INFLATABLE
A great polymath once said, if N is the number of boards you need, and S is the number of boards you own, then N = S +1. This month, we're going to look at your next board purchase, and how to zero in on the construction that you need. 
I was first introduced to inflatable paddleboards when I volunteered to join a team on an exciting inland SUP expedition.  I was instantly sold on the benefits; compact and lightweight, that inflatable board was certainly less faff than carting around a heavy canoe or kayak which I had done in the past. 
Since discovering paddleboarding I have well and truly fallen in love with the versatility of the sport. I have used standup paddle boards for expedition and touring, yoga, white water, surf, downwind, paddle and hike 'biathlons', oh and of course not to mention SUP with my pooch too! Turns out she wasn't a fan of the surf and much prefers snoozing on tranquil water.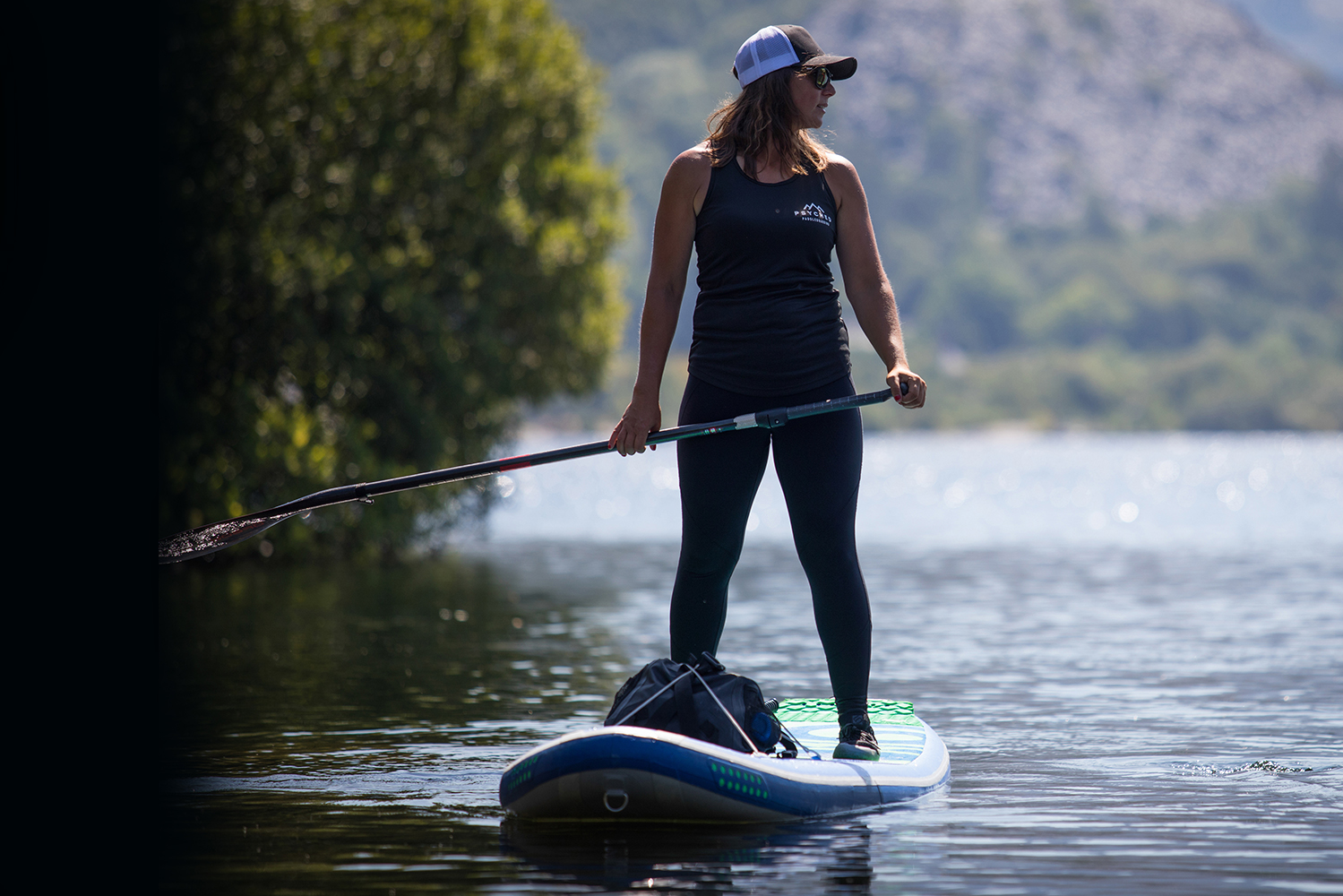 When I first started out, I just used inflatables and I never really considered composite boards. I'd managed to paddle all the way around Anglesey on an inflatable, ridden 8-10ft swell in Scotland and did the three lakes challenge on one. I thought why would I ever need to change? I soon realised however, that SUP's are like bikes, you can't have too many! Over the years I have built up my own lovely collection of boards for all sorts of occasions and conditions based on convenience and performance. Looking back at some of the trips I've done, if I knew then what I know now, I think I would have reconsidered some of my acquisitions.
When I was deciding what board to use for my epic trip around Wales, I weighed up the pros for both inflatable and composite based on the type of journey I was planning. My trip involved touring on flat water, fast flowing water and big swell. The big worry I had was if I would be strong enough to carry a composite board on and off the water each day, and the long portage with the board. Conversely, my other big concern was losing space on the board by carrying a pump for an inflatable. My priority for the trip was performance, safety and stability. I was limited with the time I had off work and I was going after Beast from the East in early spring when it was still Baltic.
---
"Apologies if I am getting you to think about adding to your collection of boards, you may have to think of a good justification, since boards are bit more tricky to hide than a new pair of shoes."
---
COMPOSITE BENEFITS
• Performance
• Stable
• Responsive
• No need to carry a pump
• No worries of a puncture
INFLATABLE BENEFITS
• Lightweight
So the composite board won and I would be so pleased with my choice for that trip. I soon discovered that I was strong enough to handle the portage and it worked out to be only 5kg more heavier than an inflatable touring board. Sadly, my board does now look like a battleship with a few scars but those scars tell amazing stories of the times we had together: riding in 10ft swells, watching dolphins leaping out of the water close by, jumping on Spring tidal races, big open crossings, dodging big ships and firing ranges, pulling it on a trolley on a 4 km tab through country roads and muddy fields…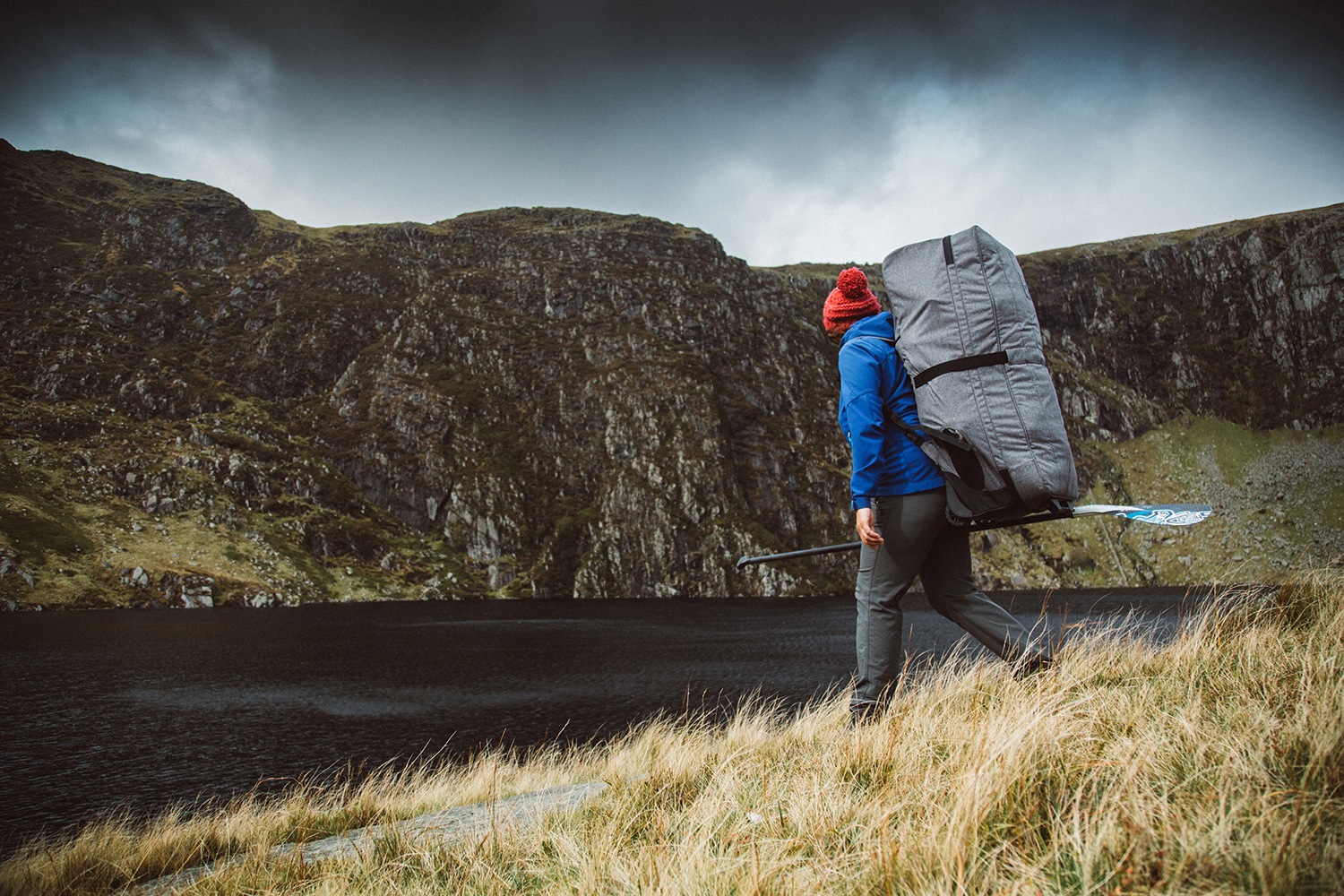 Here are my personal thoughts of the overall benefits inflatable vs composite boards. Apologies if I am getting you to think about adding to your collection of boards, you may have to think of a good justification to your partner since boards are bit more tricky to hide than a new pair of shoes 😉 Maybe that's where an isup wins. Or you can just blame me instead. 
INFLATABLE BOARD = CONVENIENCE
• They can easily be checked into an airplane as hold luggage so are completely drama-free if you are popping across the pond for some SUP adventures. Unlike a 14' composite board, there's no need to notify the airline three months in advance, with a letter written in triplicate.
• The fit unobtrusively in the boot of any car for a road trip and are so handy if you want to do a SUP and hike, which we do lot of here in Snowdonia.
• Inflatables are great for people who are limited on space at home or have to keep their board in a vehicle.
• I've seen a huge improvement recently in the market with inflatables coming with double chambers, which gives the twin advantages of stiffness and safety.
• iSUPs can cope better than composite boards in rough white water where collisions with rocks can happen.
COMPOSITE BOARD = PERFORMANCE
• A composite board of the equivalent footprint to an inflatable is certainly is more stable with a lower centre of gravity, and the lower side walls are less prone to windage.
• The solid feeling board gives better feedback for instinctive balance in rough water, and is better at piercing chop (rather than bumping over it) for smoother passage.
• With care, a composite board will have a longer life span and maintain integrity better than an inflatable board.
• It's quicker to untie a board off the roof of car and get on the water than pumping up!
• The composite boards has a direct and responsive feel, and although the gap is narrowing, will deal with breaking surf much better than an inflatable.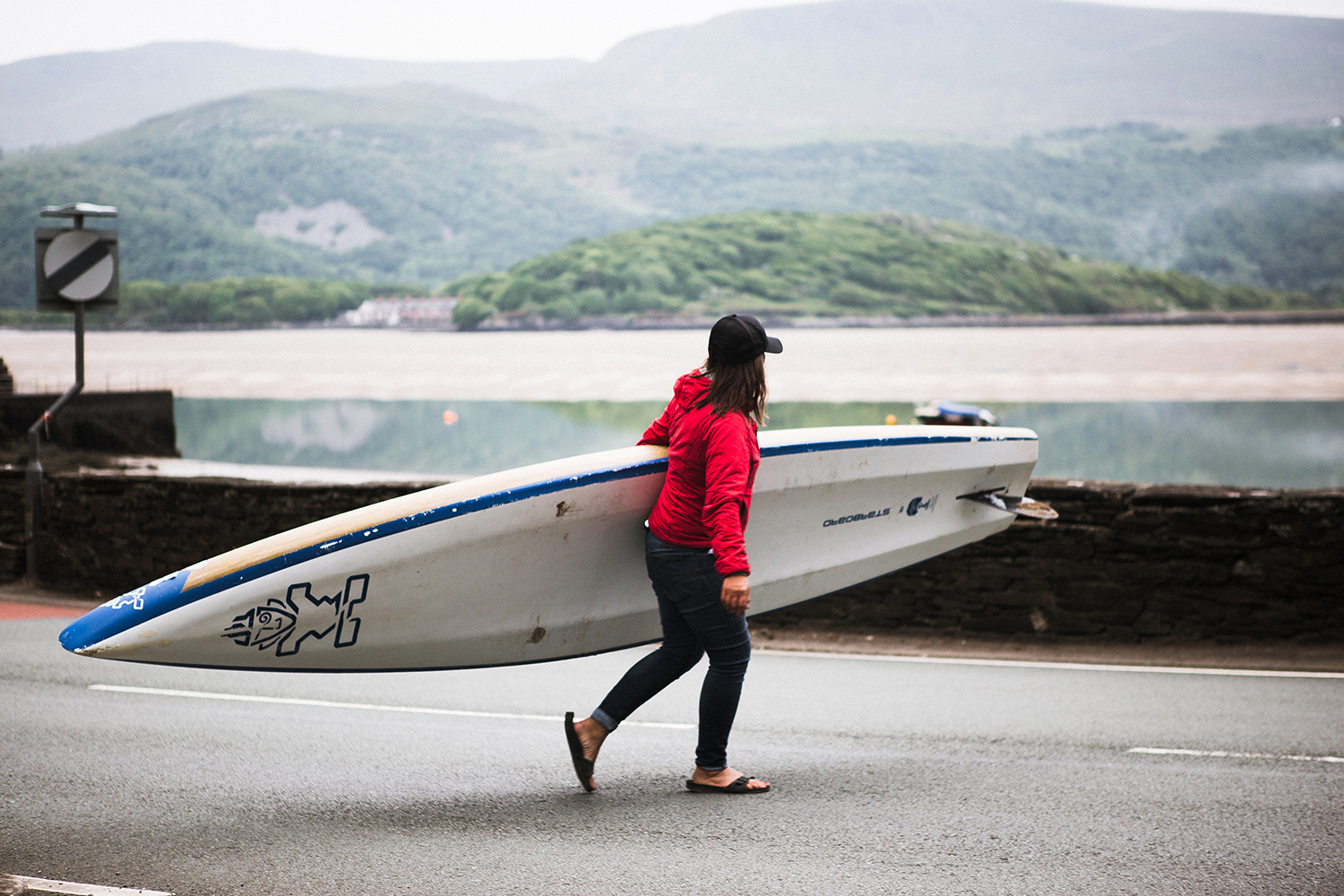 My big takeaway for you is that you need to consider the benefits that either construction will bring according to your needs like I did for my trip around Wales. Once you've selected the type of board, then you enter the world of different technologies that offer varying performance at different price points for both composite and inflatables. I told you it's like buying a bike, you can't have too many. SUP INTERNATIONAL
---
ABOUT SIAN

Sian is a fully qualified International Mountain Leader and SUP instructor in Wales, UK and runs her own business Psyched Paddleboarding www.psychedpaddleboarding.com Sian has travelled the world, building up vast experience of leading expeditions to Nepal, Mongolia, India, China, Peru, Morocco, Iceland, Europe and the Alps. Sian's mission is to inspire others to SUP and to offer high quality SUP training and safety advice. She offers memorable stand up paddle boarding adventures whether hiking to a tranquil wilderness lake, exploring stunning coastlines and of course leading SUP expeditions.