Tweet
PRESS RELEASE
Congratulations to Damian Warner, winner of the NSP Rider Search. Damian becomes the newest member of NSP's international team alongside Travis Grant.
The NSP Rider Search was a simple concept.
The prize: a 1 year sponsorship deal with NSP and 2 Travis Grant DC boards.
The Race – a straight sprint out to sea and back, Winner Takes All.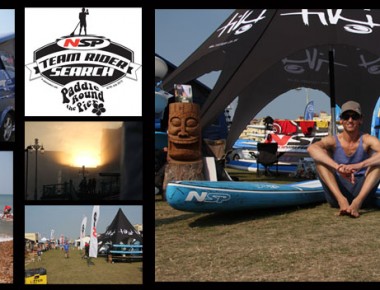 In perfect conditions the Race went ahead on Sunday morning, the final 4 battling for the prize. 1st across the line was Damo, displaying technique and racing skill that you'd expect from a much more seasoned racer. A former Duathlon competitor, UK Judo master and 10 year lifeguard veteran, Damian has natural ability in abundance and was a worthy winner of the prize.
NSP welcomes Damian to the team and looks forward to watching his race career unfold.
NSP would like to thank Tiki International, UK distributor, for organising the Search and providing the prizes and Paddle Round the Pier for hosting the Race.
More info on NSP and Tiki International here
<ENDS>