Tweet
SIC MAUI OKEANOS EXPEDITION AIR 12'6 TEST REVIEW
Verdict
SIC's Okeanos Expedition Air is a super tough board that belongs in the wild ocean. The generous cargo bungees and carry handles are intelligently placed. The deck grip is vast, grippy, and comfortable. The shape and construction create a very stable, stiff board designed for adventure. In demanding conditions, the Okeanos Expedition Air provides comfort and assurance. We loved it.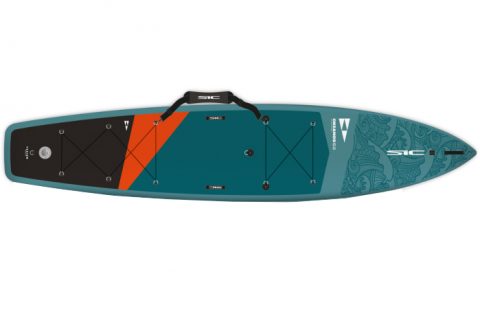 Overview
The Okeanos Expedition Air is a touring board that inherits a lot of DNA from the rigid Okeanos; both being designed by SIC founder/shaper Mark Raaphorst. The tail is wide and squared off and the board's wide point is shifted forward of the midline. These features add up to a very stable board.
The honeycomb deck grip gives comprehensive cover, looks great and is very gentle on bare skin.
Two generous cargo bungees can store everything from dry bags to freedive fins and spare paddles. Carrying is hands-free thanks to the packaged shoulder strap. Also, you get nose and tail handles plus two 'beach start' handles for easy entry and exit to the water.
Underneath the Air-7 polycarbonate US Centre box sits between two FCS side fins. An action camera mount on the nose completes the fittings.
The board is made with the tough, high-tensile strength FST which coupled with the rounded rail shape gives a very stiff board at 15psi.
Brand Claim
The Okeanos Expedition Air with drybag style backpack allows you to plan one-way adventures or use your paddleboard as a commuting option.
The unique drybag-style backpack lets you transport your board from your home to your launch location and store personal items in the drybag while paddling to your next destination. It's the perfect commuter or adventure-style paddleboard that can take you from water to land adventures.
Performance
The Oeakons Expedition Air is comprehensively set up for adventure. We used it for a series of freediving sessions on the North Coast of Cornwall. The elongated rear cargo bungee is perfect for stowing fins and floats while the front bungee kept all the snorkels and masks secure. The nose, tail and side handles really simplify carrying a board loaded with kit.
On the water there is surprisingly little flex. The Okeanos Expedition Air trucks through chop and maintains a steady speed to swallow up the distance between the launch and your remote objective. This is a board you could comfortably knock out 10km plus missions with regularity.
Our paddle sessions took us through a mix of open ocean water, tidal races and bumpy backwash at the foot of high granite cliffs. We felt very assured taking this board on long, remote sessions and relying on it as a support craft.
We think it's an excellent partner for multi-pitch adventure, freediving / spearfishing access, or even research and wildlife watching.
Welcome to SIC Maui #BoundByWater | SIC Maui
Vital Stats
Price: £1,150.00
Length: 12'6
Width: 31"
Thickness: 6"
Volume: 340 litres
Fins: US Centre box plus 2 FCS Fusions