Tweet
The growth of SUP has seen many situations where there has been a misunderstanding of
water safety for new paddlers heading out without paying attention to wind direction ,water conditions ,personal water wear and complete lack of water skills. Simon Basset, Chairman of the BSUPA, has been trying hard to find a way of educating users and making people more aware before there are any further tragedies. He has released the following statement as well as a SUP safety poster. 
Safety on the water is a big deal -there is growing number of SUP related safety incidents happening daily across the UK  inland and coastal. We have launched BSUPA SUP safety poster and initiative to hopefully increase awareness of SUP safety and kick start awareness that you need to take a different approach to water safety if your a novice paddleboarder.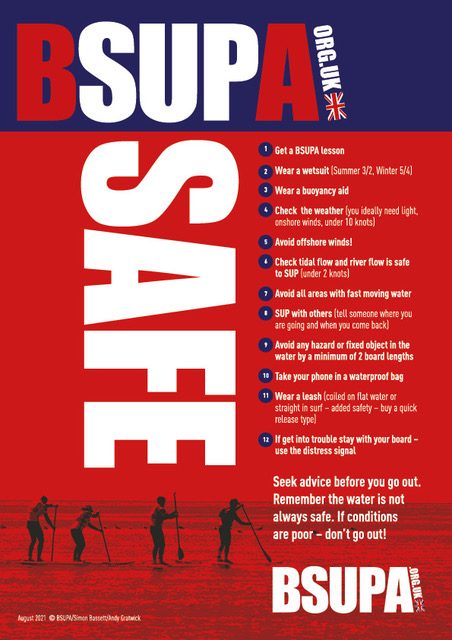 Start by having a 'ready to ride' lesson at a BSUPA recognised school .This introduces all the necessary basics of technique and location selection, which will help avoid negative or dangerous experiences

 
.Go to your local

 

BSUPA Sup school/ shop /Club for advice, check in with local lifeguard's ask other experienced paddleboarder's before heading out. Read the poster and take some advice before venturing out on the water .

 
We hope experienced paddleboarder's and Sup enthusiasts, SUP instructors will take up the safety call and also advise some of the many newbies to SUP about conditions where to go and to avoid poor weather conditions ,strong tides and offshore winds .
Water safety is never a straight forward topic ,combinations of conditions ,fixed objects ,strong currents, water flow ,depth,3rd

 

parties , rips ,tides ,waves, temperature ,equipment ,water wear and ever changing wind directions all add to mix when you head on the water .
BSUPA feels getting the correct learning process and essential water knowledge before you venture out is big step in the right direction.
Even with the challenges that heading out on the water sometimes presents -SUP is still probably the most accessible of all watersports -its still growing ,a great sport  for mind and body .