Tweet
Paddleboarding vet completes 1000km round-Scotland ocean challenge ahead of COP26. 
---
Cal Major, a vet, world-record stand up paddleboarder and ocean advocate, has completed a never-done-before 1000km round-Scotland ocean SUP expedition. During the two and a half months it took her to complete the expedition, Cal experienced enormous Orca paddling under and around her board, huge tidal races around Cape Wrath and epic night  crossings.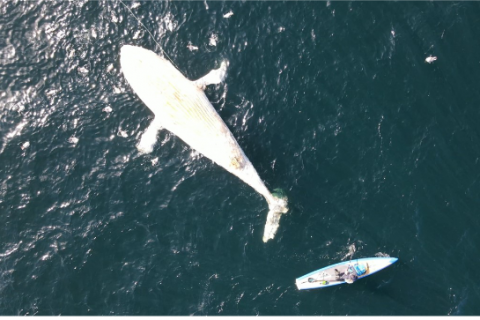 She also came across a floating dead humpback whale calf, entangled in fishing gear, suspected  to have drowned, and she rescued a gannet with barbed hooks through its feet and body. Cal was joined by partner, photographer / film maker and fellow ocean advocate, James Appleton,  in a kayak who documented the entire journey.  Cal's message is clear: our ocean is essential for all of us; we need to urgently reconnect to its  importance, and to properly protect its ecosystems from harmful human activity and pollution.
In May, Cal set off from the River Clyde in Glasgow, outside the SEC where in November the  COP26 climate conference will steer the future of our planet. Cal hopes for ocean health to be taken seriously during the conference. "The ocean is our planet's life force, creating the oxygen in every second breath we breathe. In that regard we are all connected to it, and all have a stake in its health, which in turn is inextricably linked to our health," says Cal.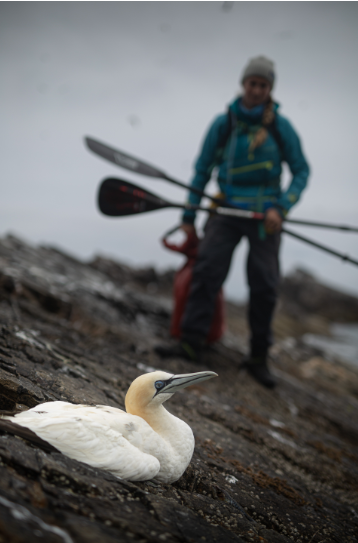 "The ocean absorbs 25% of our anthropogenic carbon emissions, and seagrass and kelp forests 
absorb many times more carbon than terrestrial forests. A healthy ocean relies on a healthy,
balanced ecosystem, which supports everything from plankton to fish, seaweed to whales.
And yet out of sight and out of mind, the importance of our ocean is often overlooked, and
devastating harm is being done without us being able to see it. Industrial scale overfishing and
destructive bottom-trawling and dredging in fragile in-shore nursery areas are amongst some of the
more damaging practices.
The good news is, ocean ecosystems have a phenomenal ability to regenerate, if we give them a 
chance to do so. To enable the ocean to continue its incredible role as the lungs of our planet, we
desperately need to implement and enforce proper protection of our ocean, so that biodiversity can
flourish once again, and all species within our seas, including us, can thrive."
Cal also believes that reconnecting people to our magnificent seas is the first step in fostering 
communities that will be able and willing to stand up for their protection.
"People will protect what they love, but they can only love what they know. We've seen how
beneficial time in and by water is for mental health and well-being, especially over the last 18
months, and creating these connections, spending time by the water, is so key for encouraging
stewardship of our blue spaces," says Cal.
To this end, Cal has been fundraising for the charity she set up, Seaful, to help people who
otherwise wouldn't have the opportunity to access and experience the ocean. Seaful's Vitamin Sea
Project launched this summer, taking children who had never been paddleboarding before onto the
water, and learning about its importance. One child said it was the "best day ever". They've also
taken people snorkelling in Scotland, experiencing the magic underwater world for themselves.
More information can be found at: