Tweet
<PRESS RELEASE>
When Loco boss man Joe Thwaites discovered stand up he saw it as a way to increase his wave count but was dismayed the right size board was difficult to find. Most SUPs that offered the manoeuvrability were usually too small and catered for lighter riders. On the flip side, boards that delivered the correct float lacked carving ability and were cumbersome in surf.
Heaped with frustration Joe bit the bullet and made his own stick – the rest, as they say, is history.
The ethos of 'small and manoeuvrable but packing in the volume' is still something the brand believes in emphatically. Offering small SUPs but with plenty of stability is a key ingredient for Loco – great news for bigger riders.
With this in mind I was given two of Loco's most popular 'big boy toys' to compare – read on for the scoop.
THE KIT
Both the Loco 8.4ft and 9.5ft surf SUPs are eye catching pieces of candy that stick out on the beach. The egg shell blue of the 9.5ft and stealthy carbon black of the 8.4ft get plenty of attention when lined up on the sand.
Both boards boast generous amounts of volume and are well built pieces of kit. The 9.5ft crams in a portly 157L while the 8.4ft squeezes 138L into its relatively small plan shape. In both cases, this is significantly more 'product' than most other brands' equivalent size surf SUPs.
THE CONDITIONS
I put both Loco SUPs through their paces in a variety of different conditions. From the small to medium south coast dribble in my own back yard to more significant head high waves of Cornwall, both boards were carved, bashed and smacked into lips that most recreational SUP surfers will find themselves confronted with.
Chucked into the mix were also a bunch of significant days were the waves ramped up. This gave me the opportunity to push both Loco SUPs to the max.
As a larger rider, Joe also does his time on these two boards and some of the accompanying shots show Mr T putting them through their paces in the NE of England.
9.5FT
You'd imagine that the bigger of the two Loco sticks would only suit intermediate SUP surfers and while riders of this standard will be served well by the 9.5ft, higher lever rippers should also give consideration to this size.
The extra glide of the 9.5ft, due to the length, lends itself to exploring outer banks and offshore bombies. Here on Hayling Island, where I live, the wave rolls down a sand bank and peels for a good distance. However, getting to the take off point is always a slog due to the line-up lying a few metres offshore.
Jumping on the 9.5ft and 'sweeping' out to the spot was made easier with the SUP tracking well. It's by no means as fast as some but the extra water length means covering distance is done so with a good deal of efficiency.
Once on the peak the added glide made catching the slower south coast waves of Hayling a doddle. As a performance orientated shape your positioning does have to be more critical when dropping in but it's still a great board for riders looking for a change down SUP and would make a good tutor for moving onto even smaller designs.
Once on a wall the 9.5ft feels nippy and fast – cranking off the bottom with ease and floating back up to the lip for a snappy hit is extremely fulfilling. While not quite as whippy as smaller boards, the 9.5ft will still take your shredding to the next level.
During the testing I was gifted a couple of days of fast overhead surf and found the 9.5ft switches up a gear in conditions such as these – so much so that the 9.5ft would make a decent bigger wave board and be the perfect partner for something a tad smaller.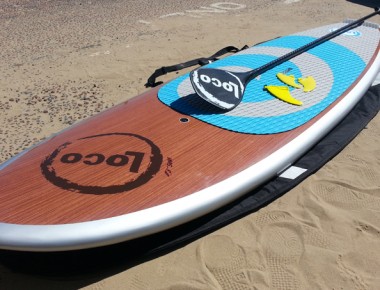 8.4FT
When I stepped on the 8.4ft I was actually shocked at how much stability the board has. Paddling on the flat, it feels like you have to run off it to fall off! The wide tail and chunky rails inspire confidence and will allow paddlers to focus on the task in hand rather trying to stay afloat.
A couple of times I was faced with some pretty choppy surf and in these instances I always opted for the 8.4ft – such was the stability.
Paddling into waves on the 8.4ft requires accurate positioning and you'll need to be sitting right on the peak to drop in with speed. It's possible to scrape onto a wall but the glide isn't quite the same as with the 9.5ft – due to the short length.
Once on a wave the 8.4ft is super nippy. Pump the stick into a hollow section, squirt the tail, lay a rail or bash a section – it's all easily achievable with this beast of a board.
During a significant day where the waves were clean, overhead and hollow I found that the 8.4ft was a dream when sent into a full G turn. The quad fin set up allowed for full power driving carves with the board banked right over in the critical section. Coming off the top, spraying buckets and setting up for the next section has never been more fulfilling.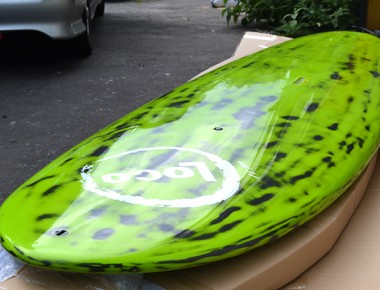 BACK ON THE REGULAR
During the testing I made it a priority to jump on my regular SUP. At 82kg both the 9.5ft and 8.4ft are slightly bigger than I would normally ride and I wanted a reference point during SUP surf sessions.
My own stick is particularly 'flighty' when compared to both the review SUPs. Having said that the 8.4ft does come pretty close to the small wave performance of my own SUP and I'd definitely consider switching up to the 9.5ft in bigger waves to make the most of the extra glide.
CONCLUSIONS
Both the 8.4ft and 9.5ft would be good choices of surf SUP for bigger boys and girls. The stability of both Loco sticks (in particular the 8.4ft) would see riders ripping and shredding in no time at all.
However, both boards would also be a worthy consideration for smaller paddlers who wanted a second quiver board for when conditions become cruddy. And if you're a big volume water hound then the 9.5ft would make a good 'rhino chaser'.
Both boards were supplied with high performance K4 fins which worked a treat. The 8.4ft was used mainly as a quad fin and offered the most drive during top turns while the 9.5ft was set up as a thruster and could be cranked full tilt off the bottom.
Either of the Loco SUPs would also make for relevant intermediate SUP surf sticks with the 9.5ft offering a degree more 'get out jail' plug 'n' play performance.
Both Loco SUPs are well made quality pieces of kit. You just have to choose which one you can't live without and then get sectioned!
For a full list of Loco products, specs and news updates, hit up the Loco website www.loco-sup.com or Facebook page www.facebook.com/locosup. Joe is also always on hand for advice in all things stand up paddle boarding – give him a buzz.
Tez Plavenieks is a freelance watersports journalist who writes regular features, articles, reviews and stories for a variety of online and printed outlets. Check out his blog www.tezplavenieks.com  for more.
END