Tweet
TOURING BOARDS – REVIEW 2017

Test Editor Dave Ewer
Possibly the biggest and best returning investment you can make in SUP; the mighty touring will take you on expeditions, races, in the surf, downwind, and on a lazy river cruise with the family.
This test review was originally published in the Summer 2017 issue
of SUP International Magazine.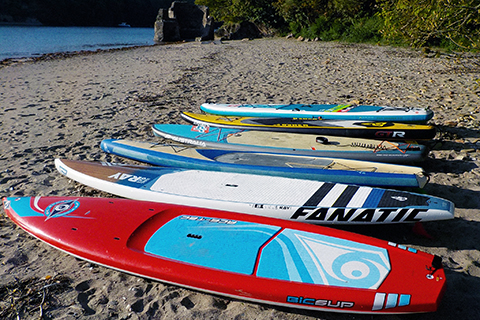 So let's face it, a new SUP board can be quite expensive. Yes you can buy one cheap off a website but everyone other than the seller will tell you to buy a proper one. You can ask your paddle boarding mates if they want to sell theirs but unless it's February and they've had an expensive Christmas, it's unlikely. So you scroll through your phone, find some reviews and settle for the 10'6 iSUP that your mates think is a safe bet for you, (well it gets great reviews after all). Maybe you pop down your local shop and ask if there are any deals on last year's version of the board everyone wants, (that'll make the sales person smirk, he already gets 5 people a week asking for used ones!). So you find out it's £850 for a proper one or £650 for a lighter one that'll make you wish you bought the proper one every time you paddle it.
So you buy the board, use it for six months and consider yourself an expert SUP'ist  as you don't fall off on the flat now yet you've never paddled another board. In reality you've just followed the herd, bought in to a sport fairly blind and you don't know any better. The shop or website hasn't questioned what you want as you're just about to part with a wad of cash, why would they?
But don't fear there is another way to educate yourself and find your perfect partner other than scrolling through your phone for the cheapest or best reviewed board for you.
DEMO DAYS
Demo Days. This time of year all around the country the suppliers are busy running around standing in the rain or shine trying to get people to rush into their local store and buy one of the freshly demo'd boards that they fall in love with after paddling a pile of different ones. Funnily enough most of the boards lying around waiting for you to demo will be inflatable, (they're pretty good now) and it won't matter when your kids jump on it while you're been given the low down buy the rep. It won't matter when someone runs it into the harbour wall either. However they'll also have a few hard boards, pointy nosed and glossy with some wood showing no doubt, (you'll have to ask nicely and politely for them to put a fin in it for you first no doubt) and these are the boards you don't want to let your kids near. This is the SUP equivalent to going into a Porsche dealership and asking the salesman if he'd mind if you took his 911 for a spin round the block. Ask nicely, be careful, and be prepared to part with a little more cash than you'd expect to pay for a Polo. These boards are quite simply in a different galaxy to round nosed 10'6 iSUP's we've become used to, if you can't find a demo day, most proper shops will have a couple of these too.
Why are these pointy nosed SUP's better than a 10'6 iSUP? Longer pointy nosed hard boards glide across the water totally different to a round nosed 10'6, you don't need to change hands every third stroke – you can change sides after ten strokes – and they're around 30% or more faster if you put the same effort in. Comparing a modern 12'6 touring board to a 10'6 iSUP is a bit like comparing a sleek wooden rowing boat to a rubber dingy from a beach shop. They both do the same thing, but one travels far more efficiently and glides with ease, the other one will "just get there". One will draw comments on and admiring looks, the other one they've all seen before. One you'll cherish and keep in a bag, the other you'll loan to your mates, " 'cause it doesn't matter."
Now if you've had a SUP before or you want to start with something more suitable or special than a 10'6 iSUP then try and grab one of these. You'll be amazed at the difference, you'll see a bit more of your surroundings and it'll open up your eyes to what you can do on a touring SUP these days. SUP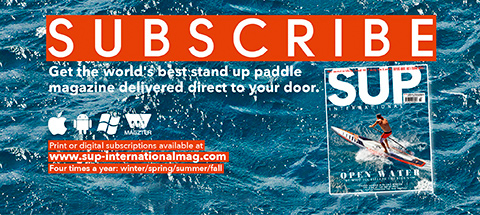 ON TEST
The four inflatables: the O'Shea GTR 12'6 x 30", a sleek swift light touring /racer in a new lightweight construction. The Red Paddle 13'2 Explorer, the 'go to' board for the serious adventurer with nothing else as well kitted out on the market. Loco's new Motion Air 14 x 29" runs downwind and picks up swells so easily, and Redwood's Fun Box 12'6 provides proper touring potential in an elegant package. The new JP Outback is a great looking hard board to fit into your outdoor adventures/expeditions, but also a great family do-anything board. Bic's 11' Wing is a sleek compact tourer with a durable finish and great performance to match. Nah Skwell have the 12' model of their versatile Fit – we loved the 11' so were keen to see how it would do. Then the two big shots, Starboard's  highly engineered, wood decked race-pedigree Touring and Fanatic's Ray LTD which had a slippery feel thought the water which stood out from the pack.
---
• RRD GRANTURISMO 12'6 GT WOOD